Bucharest at a Glance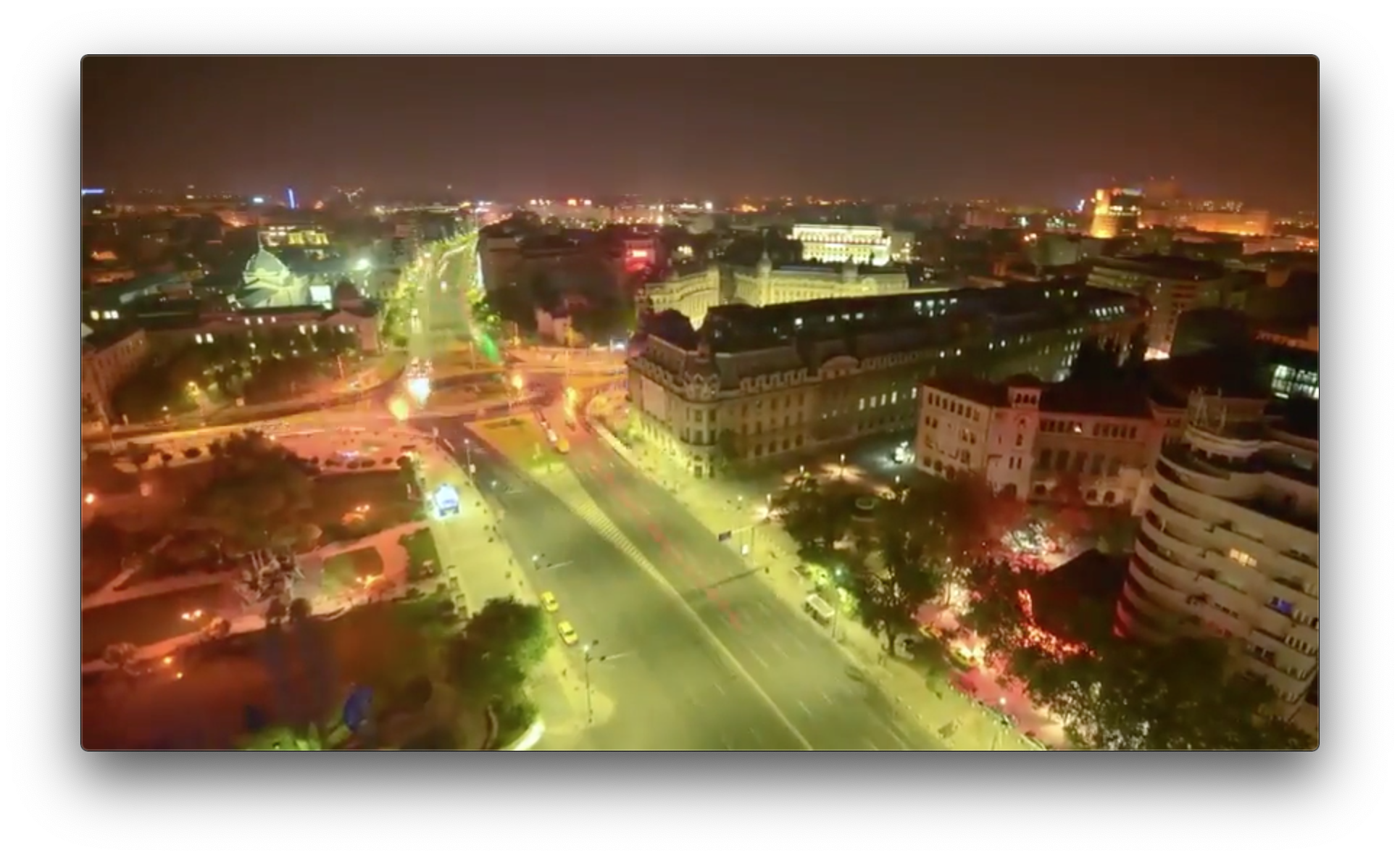 Fly to Bucharest
Bucharest is a low cost destination and more than 70 airports have direct connections to it. In Europe, the average travel time is about 3.5 hours and tickets can be purchase in a range of 40-60 euros (provided that the return ticket is booked well in advance).
The most convenient way to reach Bucharest by plane is to fly to the Bucharest Henri Coanda Airport (Bucharest Otopeni – OTP) or the Baneasa Aurel Vlaicu Airport (Bucharest Baneasa – BBU). For information about the airports you can check the Bucharest Airports website. Bucharest is also easly reachable from the international airports of Craiova (Craiova International Airport – CRA) or Constanta (Mihail Kogalniceanu International Airport – CND).  Check our interactive flight map.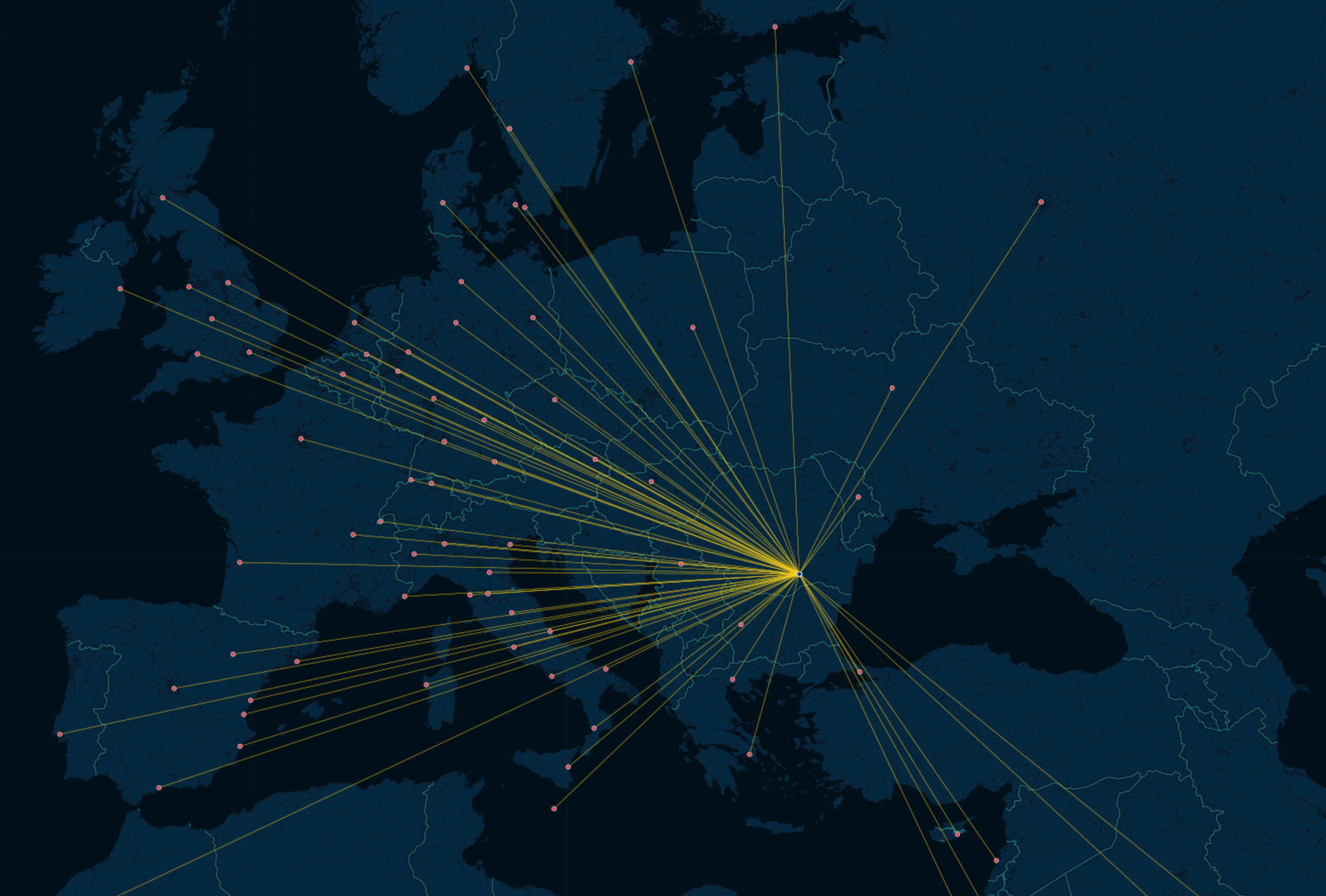 Bucharest's main airport, Henri Conada International Airport is located within a decent distance from the city center (aprox. 16.5 kilometers) and provides all the facilities that you'd expect from a modern hub: rent-a-car offices (AVIS, Europcar, Hertz, Sixt etc.), direct city center bus-shuttle (1.5 euros/2 rides), taxi (8-10 euros for a ride downtown), or car sharing services (e.g Uber, Taxify – at 8-10 euros for a regular price ride).
Public transport from Henri Coanda includes routes:
The route of BUS 780 Express line – connecting the Airport to the city's main train station.
The route of Bus 783 Express line – connecting the Airport to the city center (Unirii Square 3 bus station). The line is non-stop, at night leaving at an interval of 40 minutes.
Tickets can be purchased at a rate of 1.5 euros for a return trip. A magnetically charged card has to be purchased beforehand. The card can be collected in front of the Arrivals Terminal. Departure is done from both the Arrivals or Departure terminal. For the shedule please consult the official Bucharest City Transport Network (RATB in Romanian) website here.
Taxi:
Licensed taxi companies operate at the airport. A taxy journey can be scheduled using the touch screen terminals available inside the Arrivals terminal. Taxi cars arrive at the ground floor of the airport, in front of the Arrivals terminal. Fares for a regular taxi drive can be found here. Please take note that any approach by taxi drivers or middle man is strictly prohibited by law and should be handled by Transport Police (+4021 201 3242).
Baneasa Aurel Vlaicu Airport is located in the vicinity of the main airport and although smaller in size, is the historical airport of Bucharest, open since 1920. Transport to the city centre is done through the shuttle bus (1.5 euros/2 rides). However, take note that taxi or car sharing parking is forbidden on the car parking premises, but pick-up is not.

Public transport from Baneasa Airport includes routes:
Bus 131, Bus 335, Bus 148, Bus 112, Bus 301 – station Baneasa Aeroport (Baneasa Airport)
Tram 5 – station Baneasa Aerport( Baneasa Airport)
Express route 783 –   station Baneasa Aerport( Baneasa Airport).
For the schedule of any of the forementioned routes please refer to the RATB website. Fares differ for urban buses (< 1 euro/ return trip, confitioned by the existance of a magnetic card  that costs < 1 euro including trips ) and Express line (as indicated above). 

Underground metroline M2 (Pipera – Berceni, blue line)  – IMGB Pipera or Aurel Vlaicu Stations on the map. 

An underground metro ticket costs around 1.10 Euros/2 trips,  4.30 euros/10 trips or 1.70 euros/daily pass. It is also possible to buy group cards (for 3-5 persons, 1-2 euros) or single trip tickets (60 cents/ticket). Tickets can be purchased from ticket offices or ticket vending machines located in the metro stations. 

If you plan to come to Bucharest via Craiova airport, you can continue your trip by train (Craiova – Bucharest route). Please make sure you arrange a suitable transfer from/to the airport. Information on how to reach the city is available on the airport's website. For booking a train ticket please check the CFR (Romanian Railroads Company) website here.  Suitable trains are listed with the indicative "IR" and a trip lats aproximatively 4 h 20 minutes. The price varies between 13-19 euros/trip depending on the class. Trains reach the Gara de Nord (North Train Station) in Bucharest. Other alternatives include rent a car services (AVIS, Hertz etc.) or taxi rides to Bucharest (aprox. 70- 200 euros/trip).
If you'll fly on the Constanta airport (flights to/from Istanbul, Talinn and London), the best way to reach Bucharest is by taxi (aprox. 70-200 euros) or by renting a car (Eurocars). Alternatively you can arrange for transport to Constanta and come by train. Trips to Bucharest are around 2.30 h and cost between 13 to 19 euros, from Constanta train station.  You can check the CFR website for schedule and fares.
Please note that during the summer train schedules can suffer delays due to the infrastructure conditions.
Getting around Bucharest
Travelling around Bucharest is fairly simple and cheap. Since the location of the venues is as central as it can be, almost all accommodation places can be reached on a 15-20 minutes walk.
Explore by taxi
In order to cover large distances and explore the city, the best way to do it is by taxi/car sharing service (Uber, Taxify). The average price per kilometer is 1.8 lei (0.40 euros). In order to avoid unpleasant surprises from taxi drivers, there are several well trusted taxi applications that can assist you in ordering a car (e.g StarTaxi, CleverTaxi).
Explore by public transport
There is always a posibility to stay on a well-known (and cheaper) path and use public transport to cruise the city (see the link for an interactive map). A network of buses, trolleybuses and trams serve virtually every part of the city. They are operated by the city bus company (RATB) and a single ticket costs 0.30 euros. Magnetic cards need to be purchased when using the network for the first time ar a cost of 0.60 cents. There is no way to charge your card during the night, therefore make sure to do it during the day at any ticket office in the bus stations (see map for the stations around the venues' locations). Bus travels are also available during the night at larger time intervals (40 to 120 minutes). Information about routes and schedule can be found here.
Bucharest is also served by a well developed underground network operated by the Metrorex company. A metro ticket costs around 1.10 Euros/2 trips,  4.30 euros/10 trips or 1.70 euros/daily pass. It is also possible to buy group cards (for 3-5 persons, 1-2 euros) or single trip tickets (60 cents/ticket). Tickets can be purchased from ticket offices or ticket vending machines located in the metro stations. The metro operates between 5 am and 11 pm. The operable line are M1 (yellow), M2 (blue), M3 (red), M4 (green). 

Bucharest City Tour
A partnership betwen RATB  and the municipality of Bucharest offers a ride tour that covers some of the main sites in Bucharest. The bus departs from Unirii Square 2 (Piata Unirii 2) station or Free Press Sqare (Piata Presei Libere) station and costs 5.40 euros for 24 h. An entire ride lasts for aproximatively 50 minutes, but you can hop on and off anytime. Complete information can be found here. 

Travelling from Bucharest
In order to get from Bucharest to any other part of the country, the easiest ways are to either rent a car, take the train from the North Station or hop on a bus in a range of bus stations throughout the city. 
Car rental prices are affordable, ranging from 3 to 30 euros/day.
Train tickets to the main cities are also budget wise (13- 20 euros to Craiova, Brasov, Constanta or 20- 40 euros to Iasi, Timisoara, Cluj or Oradea). Fares differ depending on the conditions of the train. Train journeys can last from 2.5 h to 12 h, depending on the distance. In the summer, train schedules can also suffer significant delays. 

Buses connecting Bucharest with other cities are available from different bus stations around the city. As buses are operated by private companies, fares and travel conditions may vary from operator to operator. Ticket prices are usually in the range of a train ticket. More information about bus schedules can be found here.
Safety tips
"In general, Bucharest is safe for travelling. In comparison with other major cities in Europe, violent crime and serious risks are low" says TripAdvisor. Nonetheless, as most capital cities in the world, Bucharest has to deal with some forms of petty crimes, such as pickpocketing or unfair taxi drivers. Still, some basic travel tips can keep people out of trouble.
If you plan to take a stroll in the city, make sure to secure your bags and important belongings such as travel documents, money, phone, electronics and keys. Keep an alert eye if you're travelling by public transport. Avoiding the outskirts of the city or areas around train or bus stations in the night is also a general rule. Refuse any unfair taxi rate and use a map app to track your route during a taxi ride in order to avoid additional charges.
Of course, across the city there are different levels of risk. However, all the venues of FOSS4G (conference, workshops, parties) are in very well rated locations over the city. Tourist attractions are likewise in very good locations. 

For any type of emergency you can dial the National Emergency number 112  (free of charge).