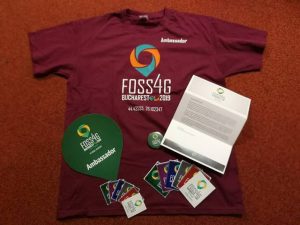 For years at a row, FOSS4G was the place to be at the end of your summer and beginning of your autumn. 2019 brings no change. For any geospatial fan or professional, Bucharest is the place to be in the last week of August of 2019 to connect with the geospatial world.  Yet, our home planet is big and eventful, so the word on FOSS4G 2019 Bucharest must travel far and wide. And how can this message better be delivered if not from the very pillars of our community?
In our work of sharing the news, we seeked help within the core of our community and invited mentors and friends to become FOSS4G 2019 BUCHAREST Ambassadors! We hope our invitation comes as a sign of our acknowledgment for their long-standing valuable work in the open source for geospatial world.
FOSS4G 2019 BUCHAREST Ambassadors have received a special kit with foss4gy materials to assist them in spreading the word, so if you see someone anointed with the FOSS4G 2019 Bucharest T-shirt, go meet them. They're wonderful people and they have an important message for you.
We are deeply grateful for the work of our Ambassadors to send the FOSS4G2019 Bucharest message across oceans and continents, across generations, across geospatial solutions preferences. Their work is profoundly important for our community. After all, we are here because at a moment in time, we got the courage to go across the conference room and met such an ambassador.