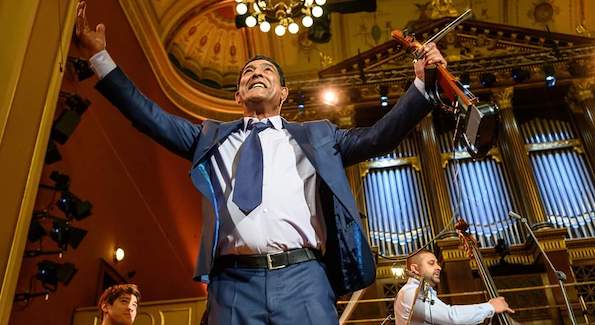 —Attention! Spoilers ahead!—
In the last few weeks, we have been constantly sharing the progress we're making to shape up your FOSS4G2019 Bucharest. We've introduced the awesome hands-on workshops, the full conference schedule, keynotes, our partners, sponsors, the EO Data Challenge, the B2B platform. All the serious staff. But, be at ease, no aspect of the FOSS4G2019 has been left out…
Some of you might vaguely remember a regional FOSS4G 2013 in Bucharest, others might have remembered a small, but intriguing paragraph in our proposal, something like: "It will be said that Bucharest FOSS4G2019 was a FOSS4G for the strong ones. The Romanian OSGeo Local Chapter – geo-spatial.org – has, we believe, a pretty well-known reputation for what would commonly be known as "work hard, party hard".
We thought a lot about the main artistic act of the Gala Dinner for FOSS4G 2019. We already have the coolest DJ possible for the Ice Breaker Party (also joining the Gala Dinner, of course), but more was needed, we want to share from our rich and diverse cultural spirit. You are coming after all in a Slavic region, visiting Latin people. We want a fine touch that we all remember, we want to make people dance – but most of all to make people feel.
You should've seen us, around the table, discussing about it: We should go in that direction! No, wait I have a better idea! No! I have a BETTER idea than your better idea!
It should be joyful.
It should be emotional.
It should be lively.
It should be representative.
It should be mind-blowing.
But when it's right, you just know it. And so it was, we decided that Taraf de Caliu is the best possible choice for the FOSS4G 2019 Gala Dinner, at the Romanian Palace of Parliament. Probably among the last true Romanian lăutari. A unique occasion for you, so please, do not forget to pack your dancing shoes. We would tell you more about how this is gonna' roll, but we already know the description won't do justice to what we have planned.
Our strong recommendation for you is to not miss this Gala Dinner, on August 29. We promise our main act for the night will be one to remember. Happy, emotional, lively, representative and mind-blowing.
Hold on to that ticket of yours (virtually speaking, of course), or register now if you're still thinking about it. Please, remember to have your badge/documents with you so you can pass the security filter at the Palace of Parliament! Better safe than sorry! And we guarantee you will be sorry if you'll miss Taraf de Caliu!
The musicians from Clejani are probably the most inspired and vital of all lautari in Romania, being surely stimulated by their southern origins. Taraf de Caliu brings together legends of gypsy music such as Gheorghe "Caliu" Anghel, Viorica Rudareasa, Marius Manole, Ionica Tanase, Sile Neacsu.
Since 1991*, the year in which their music began taking on western Europe, the musicians from Clejani have performed all over the world in places as culturally different as possible – Tokyo, Paris, Singapore, New York, Istanbul, London, Los Angeles. If we are to name just a few of their fans and collaborators, we'd go for Yehudi Menuhin, Kronos Quartet (alongside which they produced), Johnny Depp (with whom they starred in "The Man Who Cried") and Yohji Yamamoto.
Under the name of Taraf de Haidouks, the group was awarded in 2002 with BBC World Music prize for Best Group in Europe & Middle East.
Although we are inclined to push forward their recent achievements in the music industry, what makes their performances so powerful is not the last 10 or 20 years in which they were exposed to such diverse cultures, but their own cultural & musical heritage. The group is formed by authentic "lautari" that have grown and developed around their culture's music, have performed since they were children and to whom music is life.
They are the last generation of its kind. Their craft is the result of centuries of gypsy culture transmitted through music.
*Information source https://www.facebook.com/tarafdecaliu.