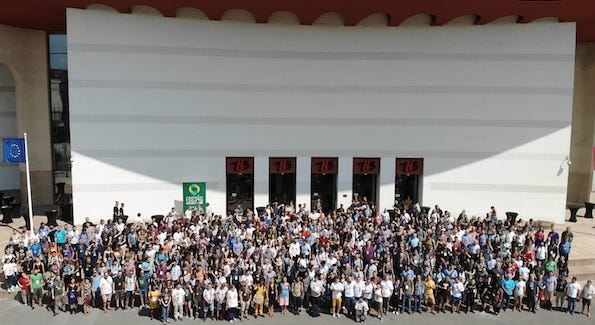 It took a while for our last blogpost to come to light. At the beginning, it was because we badly needed to disconnect and recover. Then, life stormed in through the breaches of our schedules, with all the unattended tasks and assignments, responsibilities and engagements. And then time just sneaked by. Days turned into weeks, weeks into months, months into the year. We continued to work, at a slower pace, to wrap up everything, sending the last invoices, calculating budgets, extracting statistics, collecting slides and workshop materials for upload on the conference website and tying up other loose ends.
But something happened. Today our generation is facing its biggest challenge yet, a pandemic of dreadful proportions unfolding as a black cloak covering the world as we have come to know it. We are far from even beginning to grasp the consequences, but it is no secret to anyone that our world will emerge changed, hopefully for the better.
In the midst of all the Covid-19 news alerts, recommendations and interdictions, we invite you to pause for a second and join us for one last trip back in time, to FOSS4G 2019 Bucharest, Romania. Here is what happened last summer.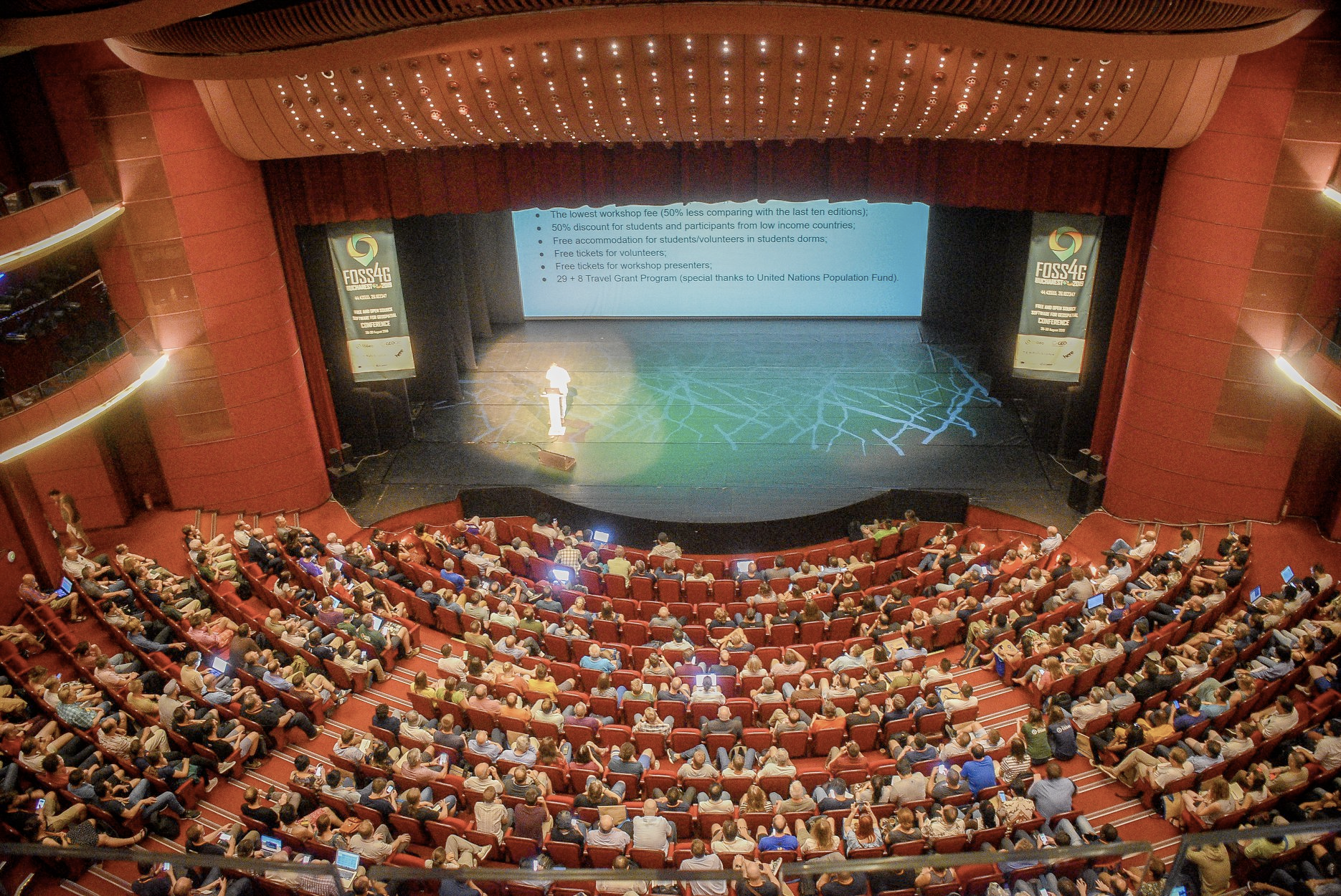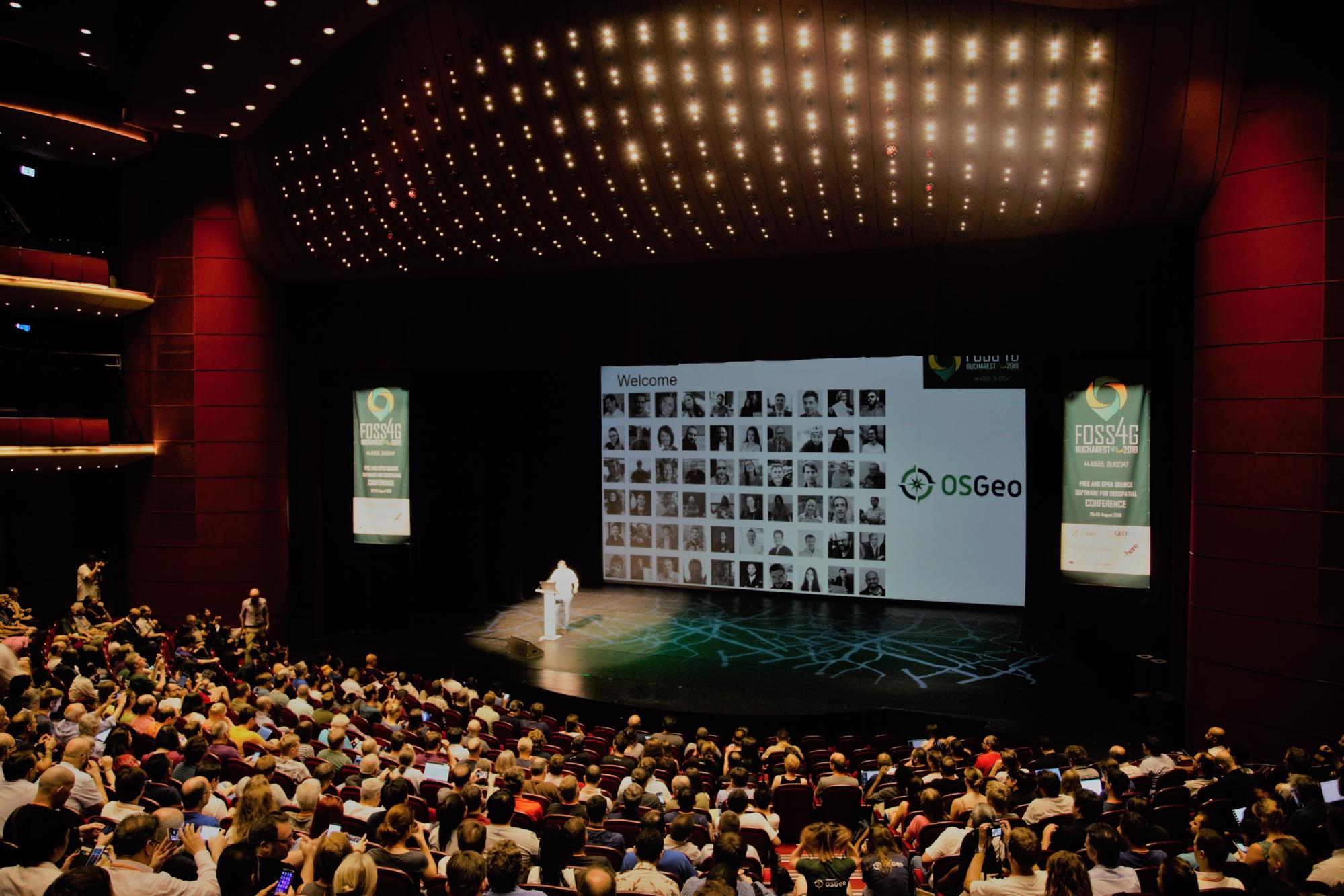 But until we warmly welcomed you in the wonderful National Theatre Bucharest on the 28th of August 2019, a lot had already happened. Events were already kicking off the weekend before the conference, as the 23rd – 25th of August 2019 was reserved for the QGIS contributors meeting, held in the University of Bucharest.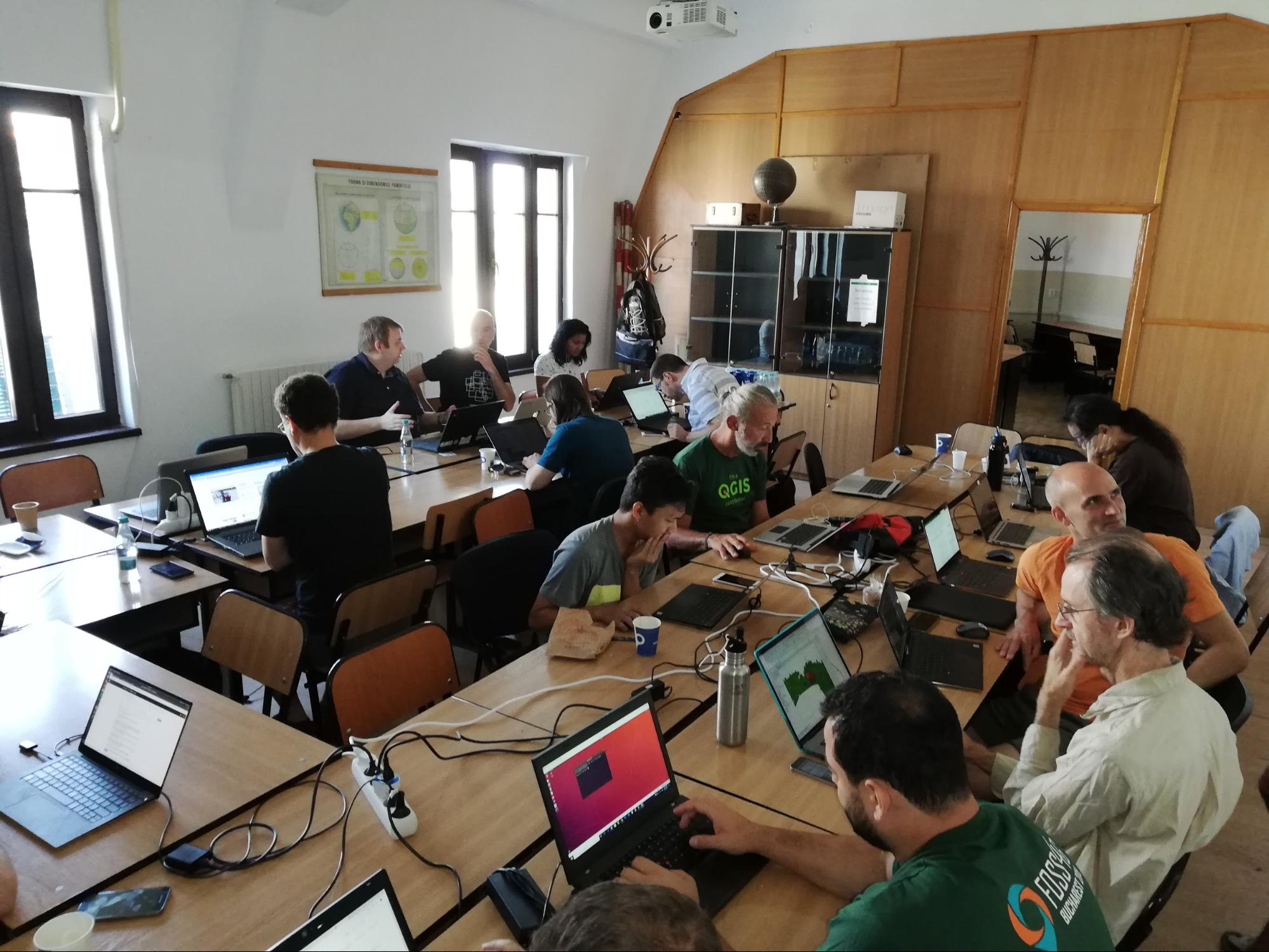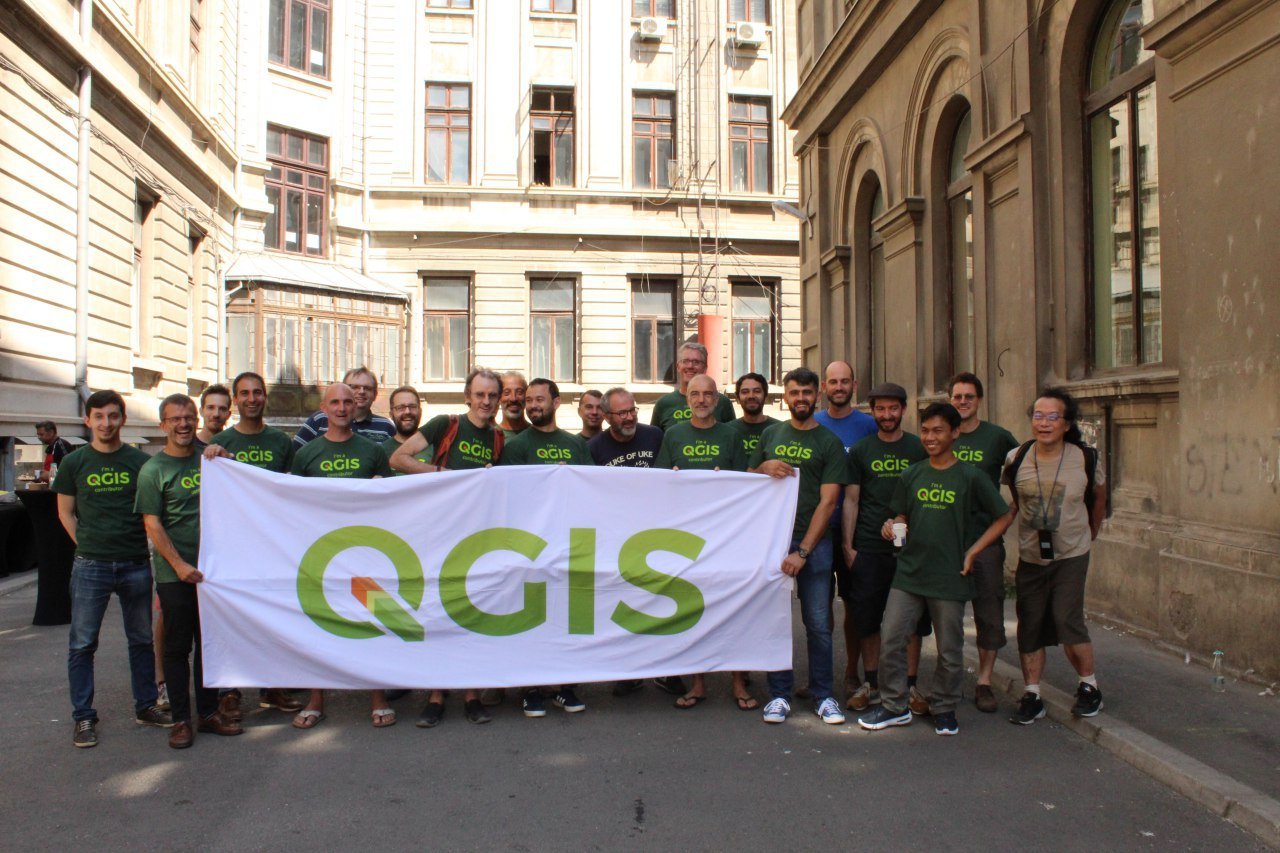 Starting with the 26th of August, the geospatial community was already prepared to take Bucharest by storm. The FOSS4G 2019 workshops sessions were beginning. The Workshop Committee had a challenging task in selecting just 42 workshops out of the almost 80 received and the resulting schedule was, as expected, wonderful. From cartographic tips and tricks, to mobile geospatial data collection, from Earth Observation data processing and visualizations to plain old geospatial development, we had it all.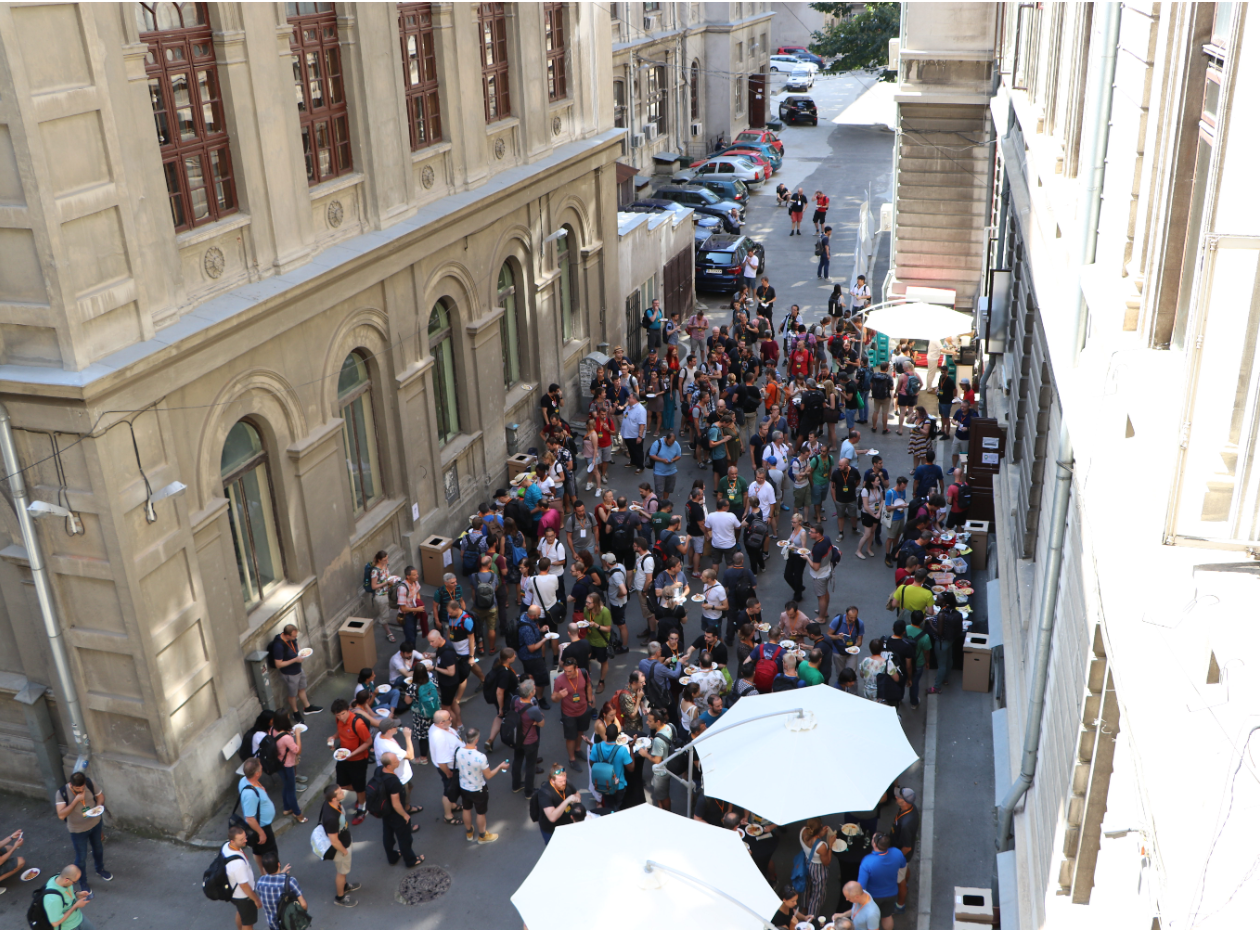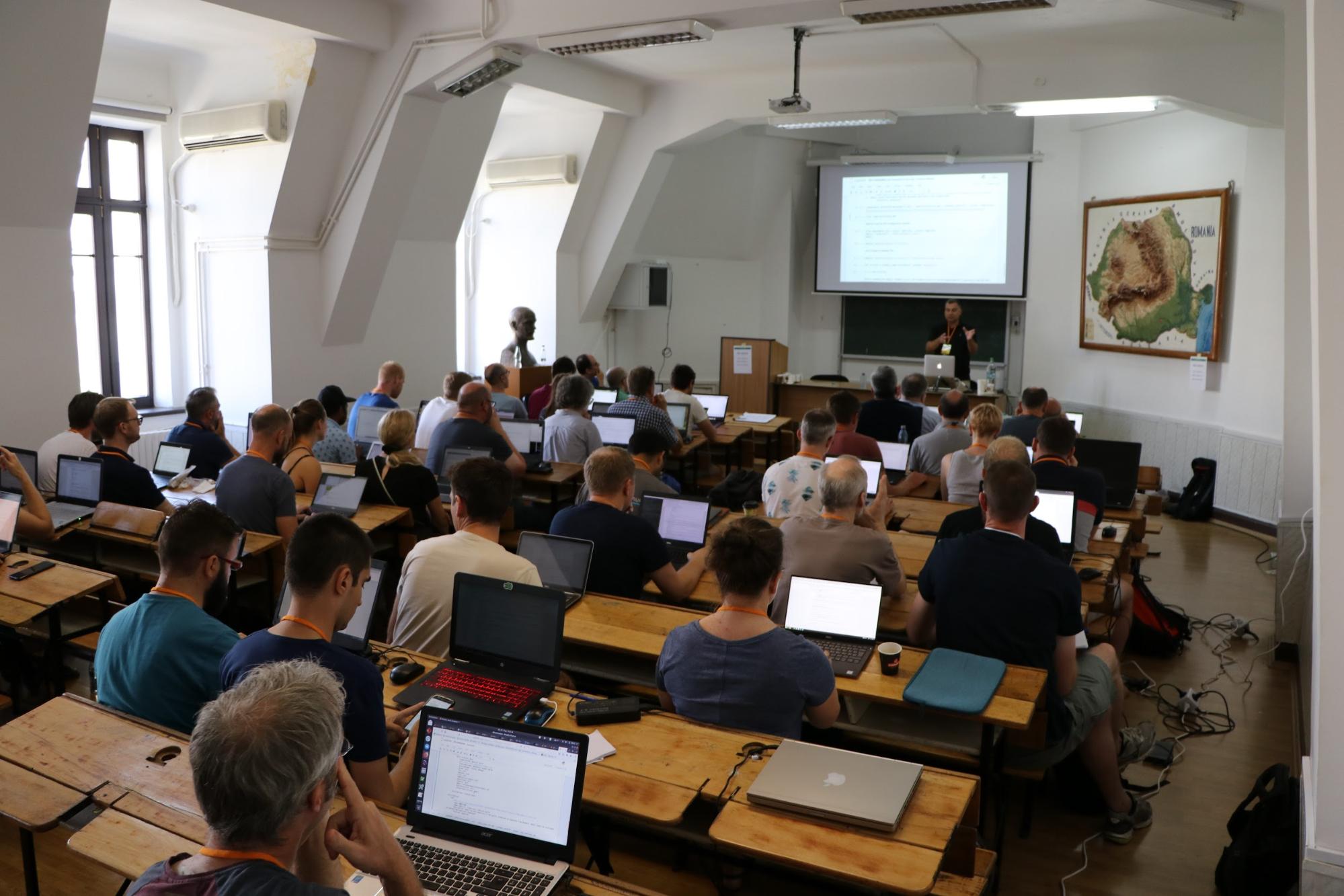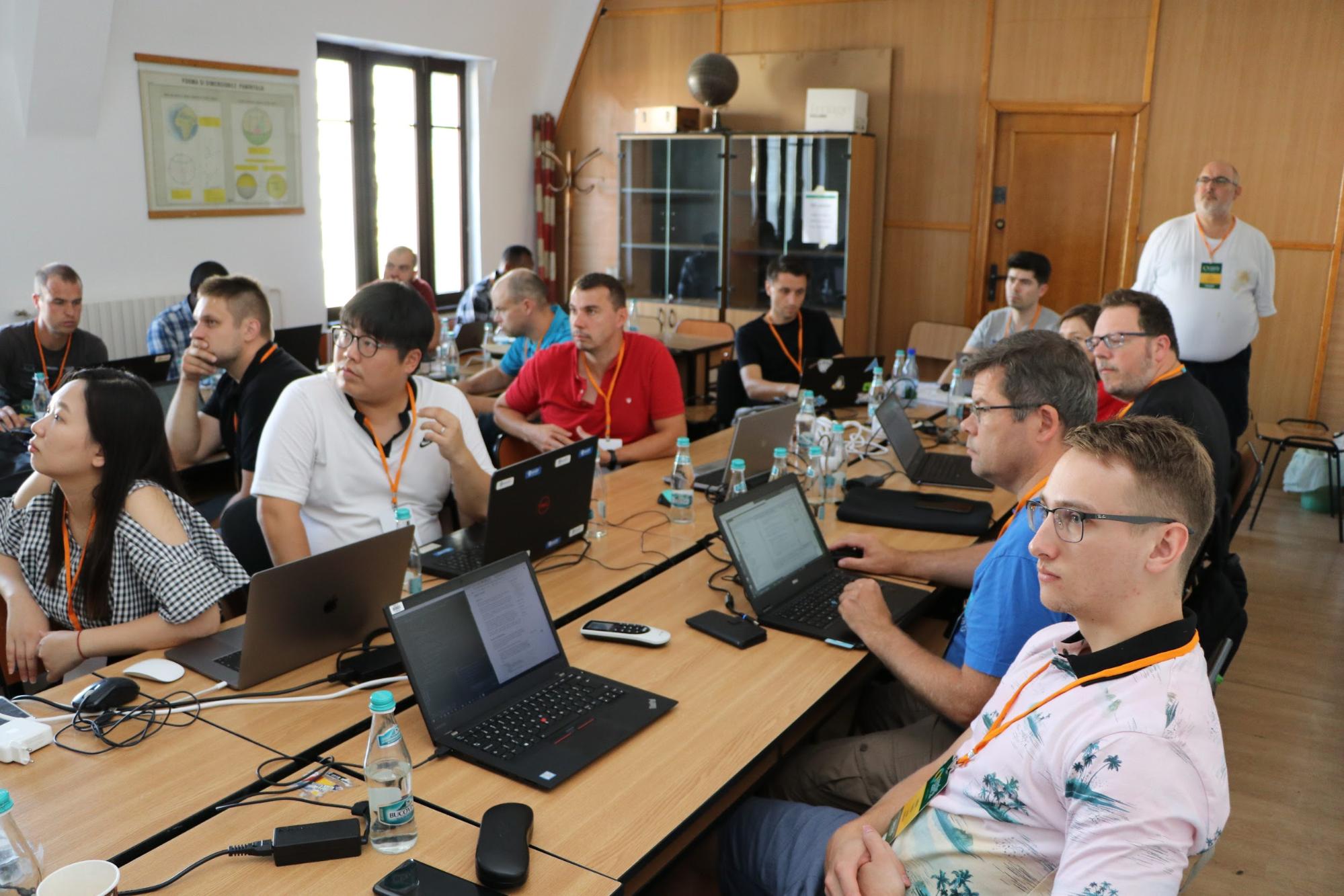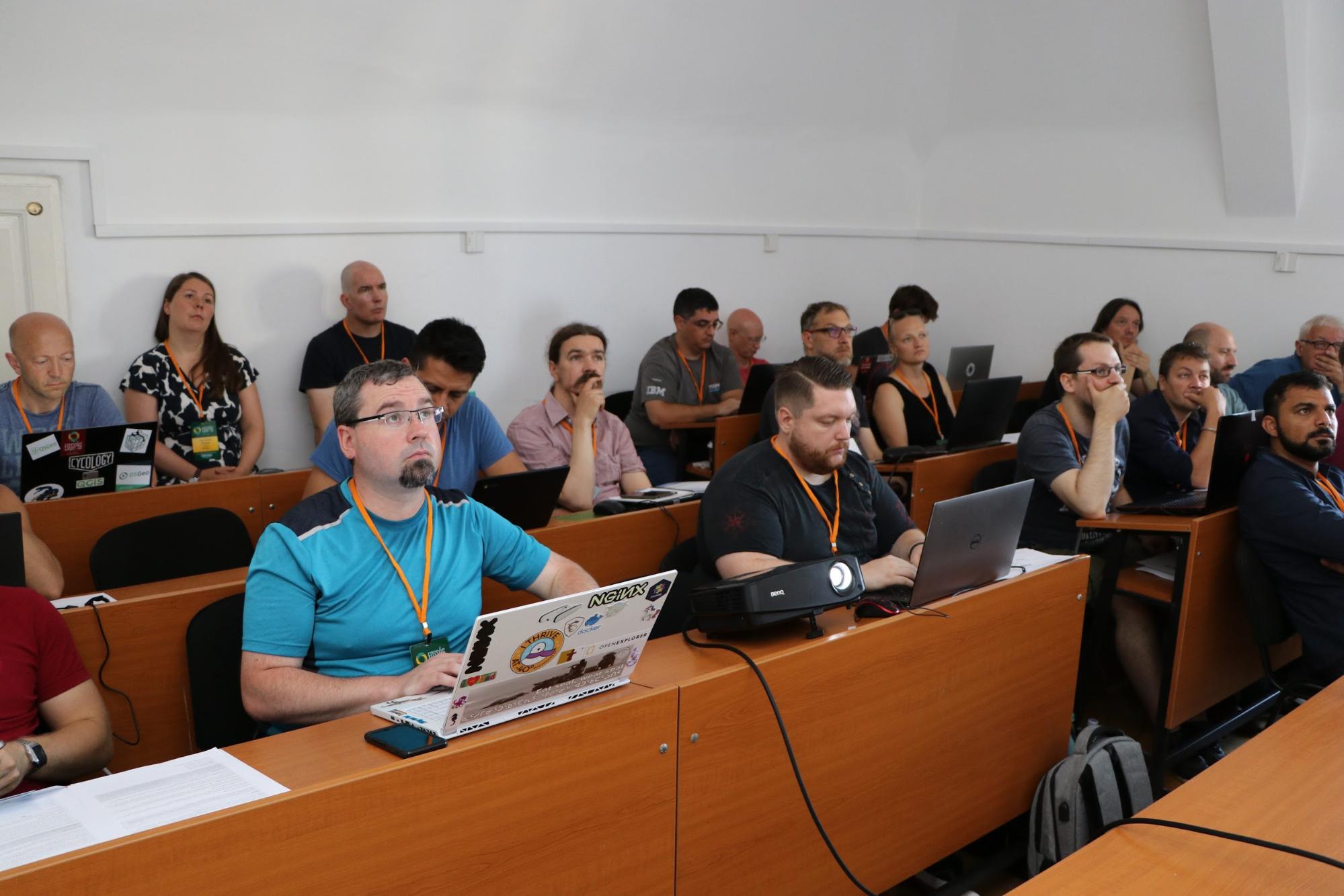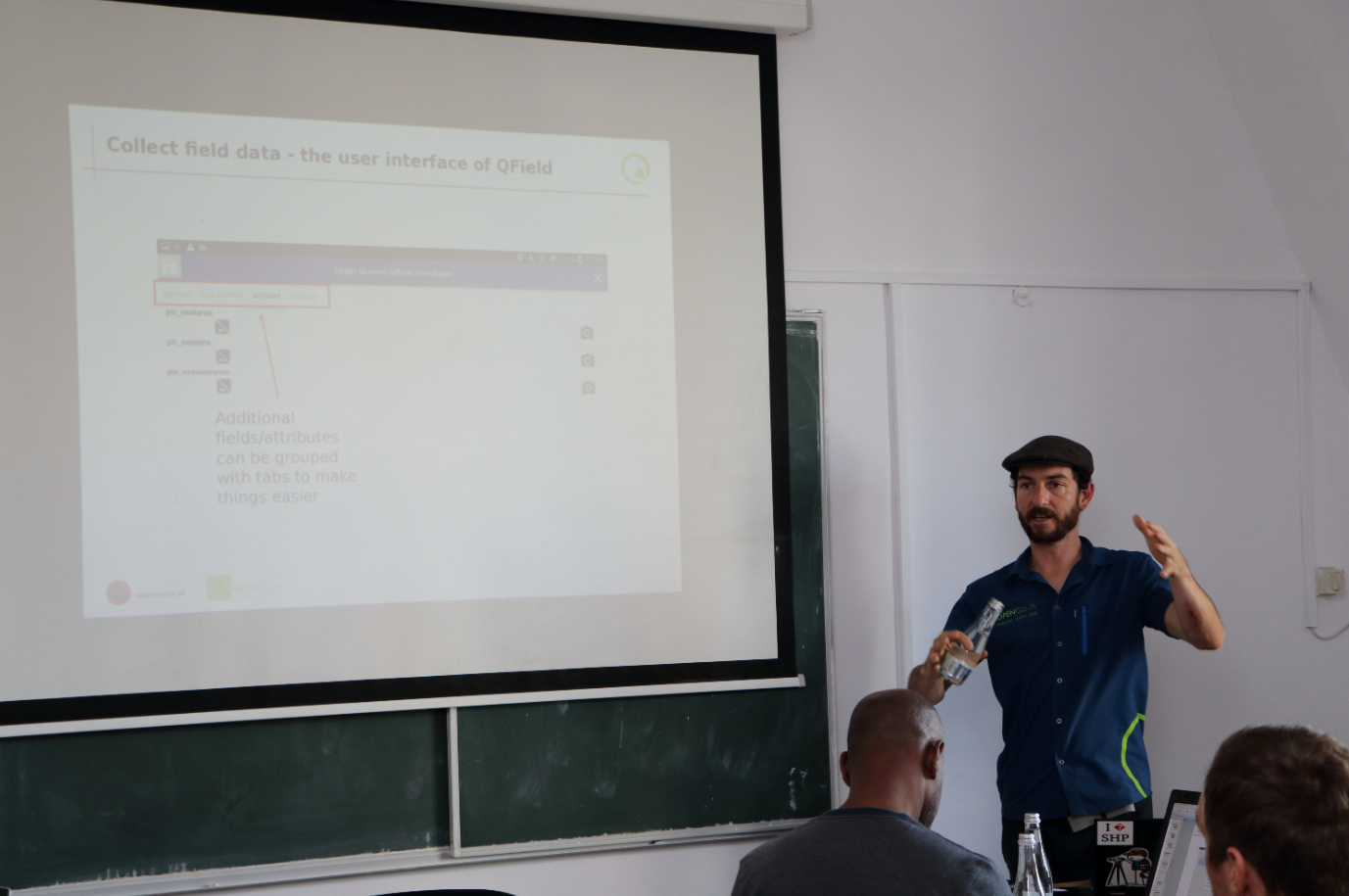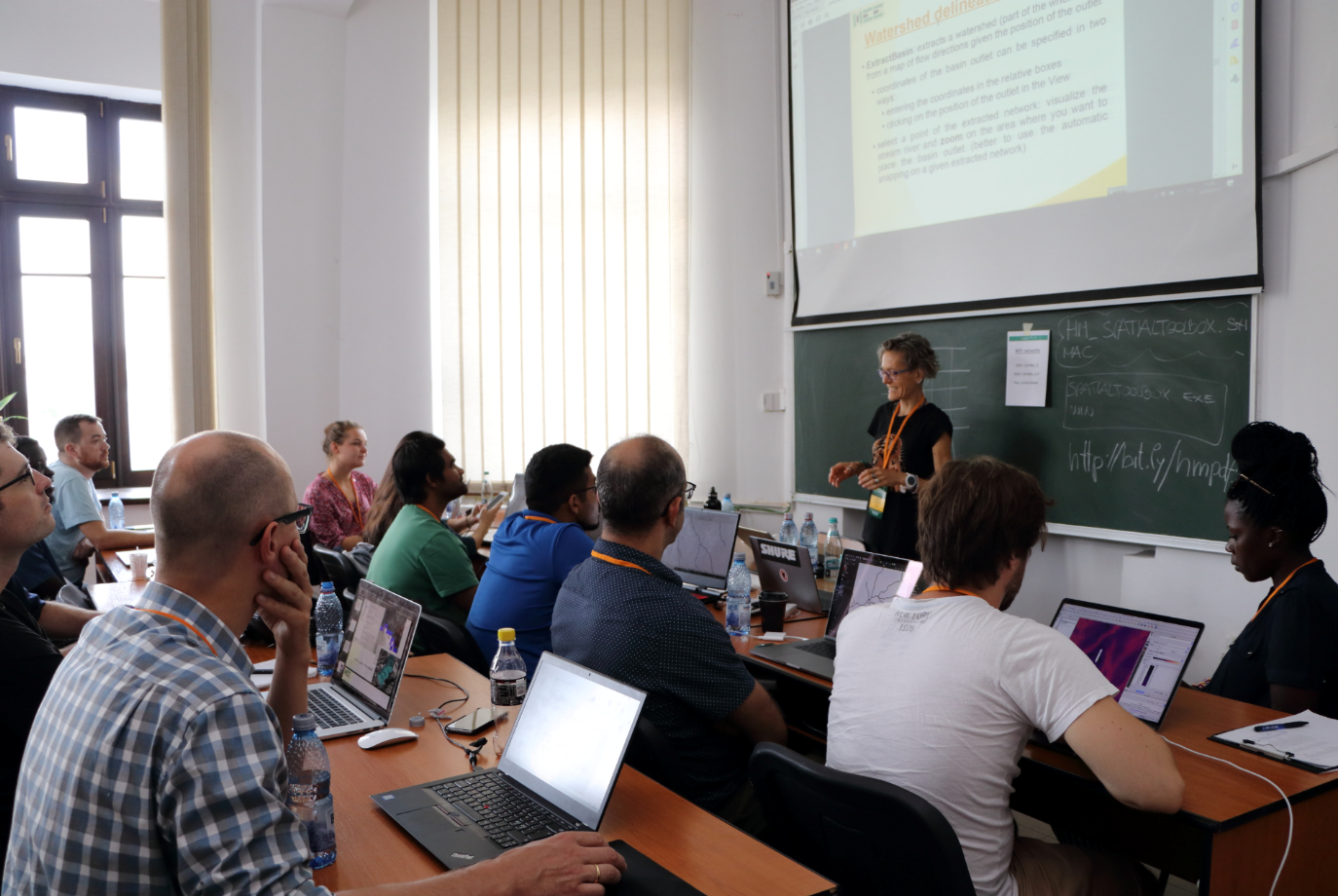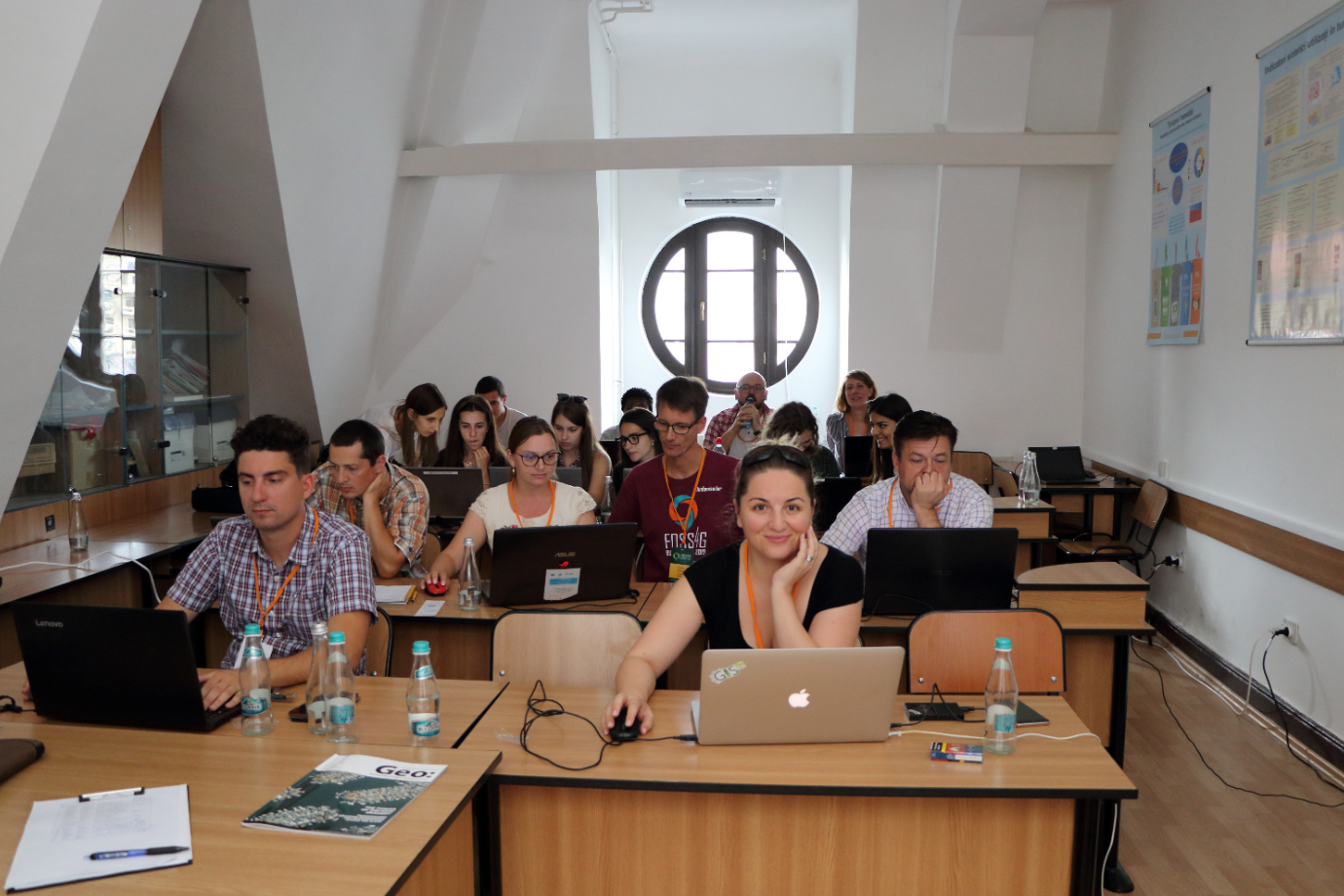 And then… the conference started!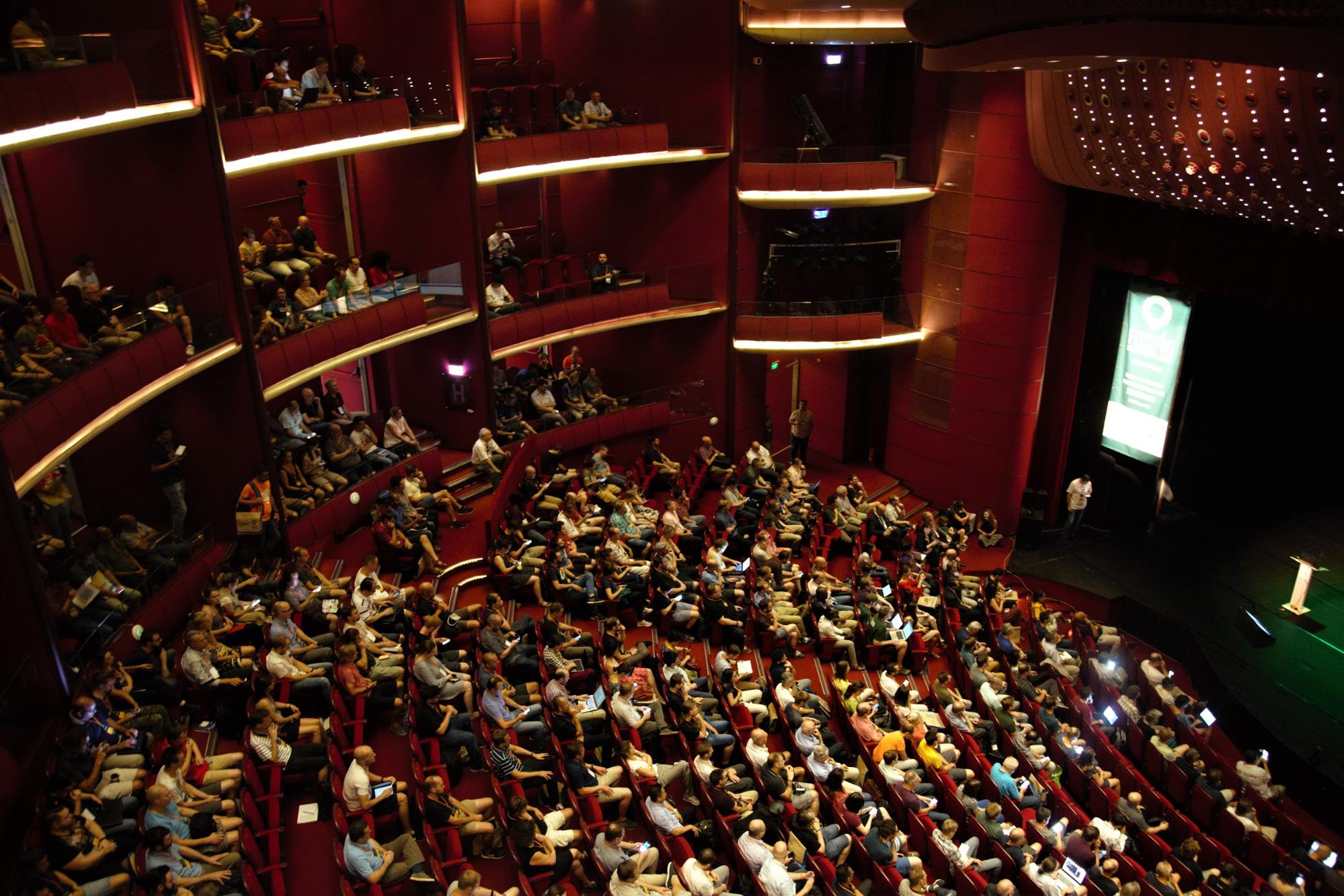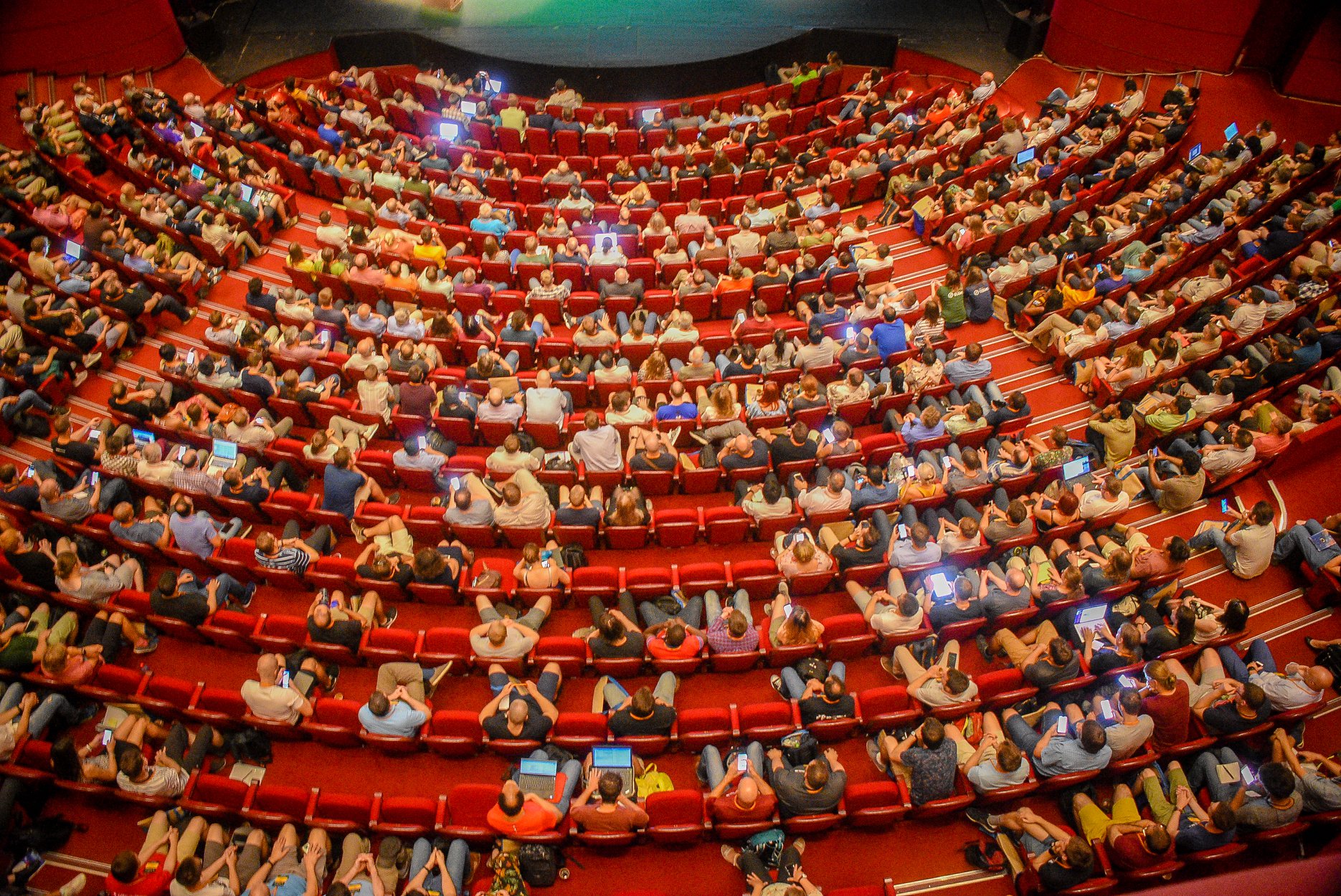 We cannot put into words the feelings we experienced as more and more participants were finally crowding into the plenary of the National Theatre of Bucharest. All that work, all those milestones and challenges to overcome, all those meetings and discussions, all of it had finally matured into the FOSS4G 2019 Bucharest.
After an exciting opening plenary spiced up with 3 awesome keynotes from María Arias de Reyna – OSGeo, Kyoung-Soo Eom – United Nations and Steven Ramage – Group on Earth Observations, the FOSS4G 2019 Bucharest conference accelerated, full speed ahead.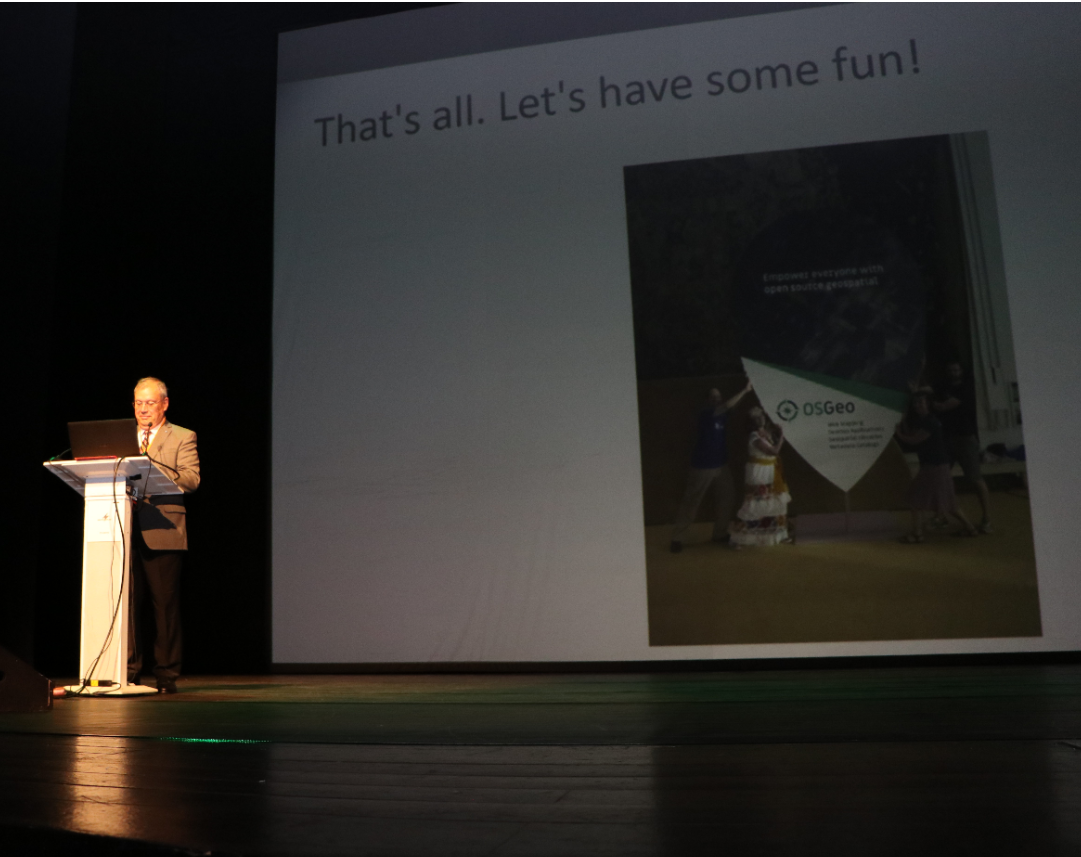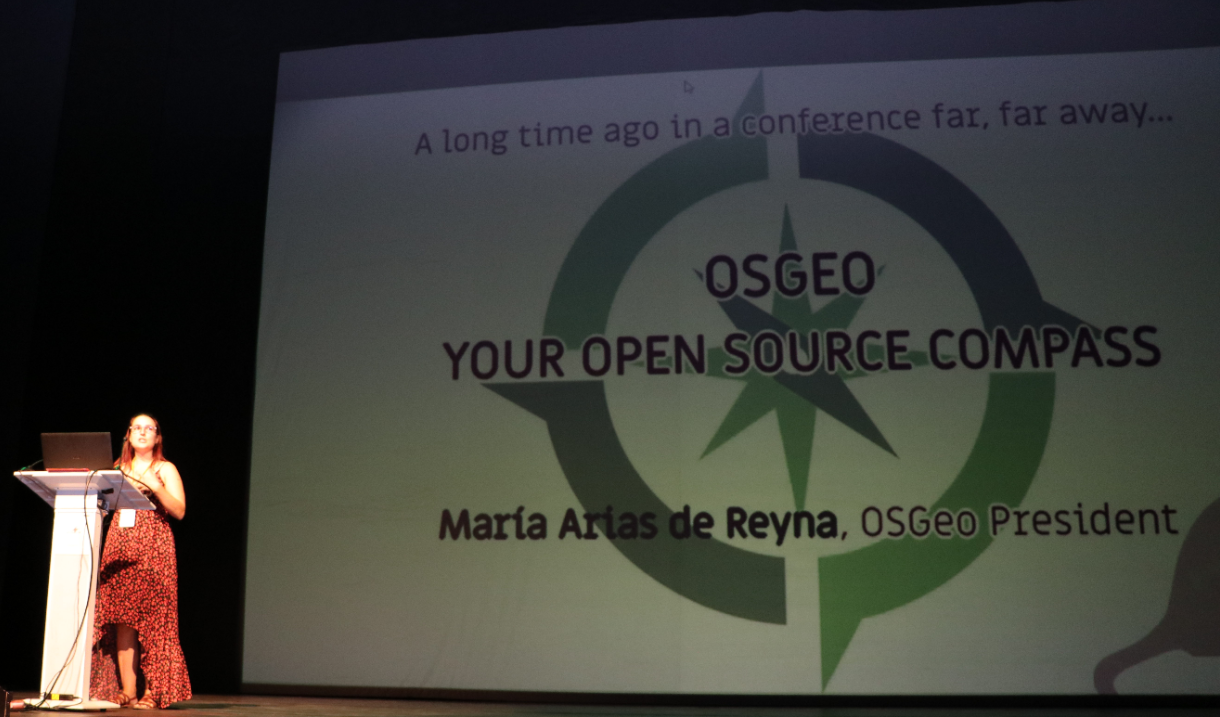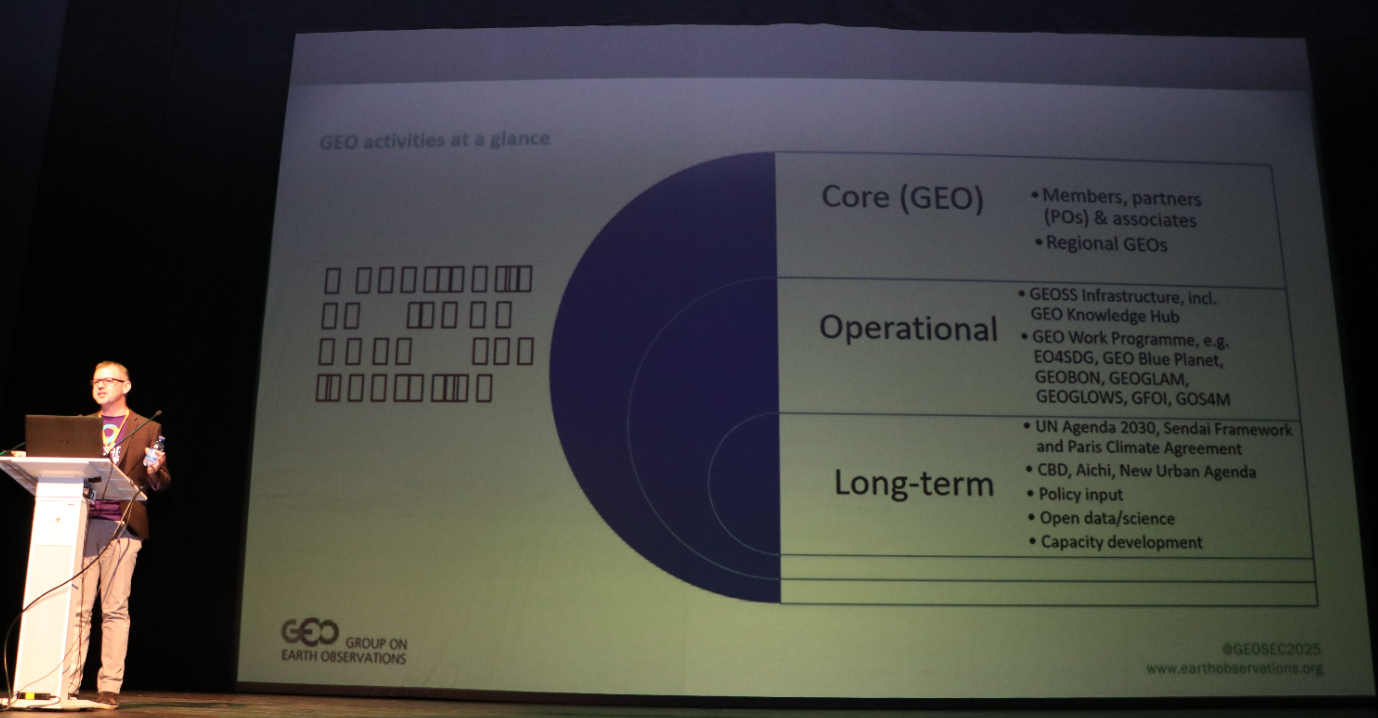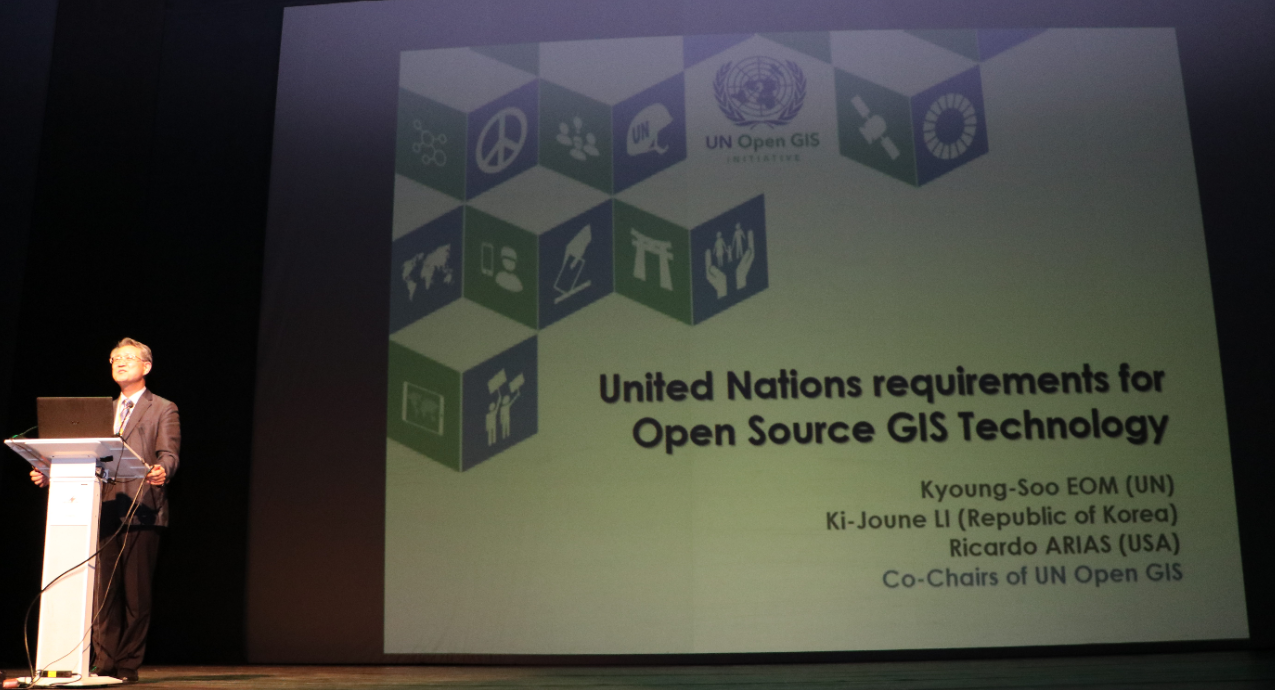 At 11 o'clock, 11 parallel tracks steamed away in the conference halls of the Intercontinental Hotel – our 5 stars conference venue.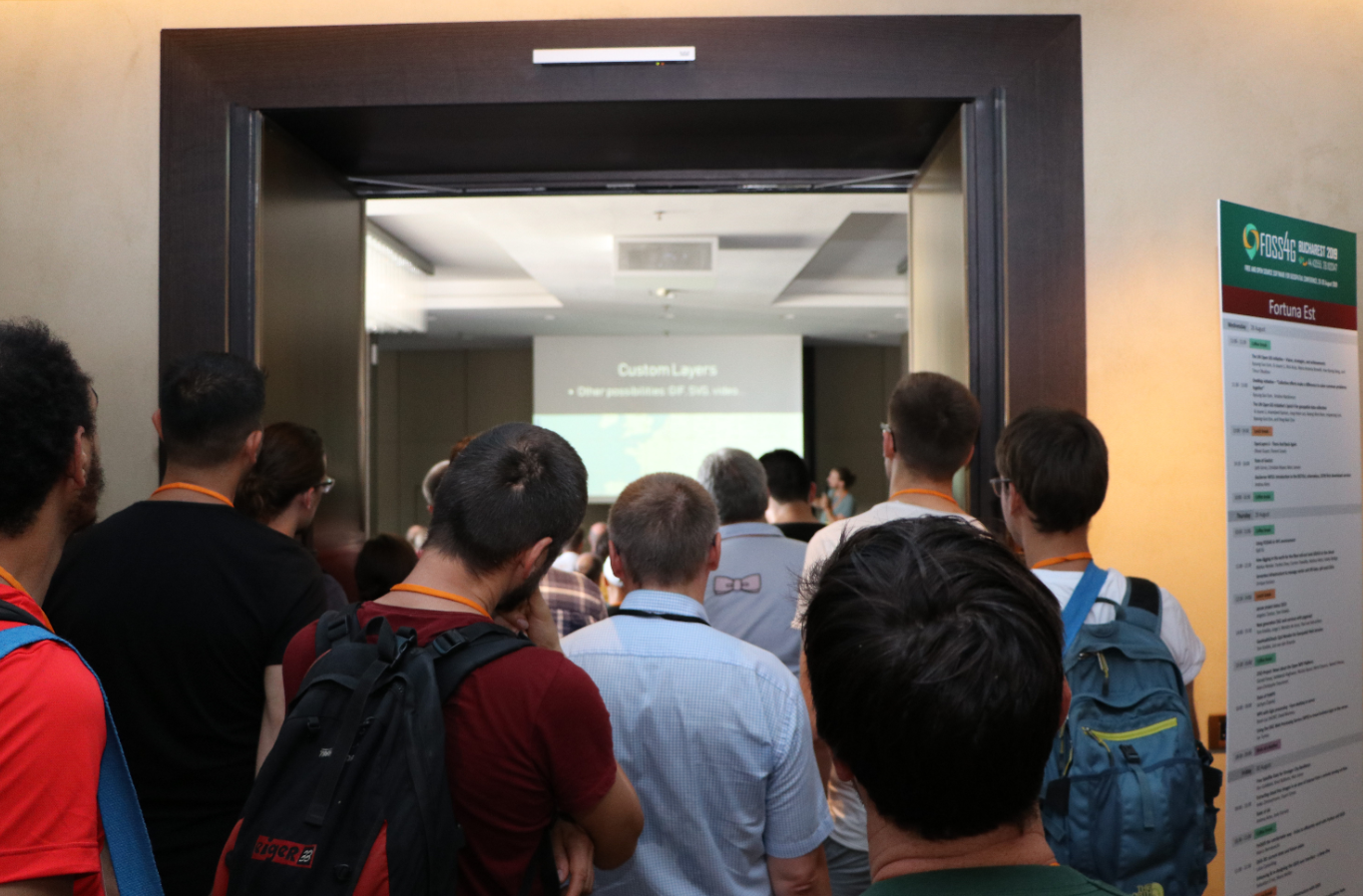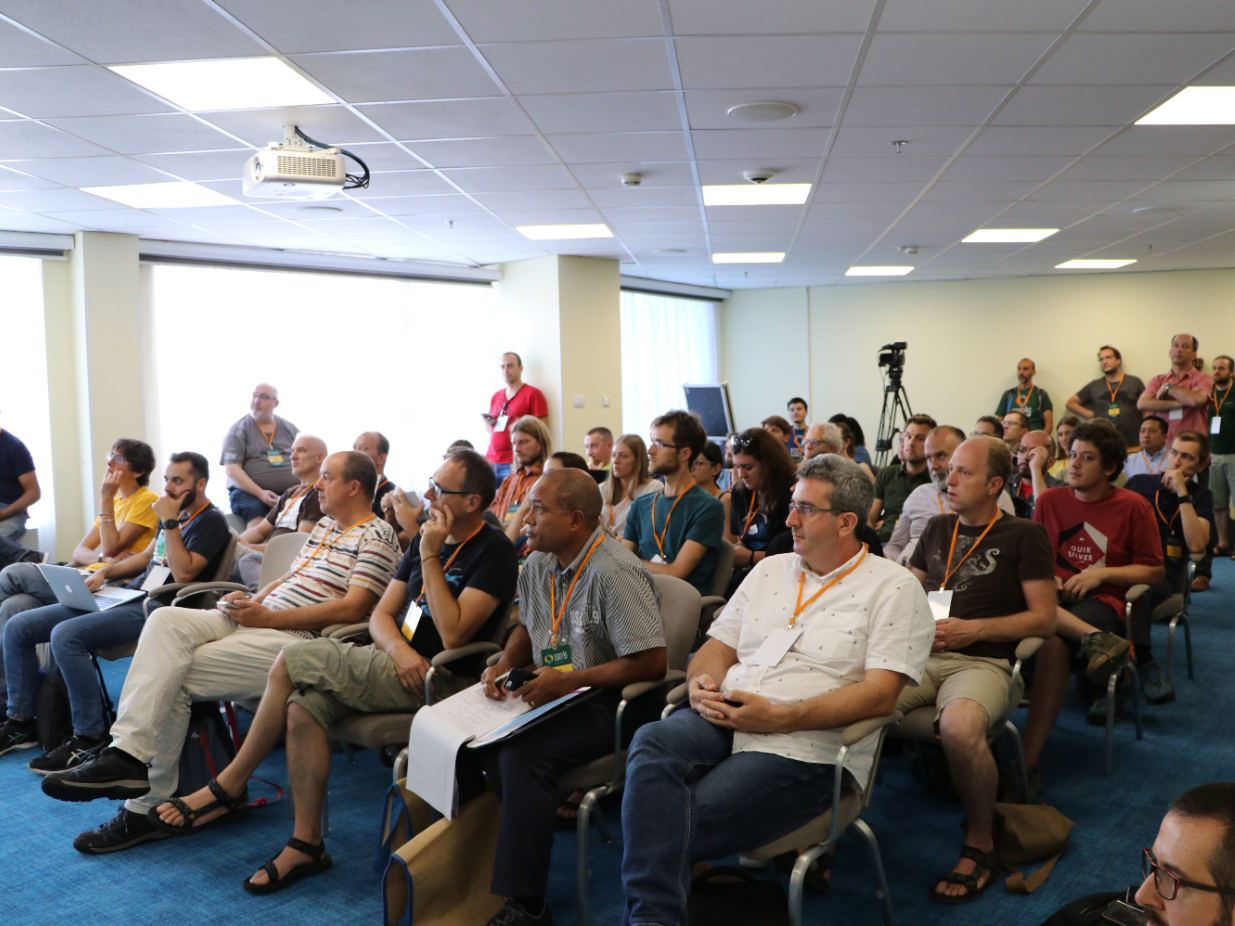 Needless to say, that after that first momentum, for us, things just went on fast forward. Yet, I believe that we experienced during the FOSS4G 2019 Bucharest week more than others do in a year. Running from one place to another, answering tens of calls, making on-spot decisions, happily using our professional walkie talkie stations and, basically, doing everything in our power so that FOSS4G 2019 unfolds as smoothly as possible for every participant.
The first day of conference continued with the traditional birds of-a-feather flocking together for discussions on: OSGeo charter membership, Open Science and New Technologies forum at IPSRS 2020 Congress, GeoForAll, Mapserver, Catalog, GRASS GIS new website, OpenMapTiles, GeoServer and GeoServer Demos and, of course, a thorough informing BoF for all Travel Grant Program.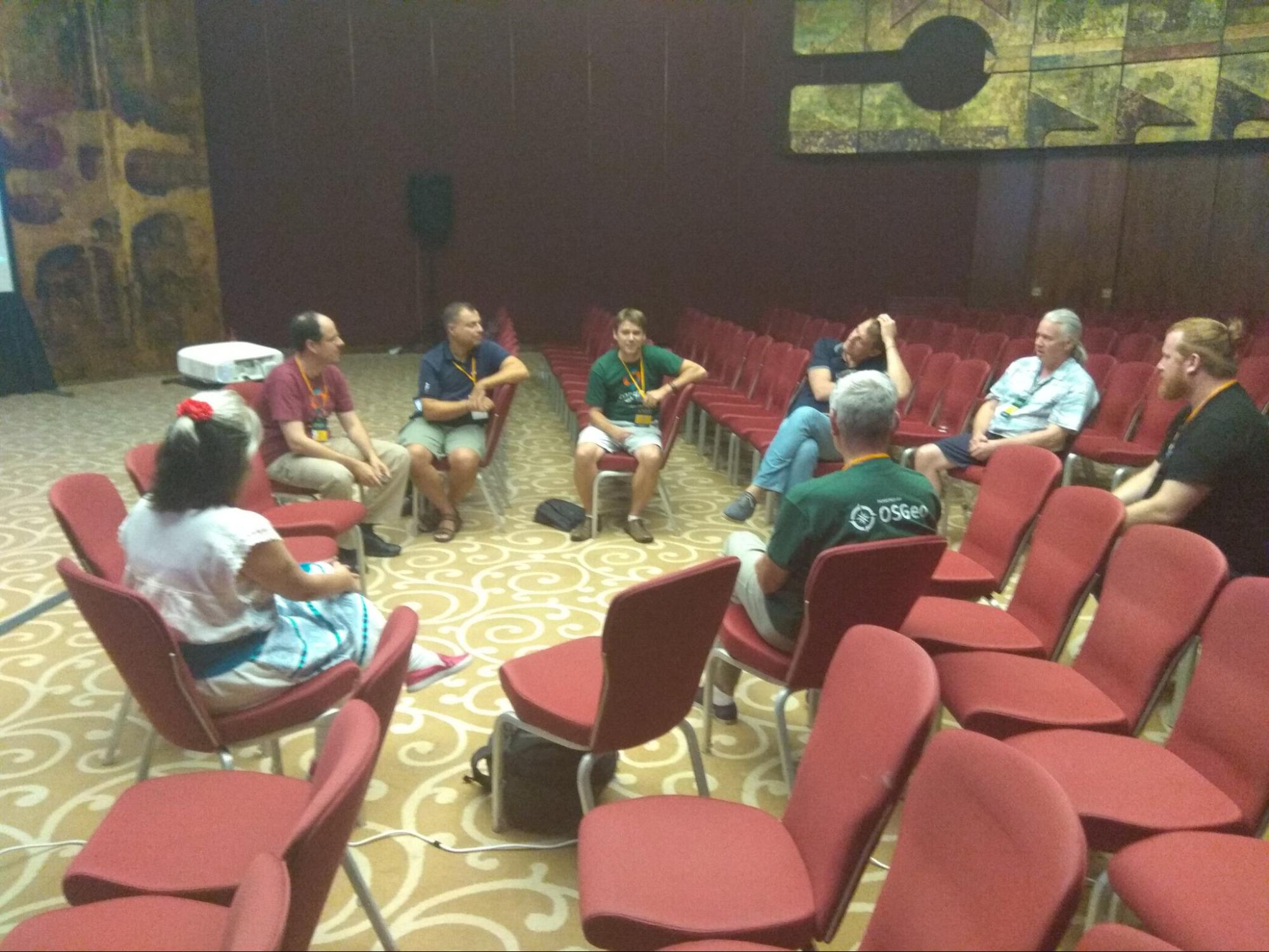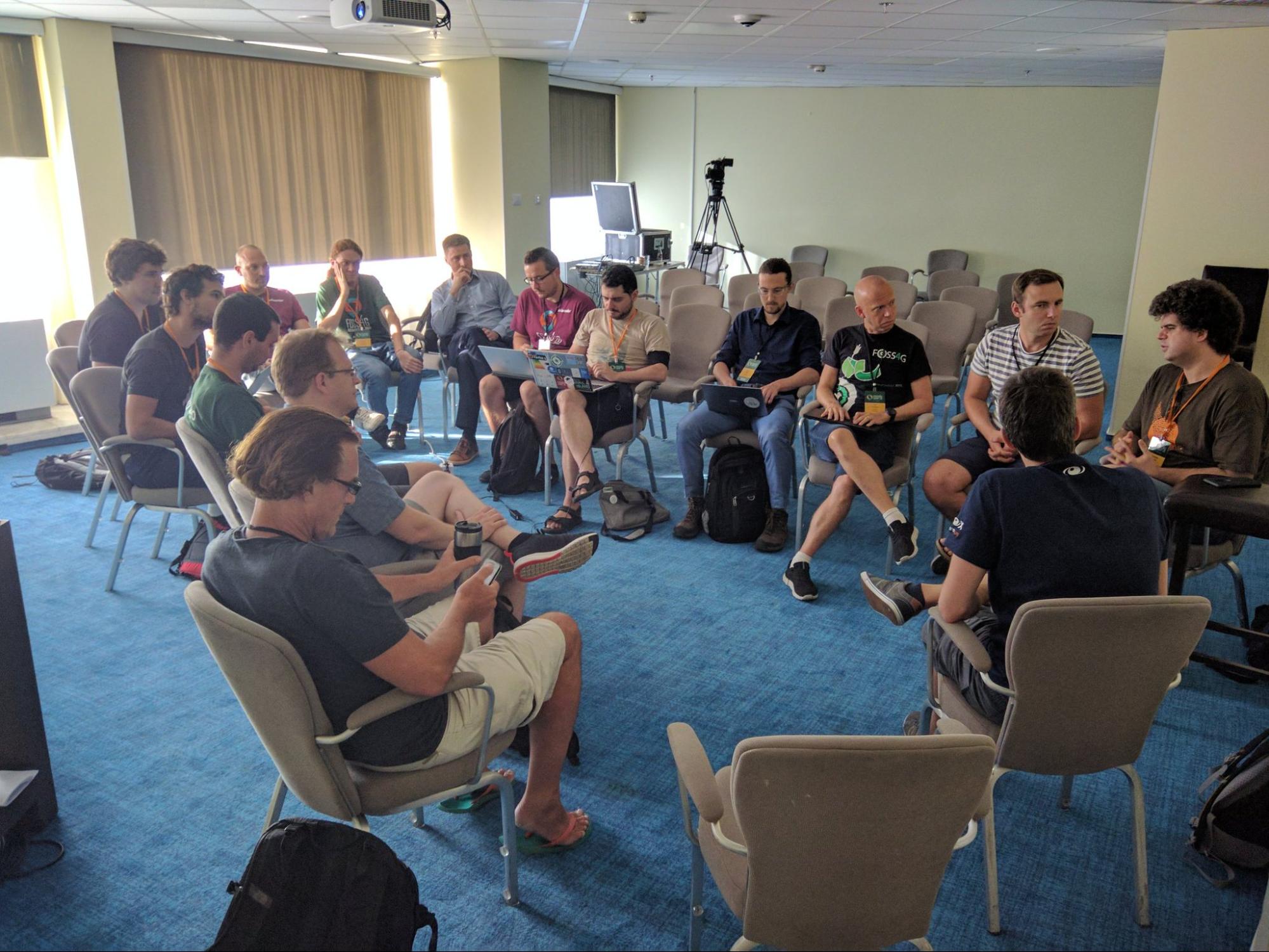 In another part of the FOSS4G 2019 venue, another important side event was taking place. In an orderly and fashionable manner, 63 participants were initiating the B2B meetings arranged in the elegant Modigliani Restaurant at the ground floor of the Intercontinental Hotel. As expected, we did not keep track of any concrete results, yet the evolution of the open source geospatial ecosystem of the last decade stands proof of the robust business aspect of it.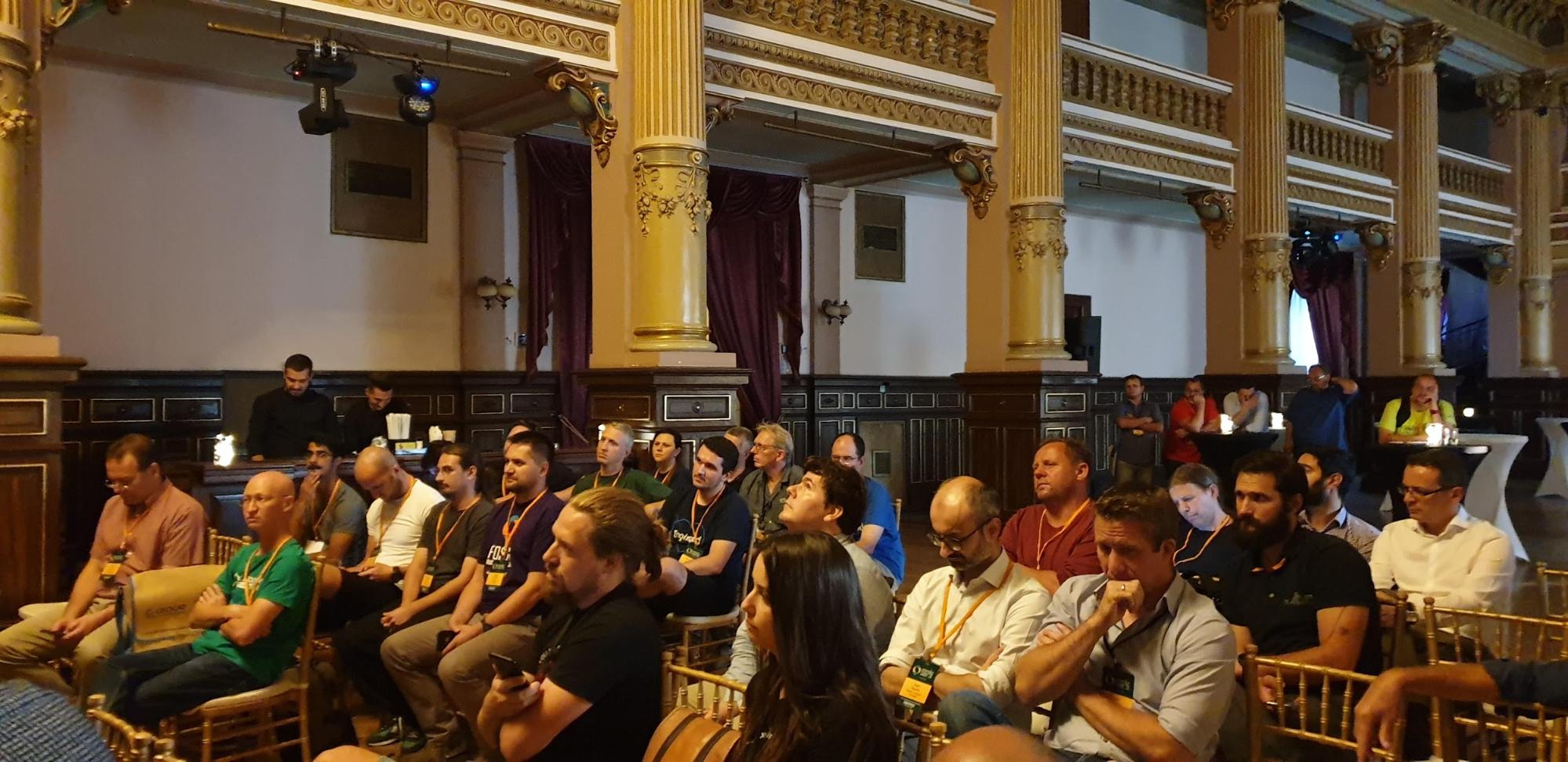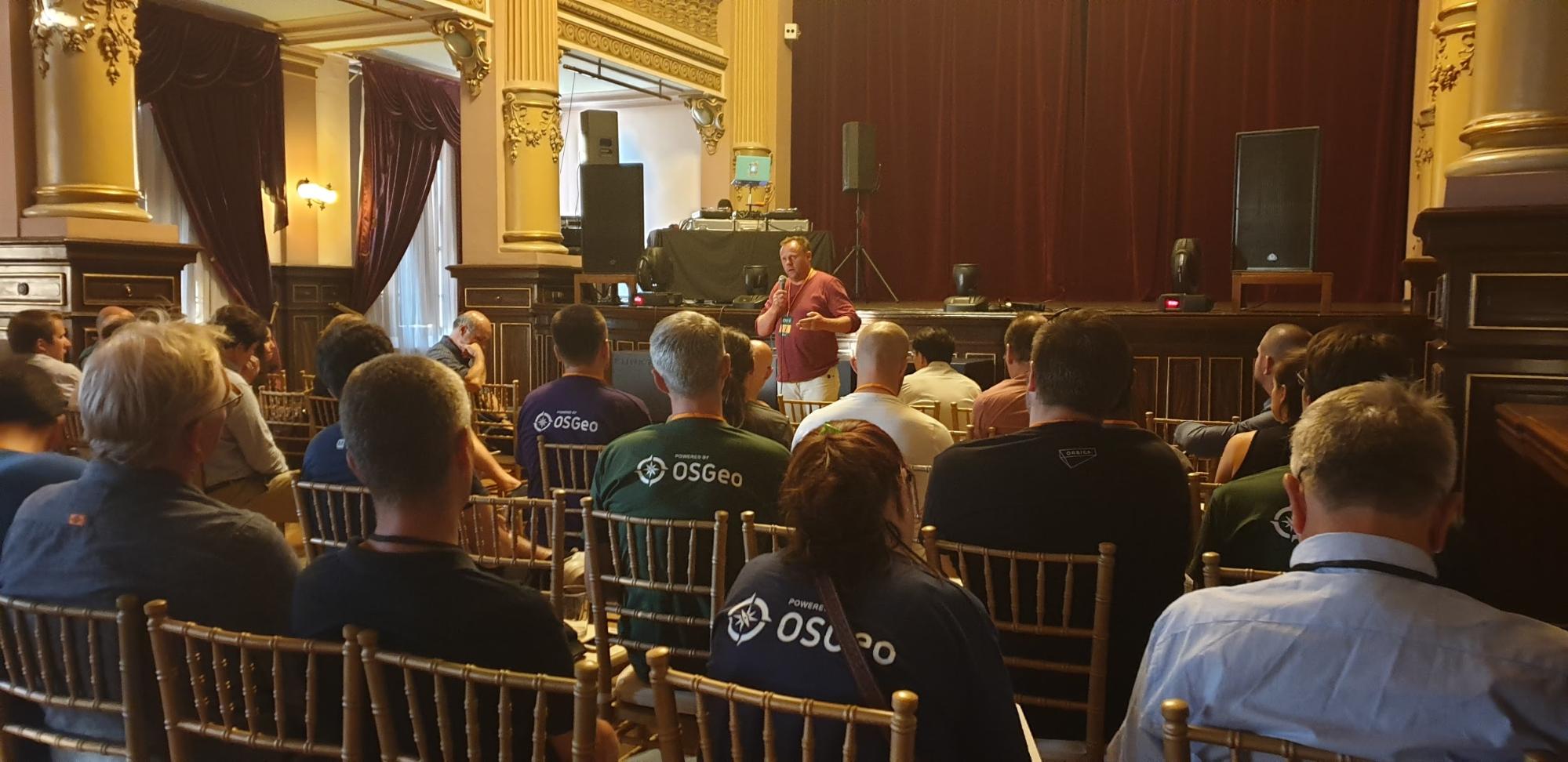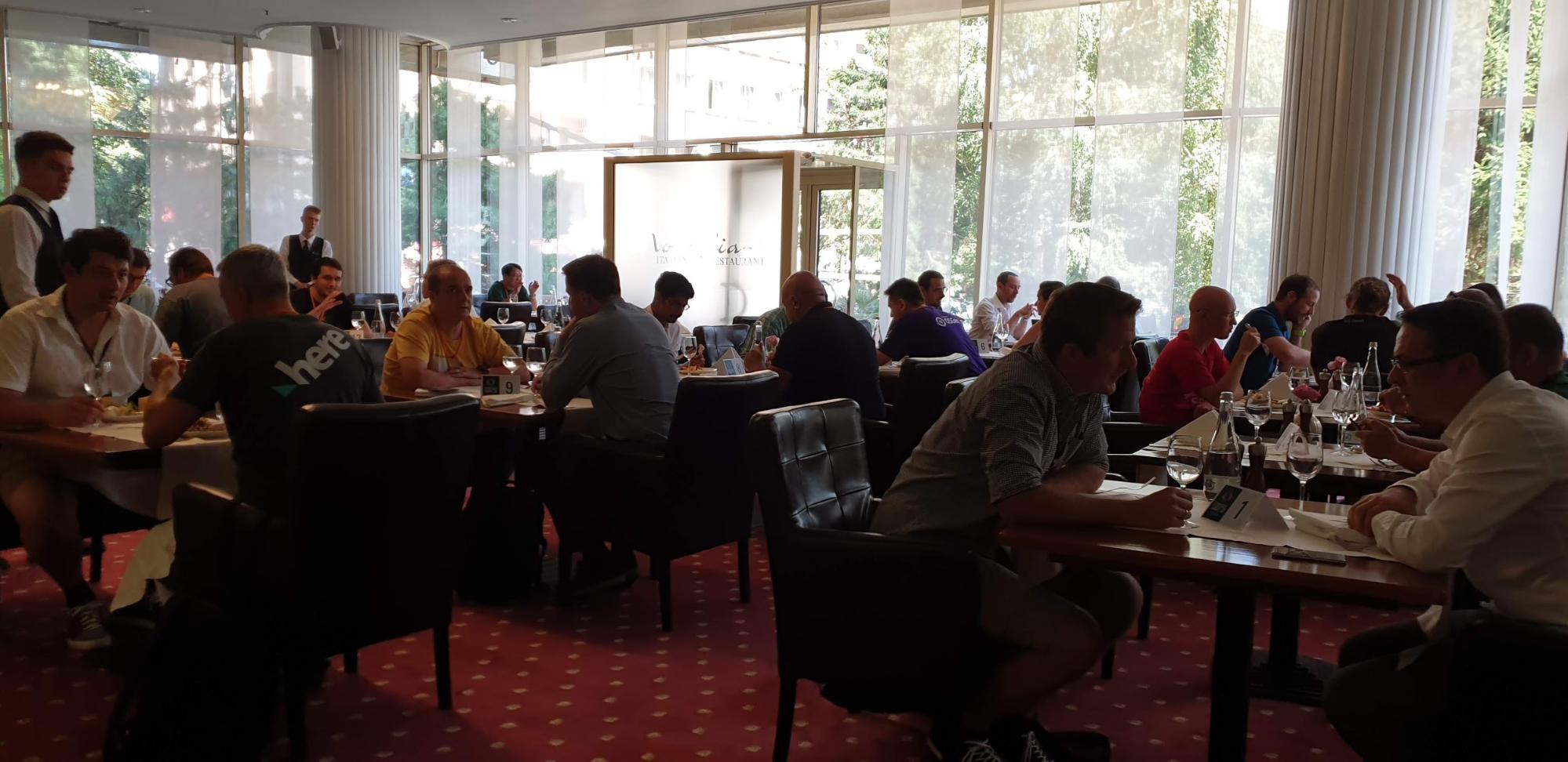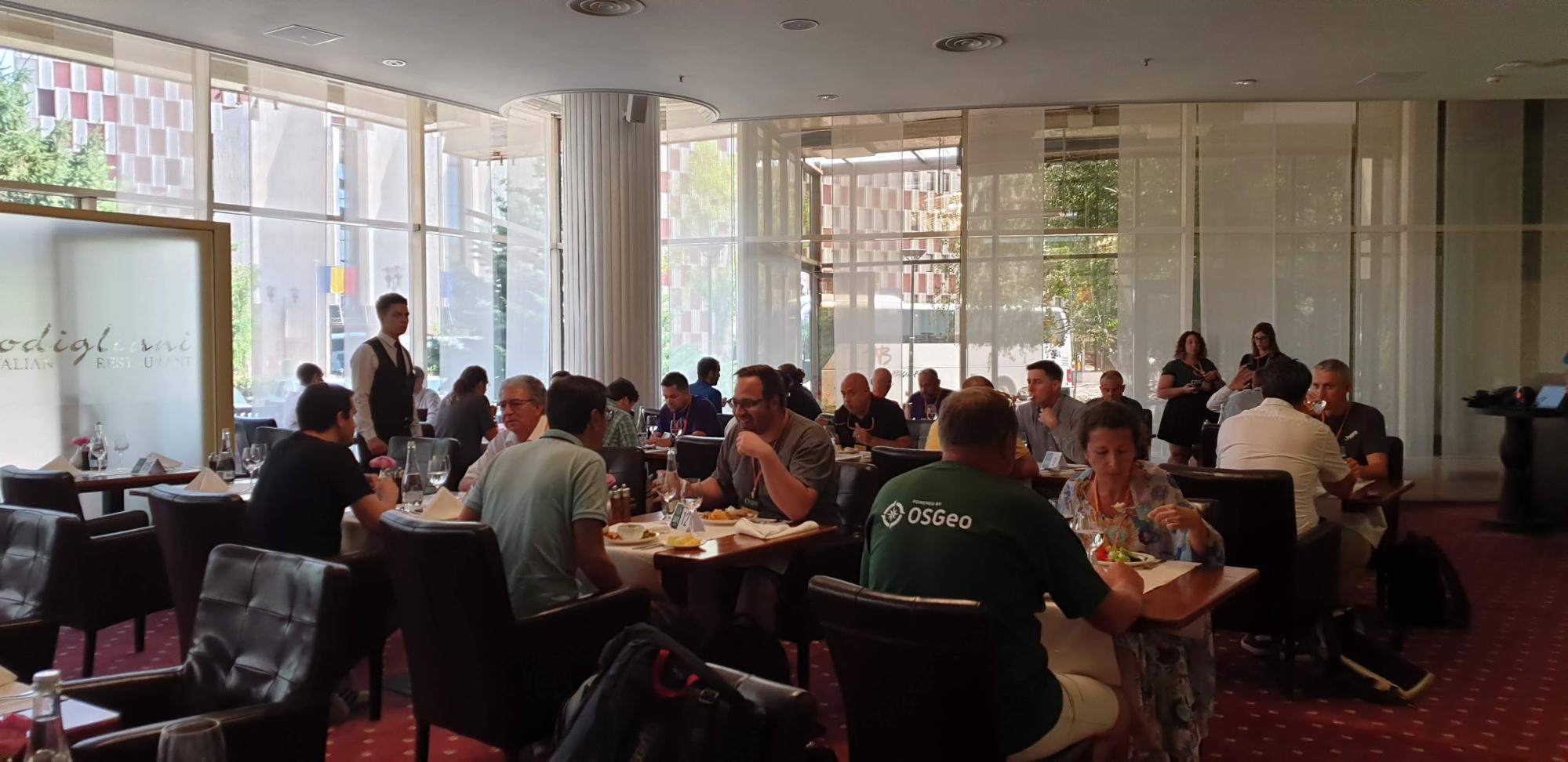 The first day of FOSS4G 2019 ended with the icebreaker. And what an icebreaker that was! The setting: Bragadiru Palace. An imposing eclectic building erected following the plans of the Austrian architect Anton Shucker in 1894. It's main scope was to be a recreational center for the brewery of one the most respected and rich business Romanians at the end of the XIX century. Yes, you read that correctly, it was intended as a recreation center for a brewery. A century later, we can truly admit it wonderfully fulfilled its purpose.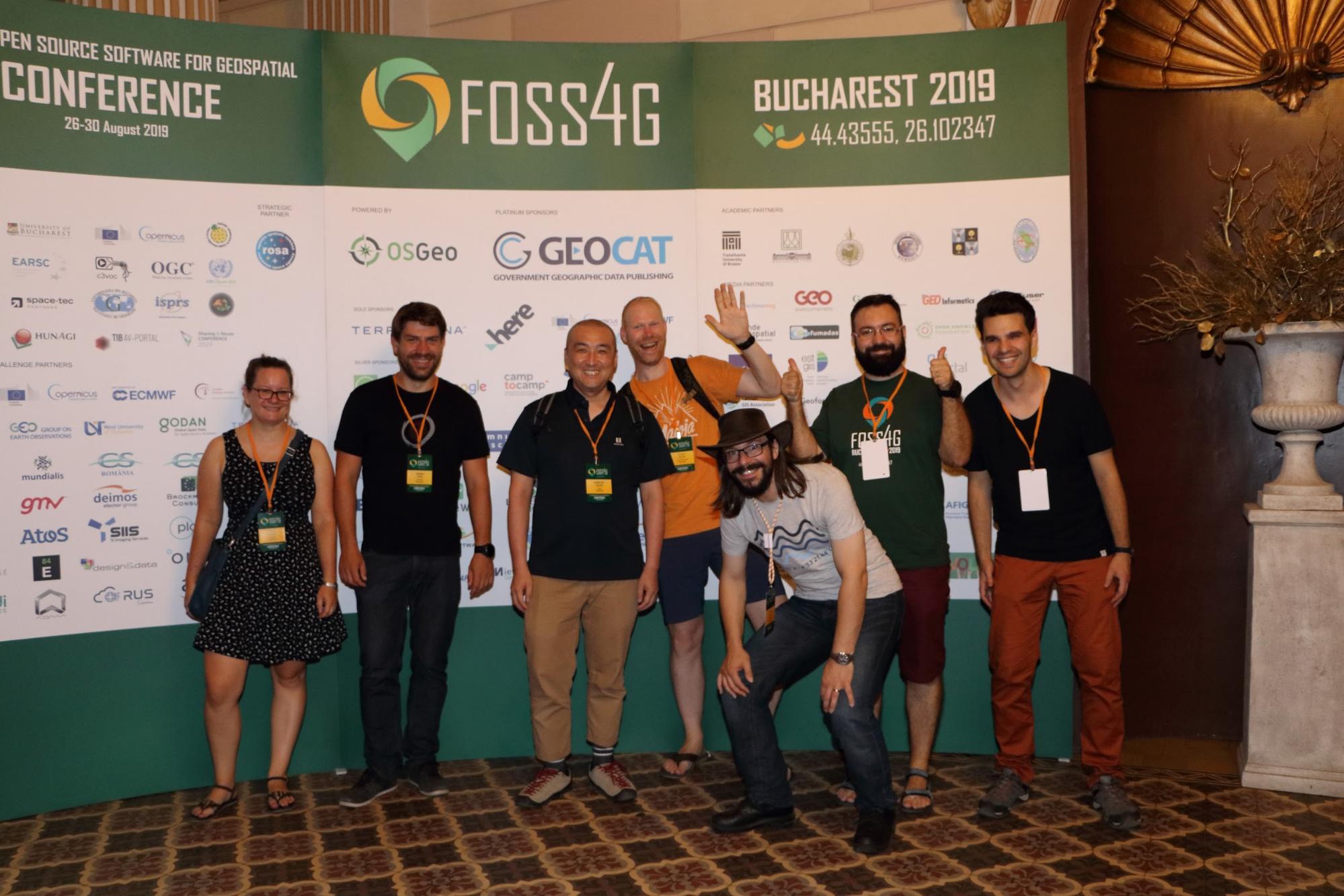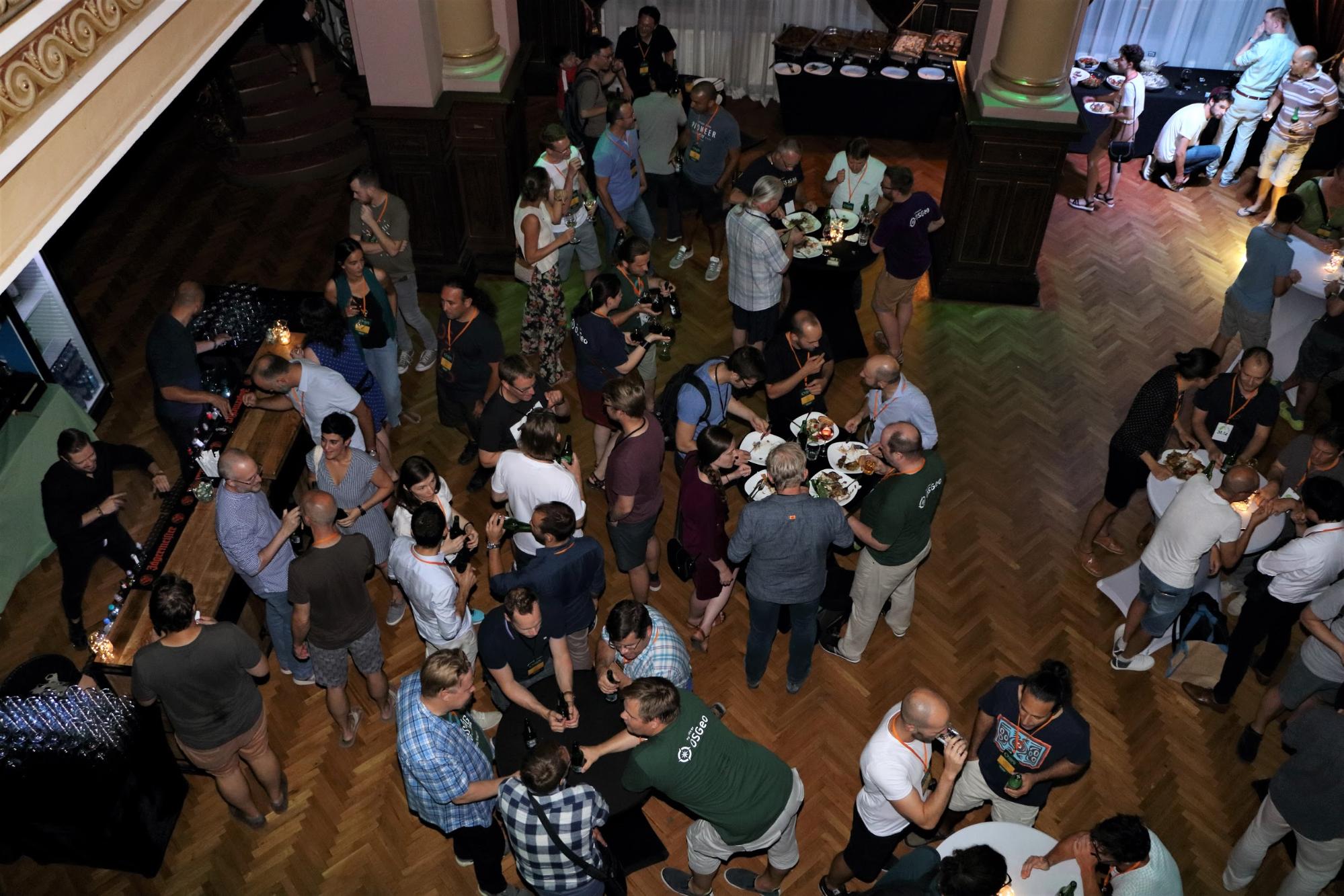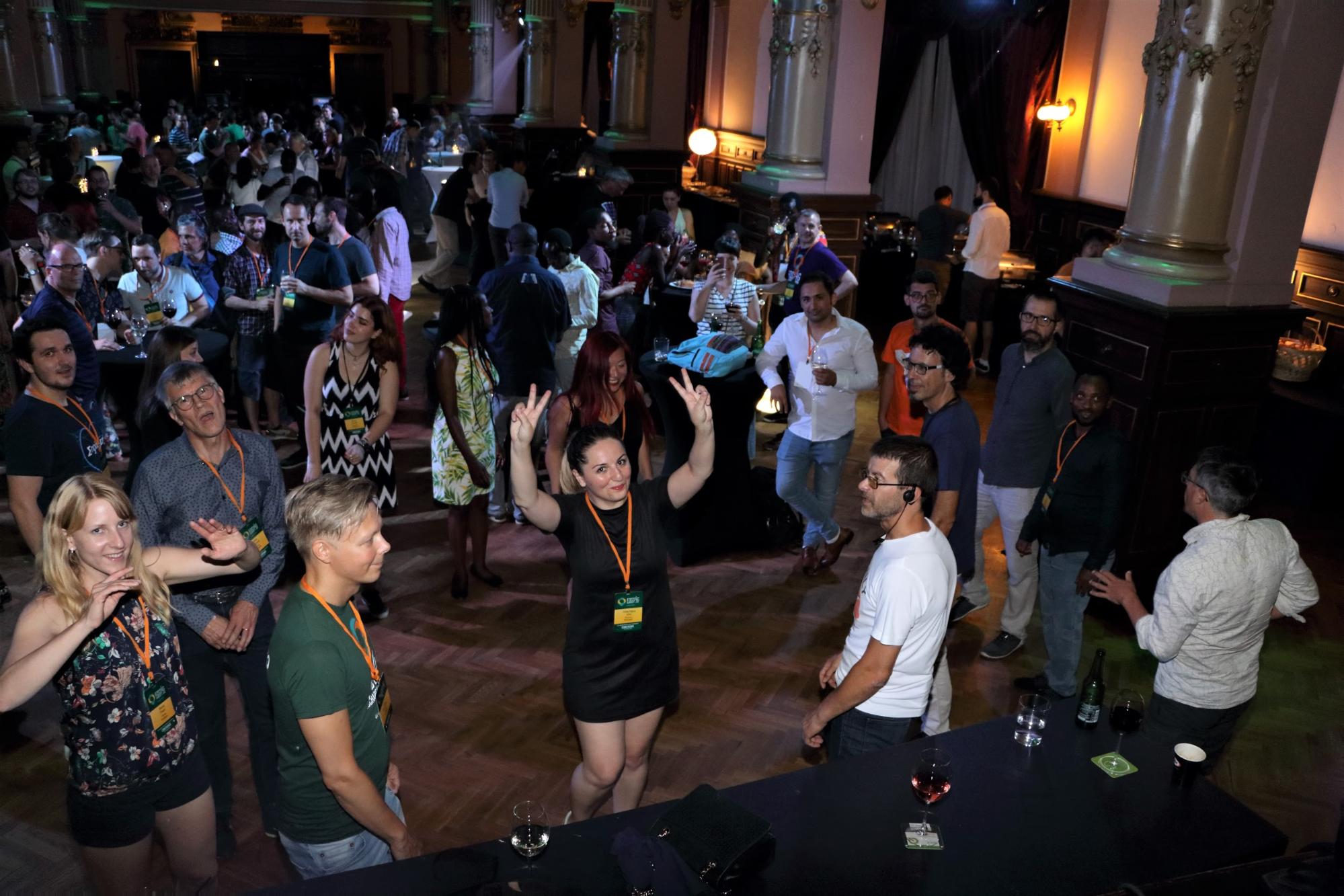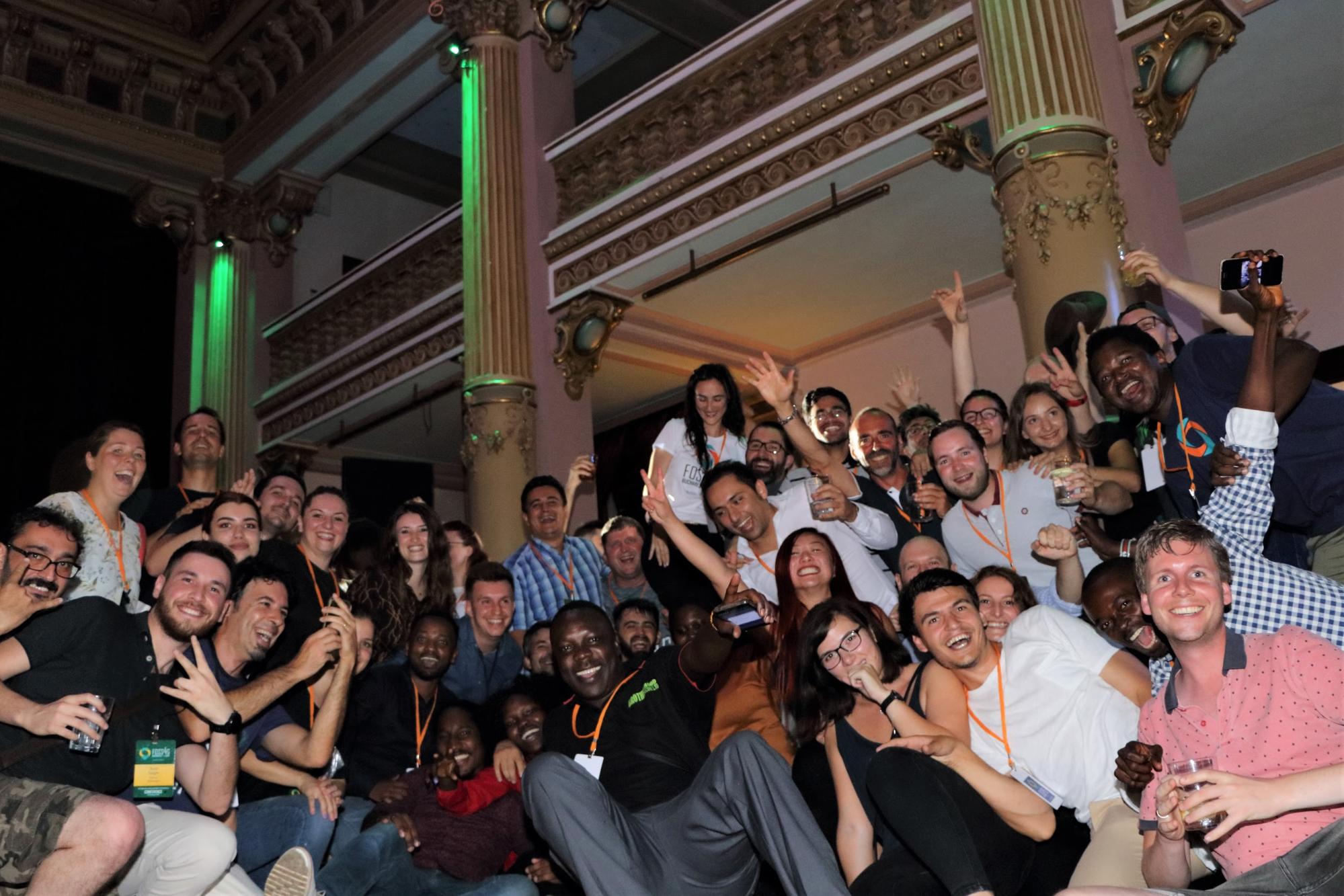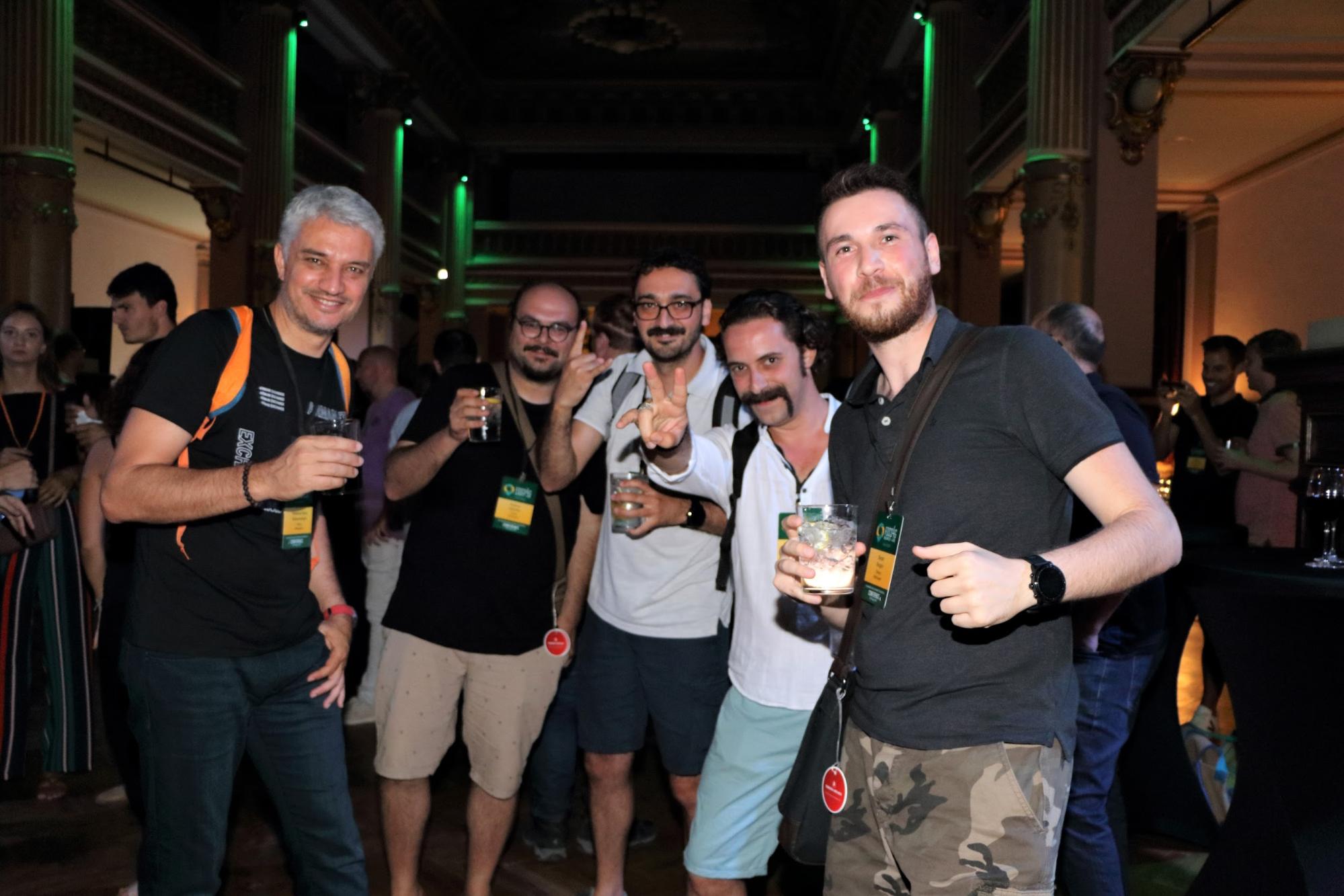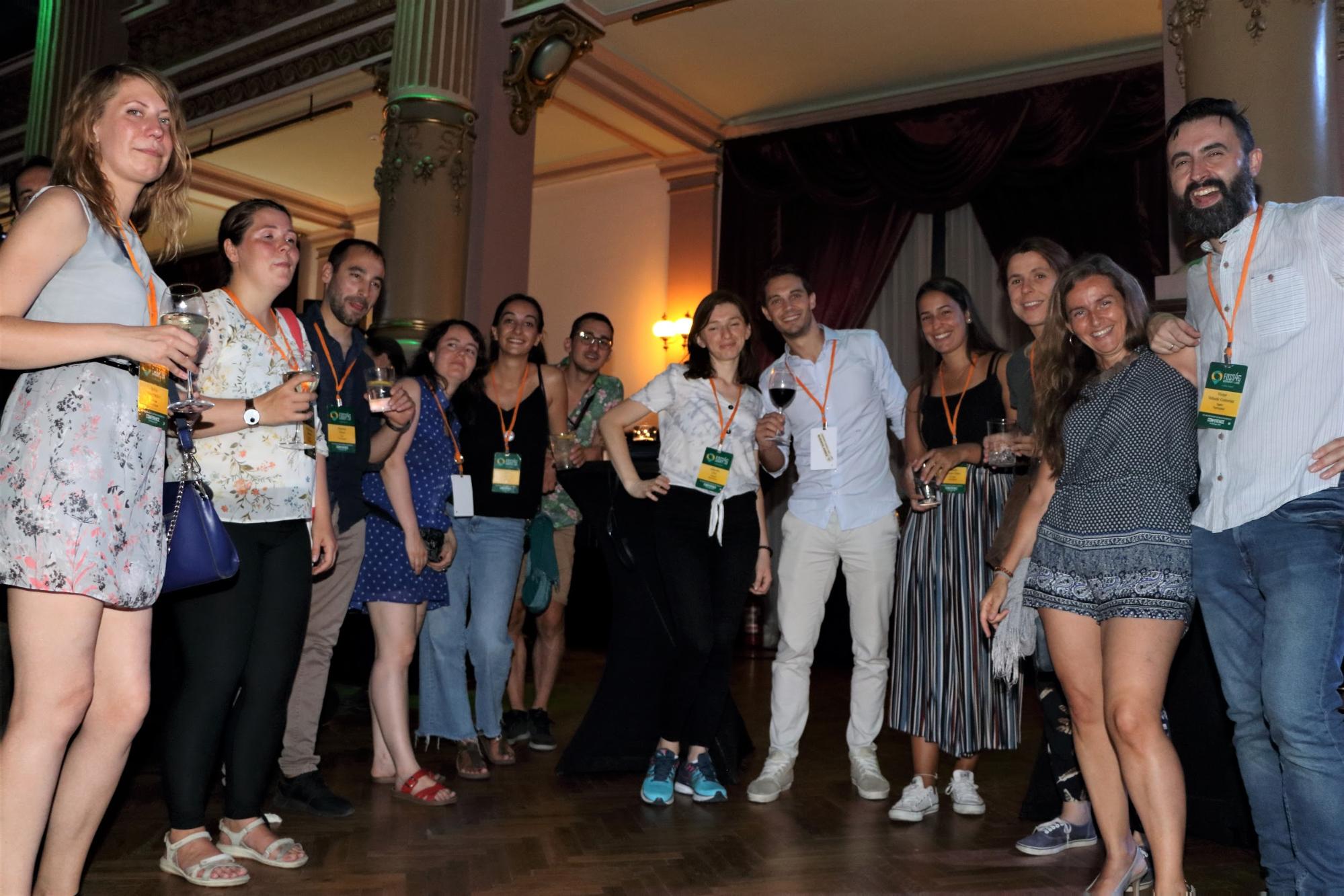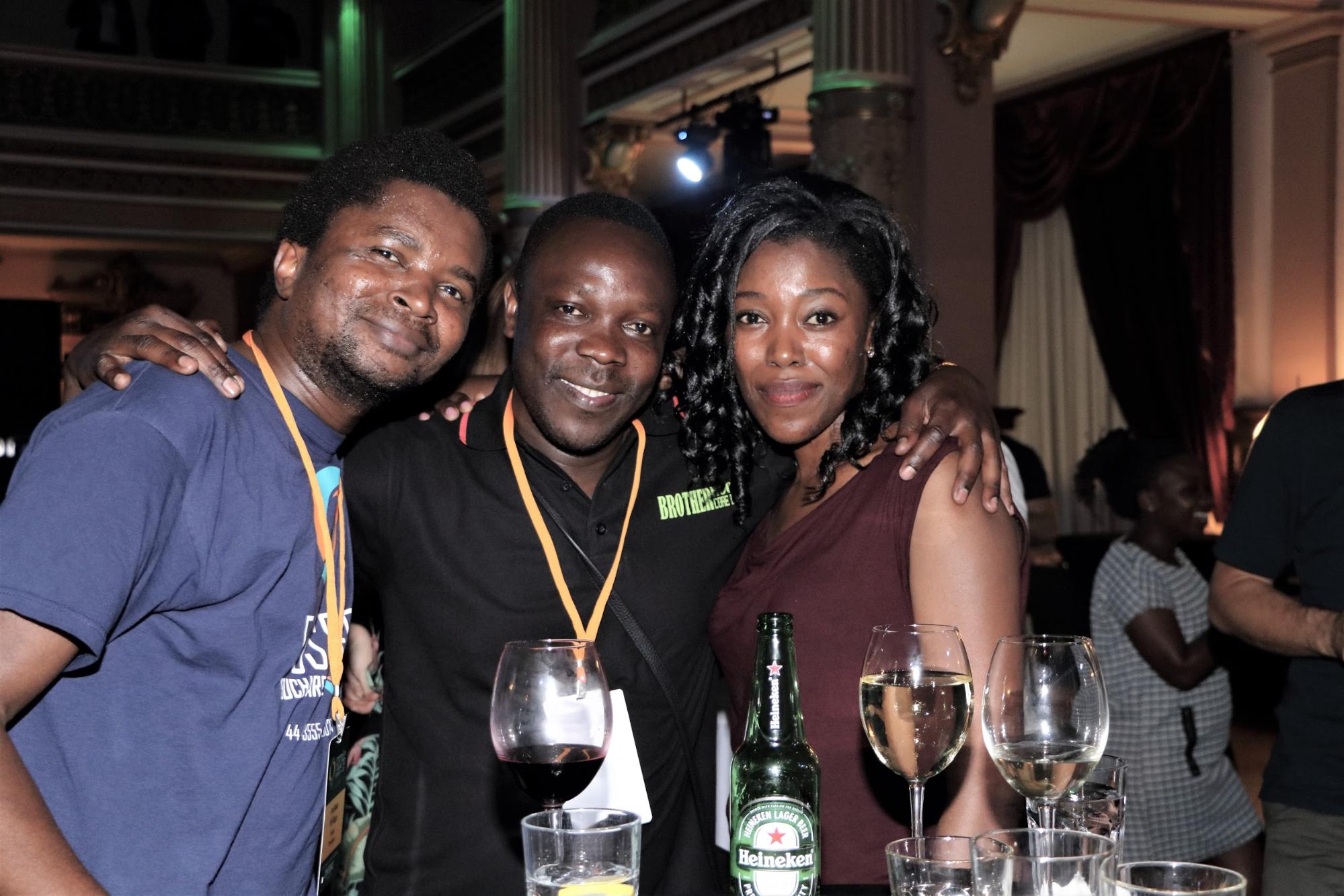 Day 2 started in force with the long-awaited FOSS4G morning run around the famous House of Parliament! Or it should have… Out of the 67 registered runners, less than 20 carried the torch of a #healthylife for the FOSS4G 2019.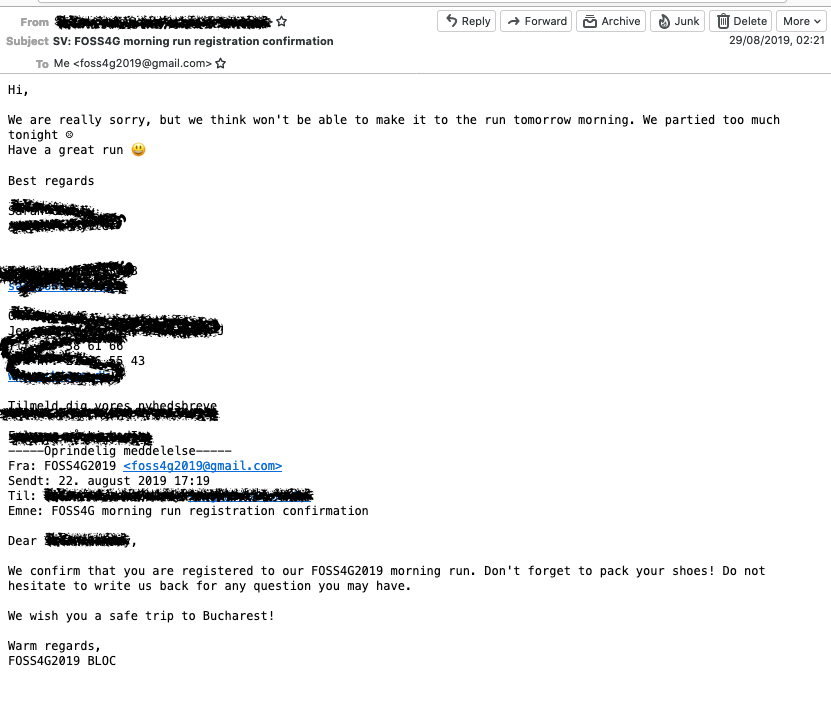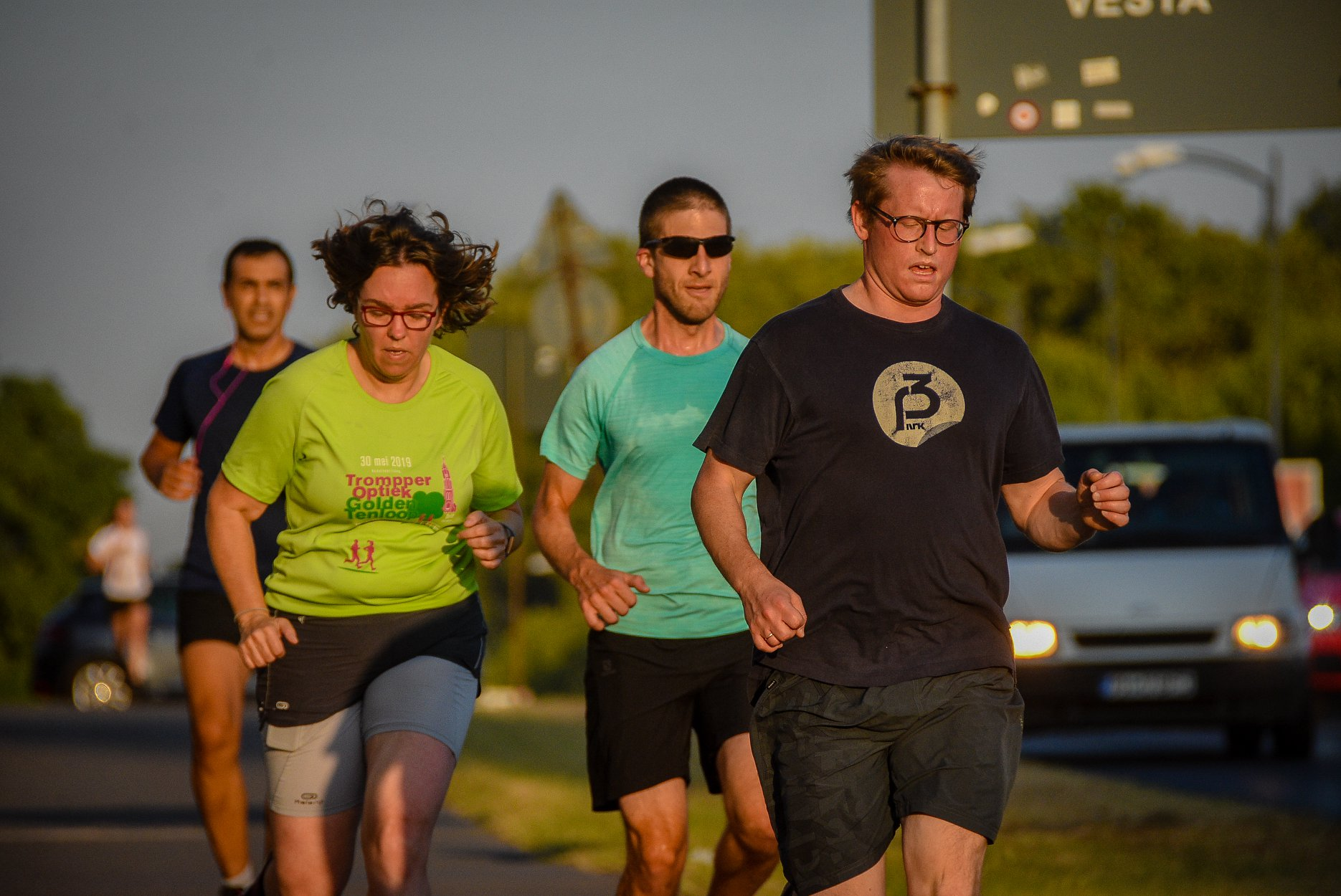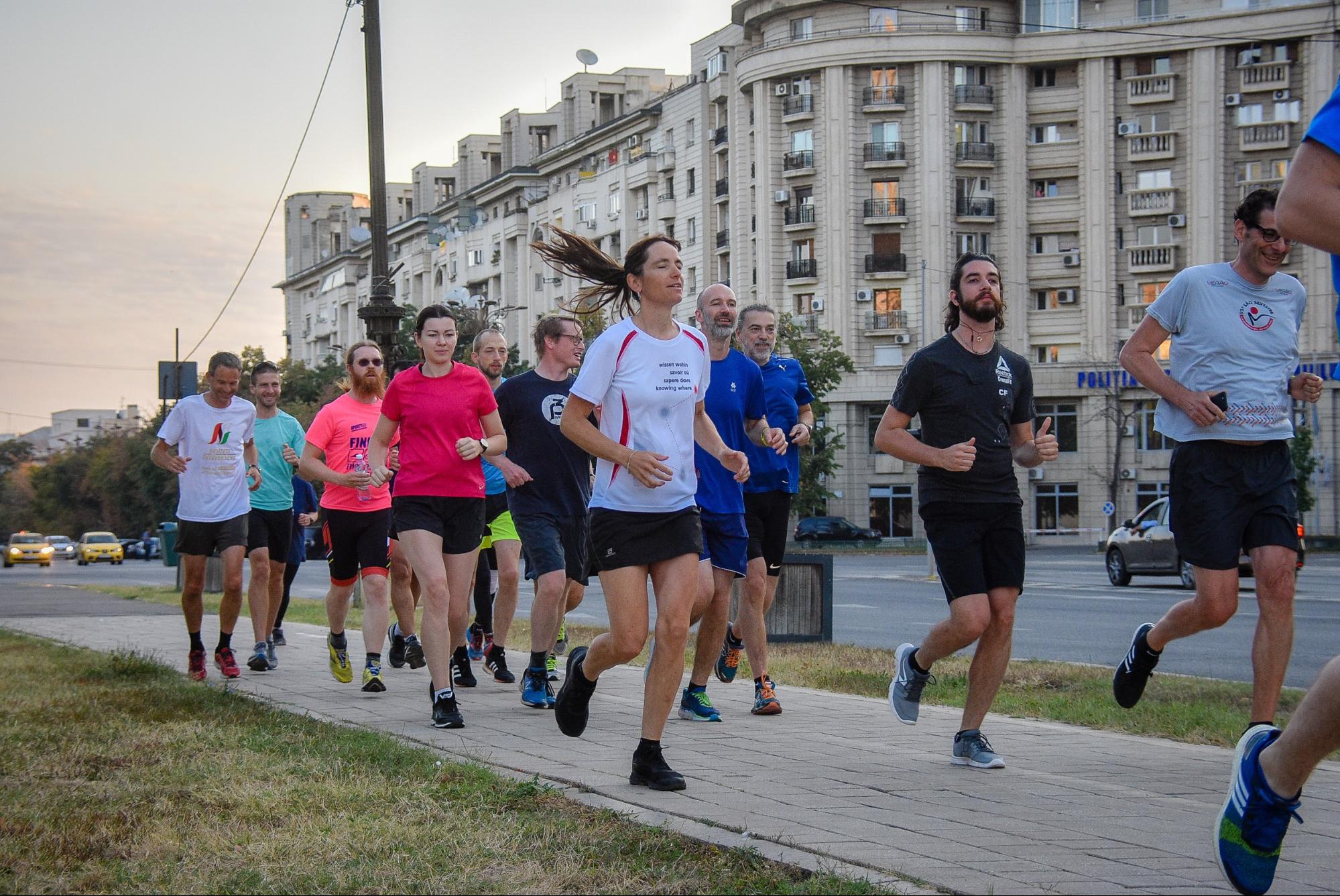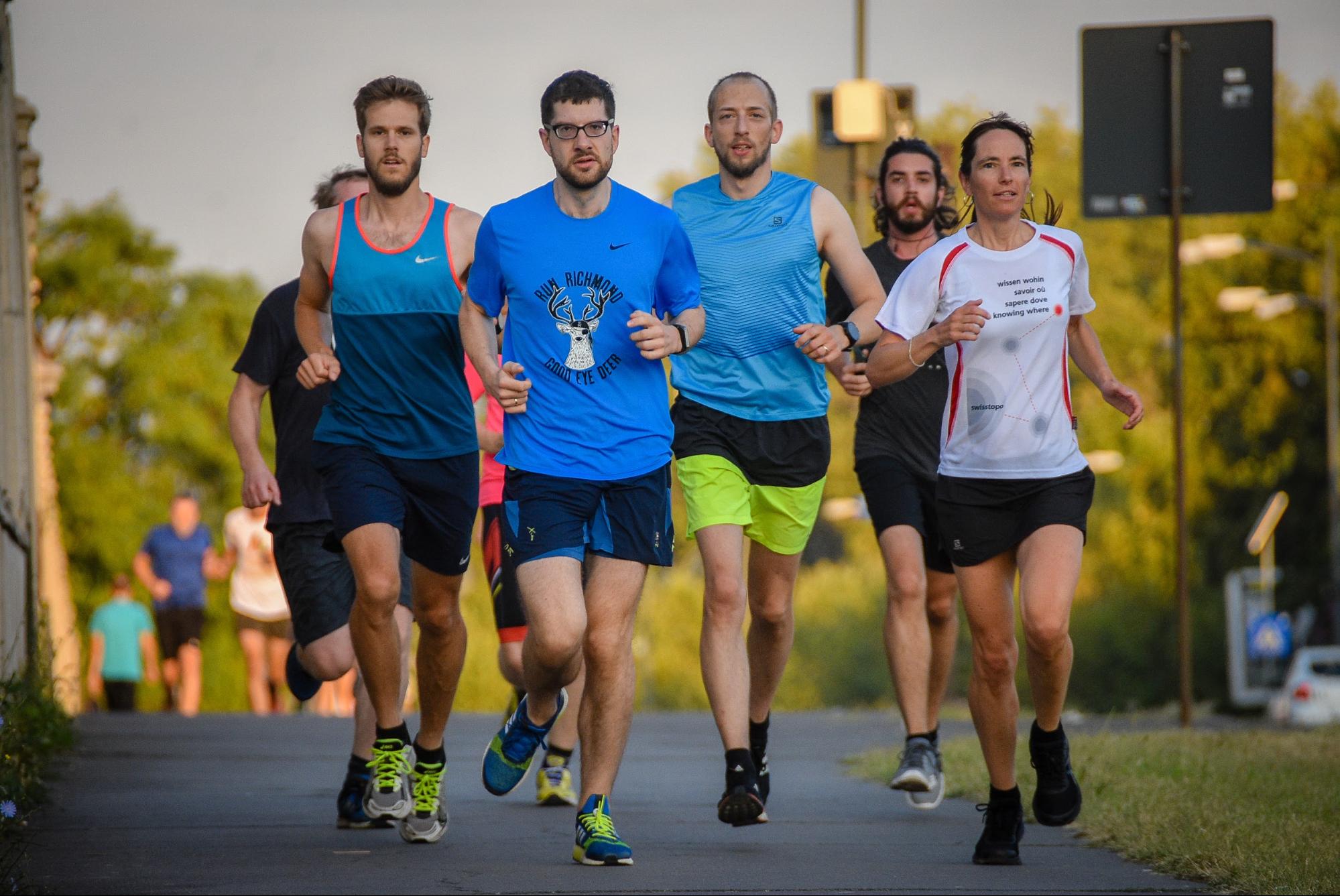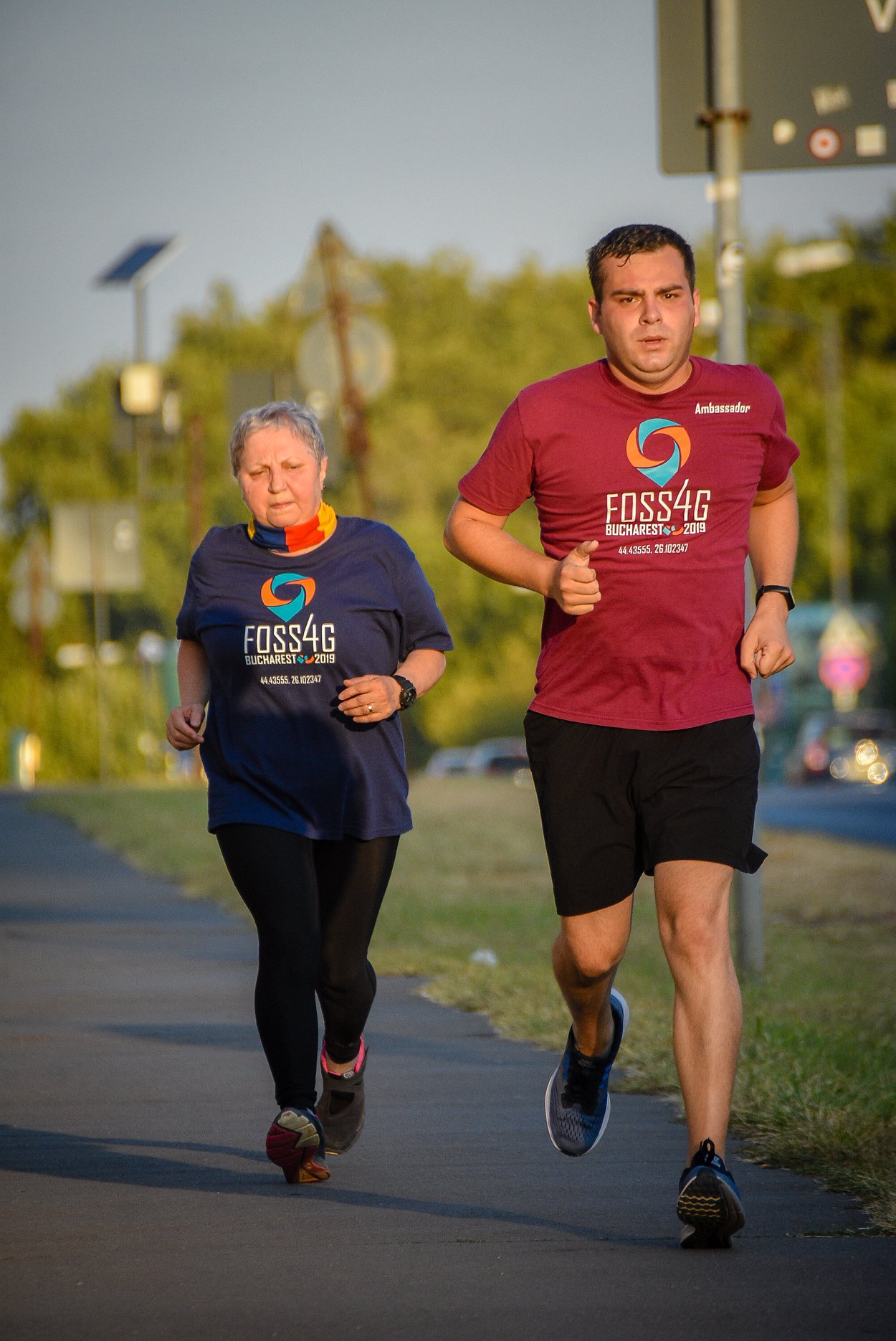 We can only express our admiration and a hint of envy for the power of their will.
The second day of the FOSS4G 2019 Bucharest started vigorously with 4 keynotes from… Oh, wait. No. The second day of the FOSS4G 2019 Bucharest started vigorously with 3 keynotes. (Yes, the icebreaker was one to remember, but we won't give any more details!). Julia Wagemann from ECMWF, Aaron Williams from OmniSci and Jody Garnett from GeoCat snapped everyone back into the conference mood. And, just like that at 11 o'clock sharp, 11 parallel tracks were underway.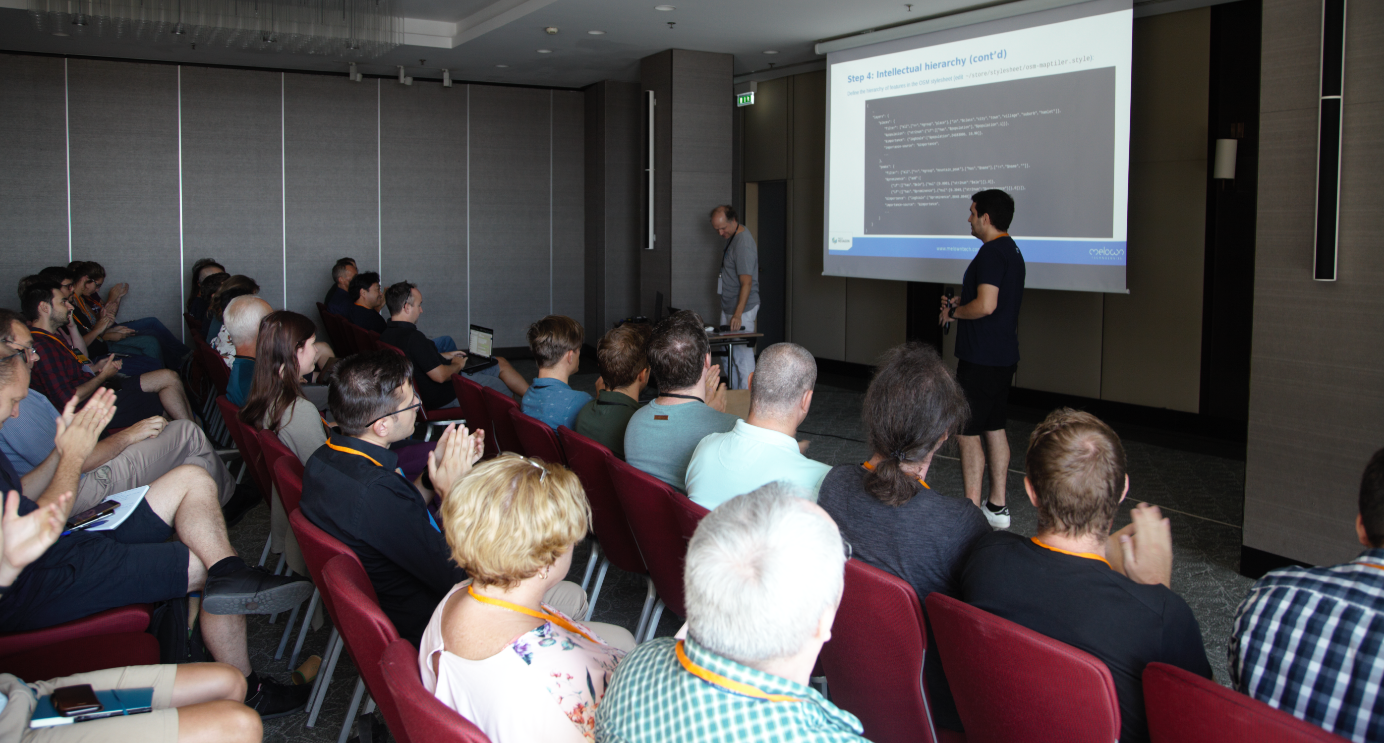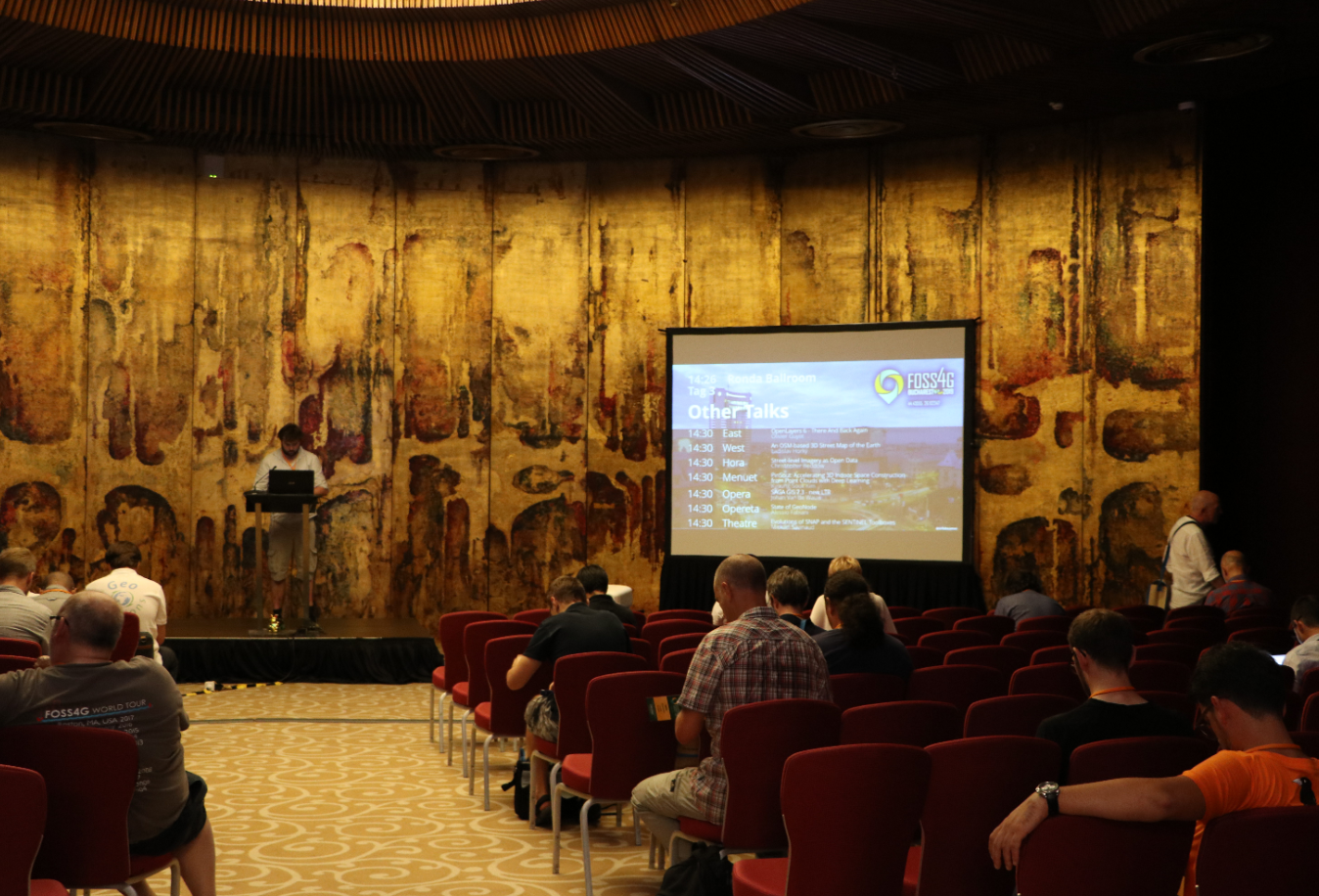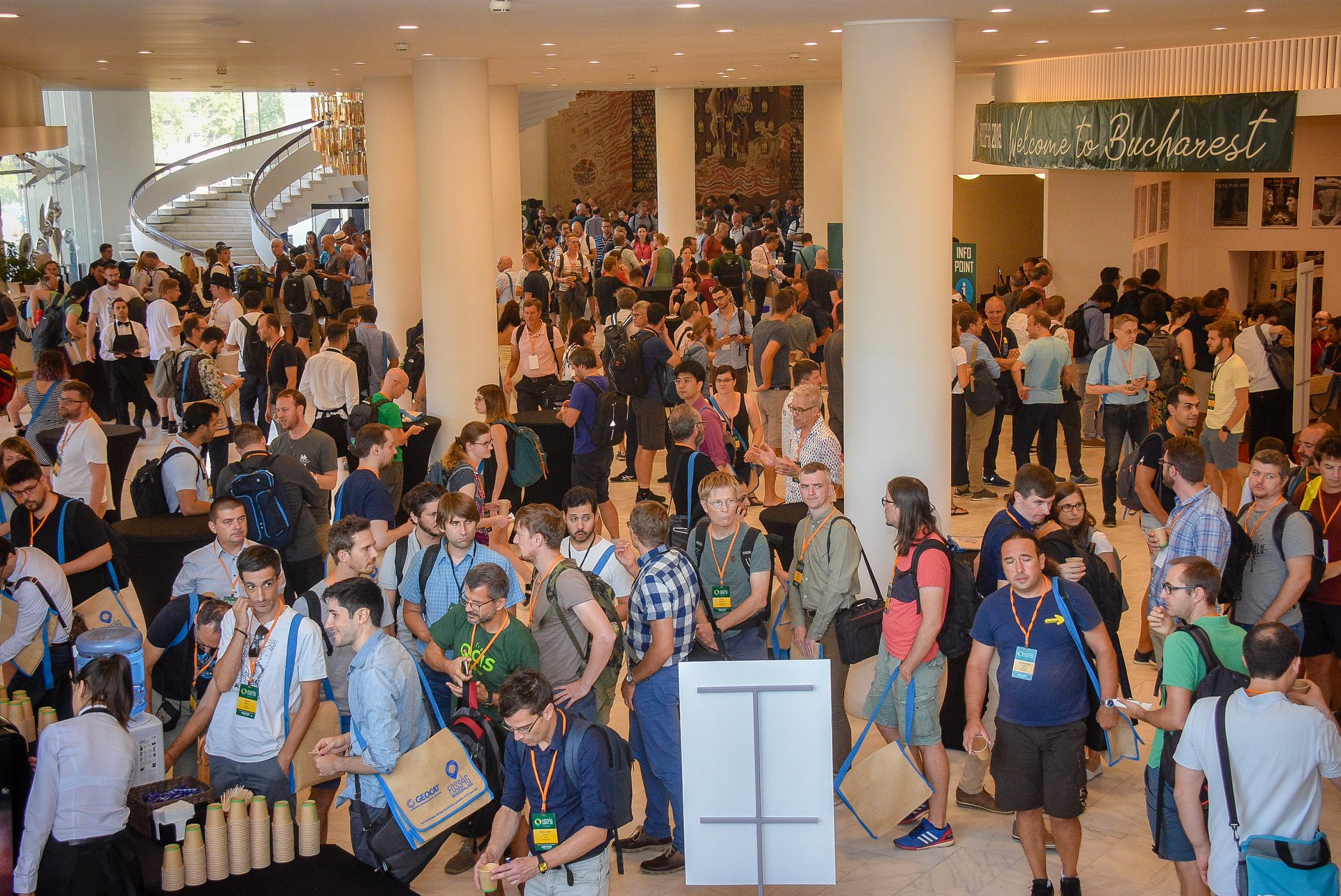 After a full day of talks, the closing came in the shape of the productive and relaxed Birds-of-a-feather: OSGeo members' talk, Open Source Cartography and Mapping, Women in Geospatial – What skills will matter in FOSS4G?, Mapillary Q&A Session, FOSS4G-Europe 2020, Google Code-in, Deep Learning for Earth Observation, GeoTIFF (.js). Yet, of course, we are still far away from the end of the day for the FOSS4G 2019 participants…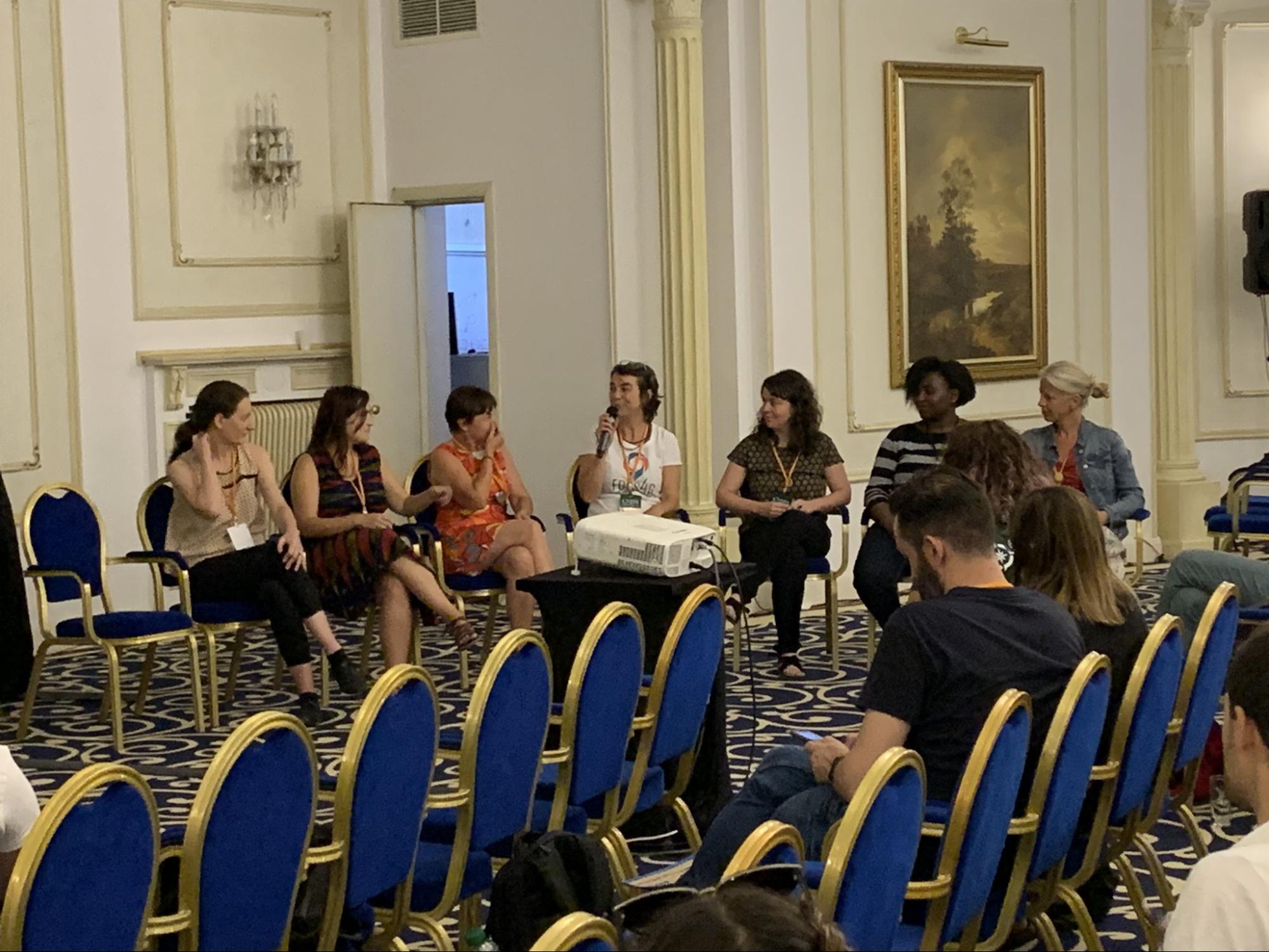 The FOSS4G 2019 gala dinner was held in the People's House also known as the Palace of the Parliament. The heaviest building in the world, third by size, with heating and electricity requirements as a medium-sized city, it was ordered by the Romanian dictator, Nicolae Ceaușescu and built in just 13 years. Truth be told, this would have not been our choice if not for public demand. But yes, the building is a symbol of a long-gone Romania, just like the Berlin wall is for Germany, and we can easily understand the fascination it holds.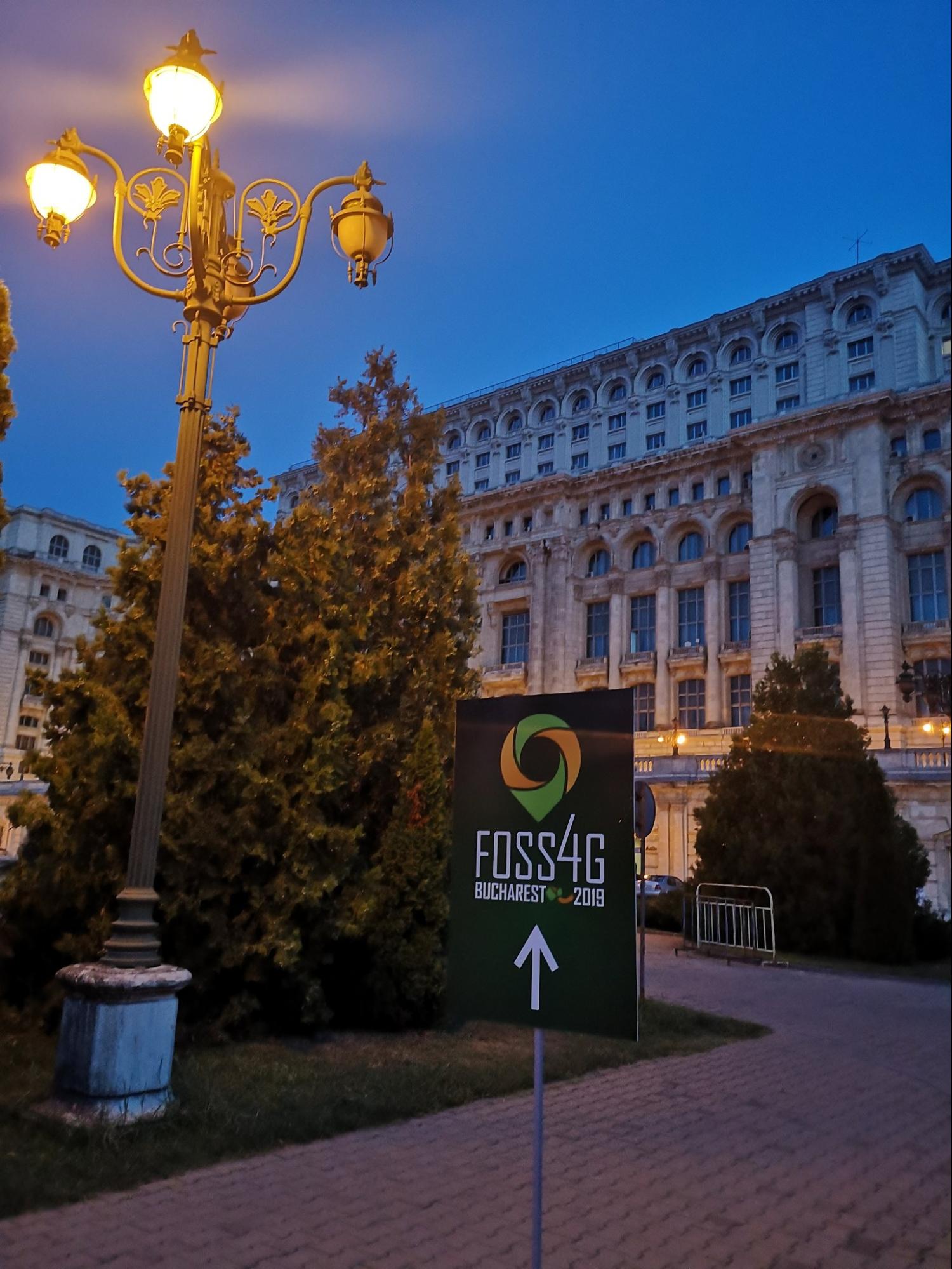 Ever wondered what the coordinates on your FOSS4G 2019 T-shirt point to? They point to the KM 0 of Democracy, a place of great value for us, Romanians, because here, in the University square, people gave their lives for freedom in the 1989 Revolution. Because of their sacrifice, our generation is building a new Romania. The one you got to see, and enjoy we hope, at FOSS4G 2019 in Bucharest. KM 0 of Democracy was right in front of the National Theater of Bucharest – our main impressive venue. Coincidence? I would say not.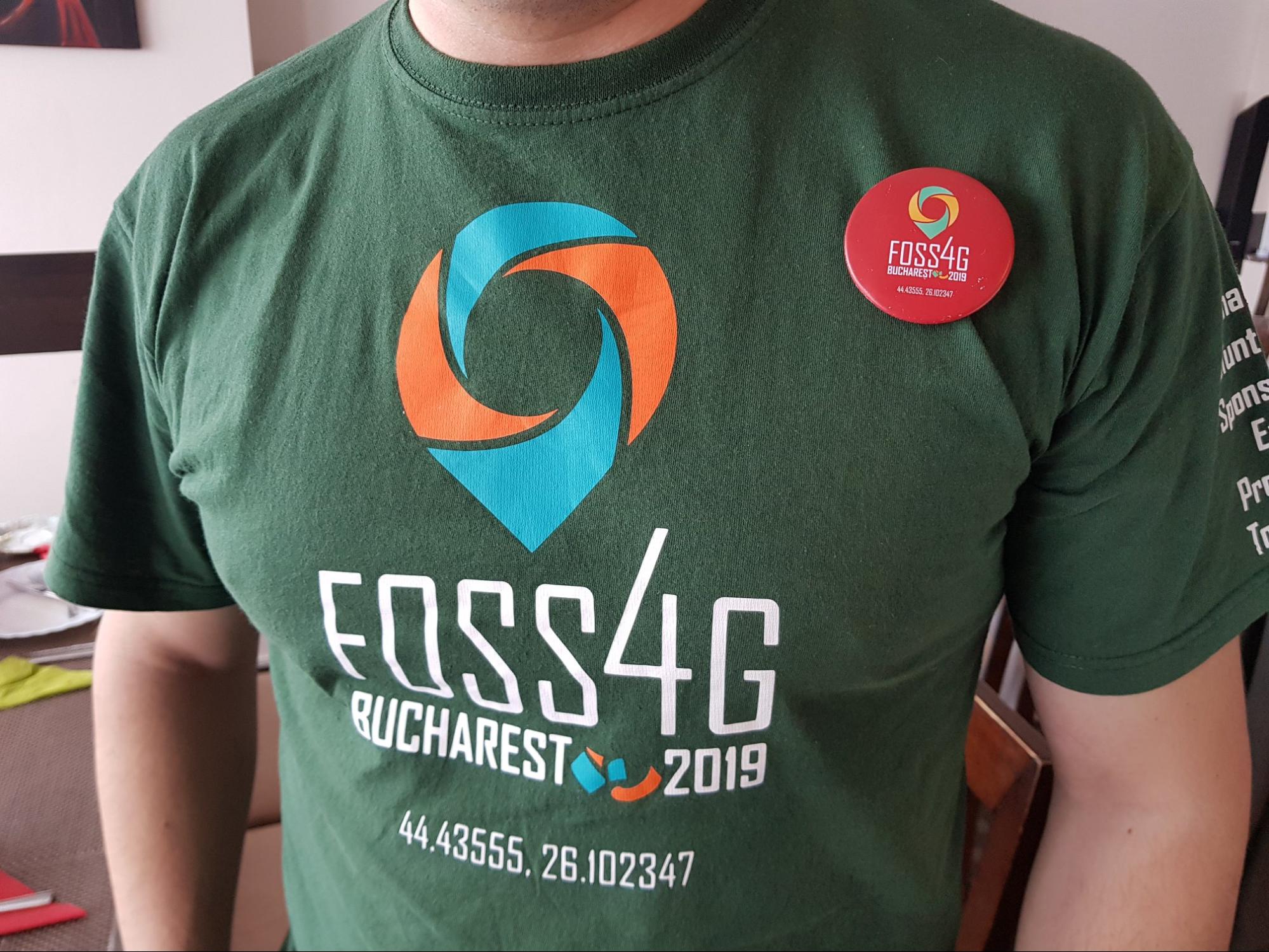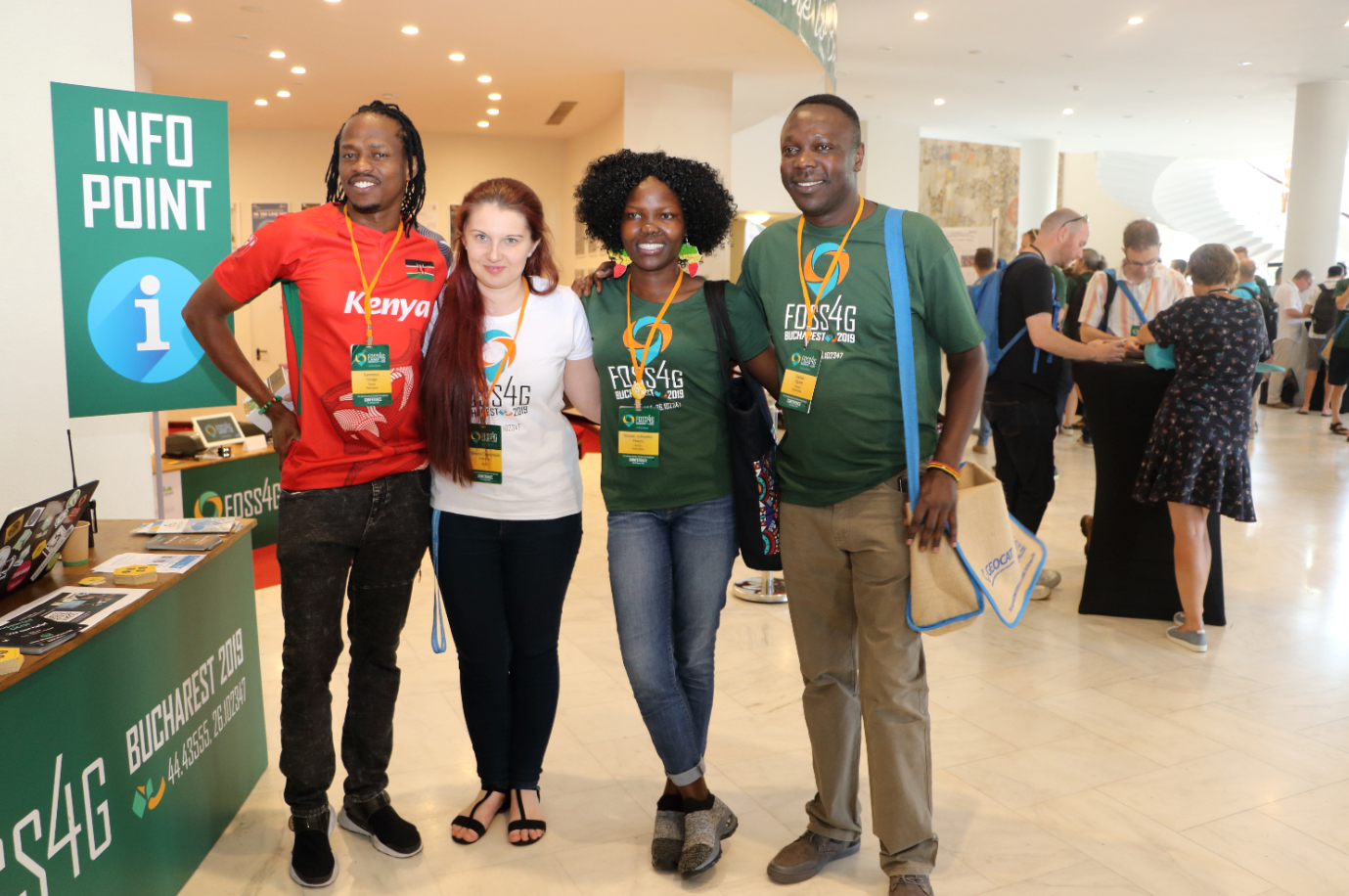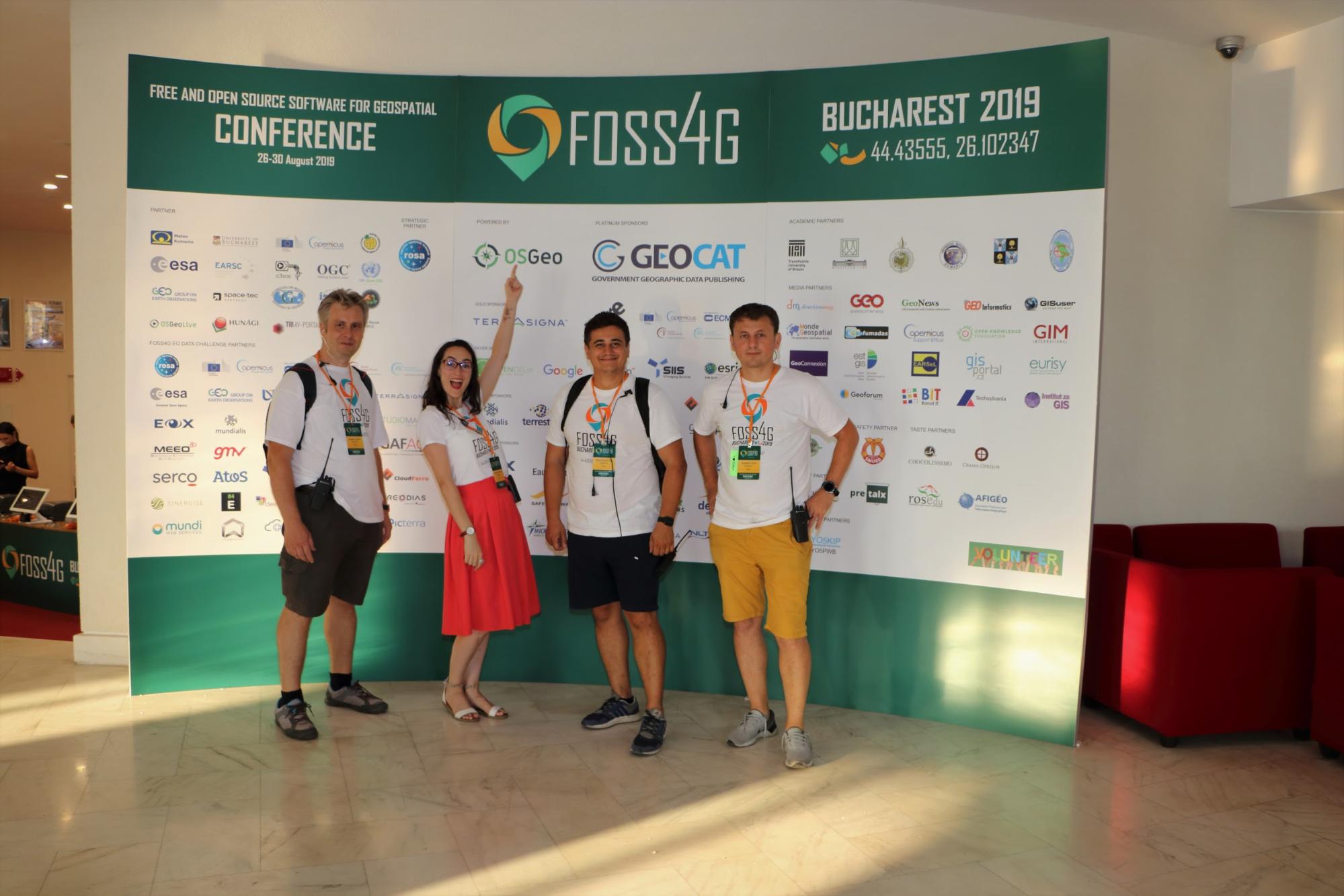 The gala dinner was.. memorable, to say the least!
During preparations for the FOSS4G 2019, we were keen in keeping prices as low as possible for a high quality event – a 5 starts venue, delicious food, plentiful coffee breaks, 11 fully equipped conference rooms – so succeeding in including the gala dinner in the price of the conference ticket was a huge hit for us. The global FOSS4G has been the hotspot for the open source geospatial people for more than a decade now. Of course, listening to them talk about their research and outcomes and having the ability to interact on the spot are priceless, yet if there is one thing we have learned over the years is that continuing that discussion in an informal environment is what makes this community healthy and powerful. And the Gala Dinner at FOSS4G 2019 Bucharest is just another proof in that exact direction.
Credit @adamsteer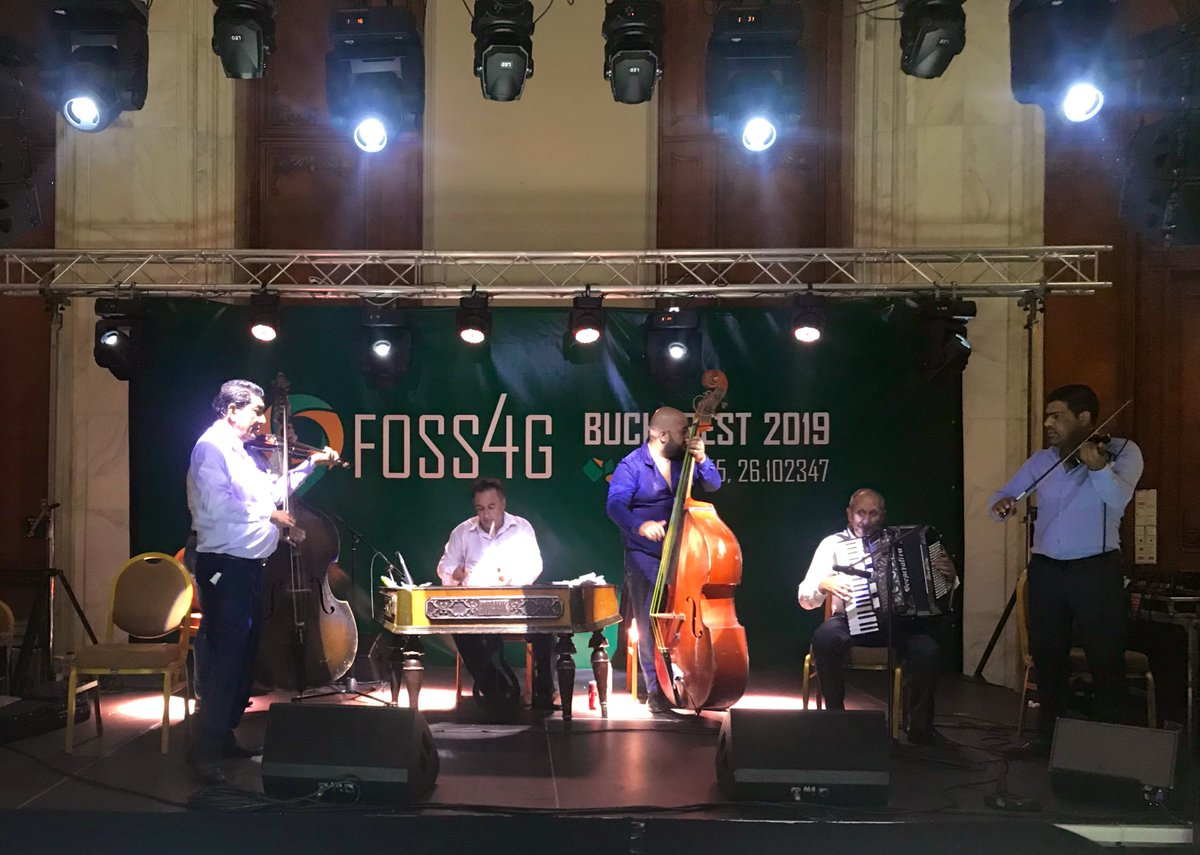 Credit @AnaLeticiaGIS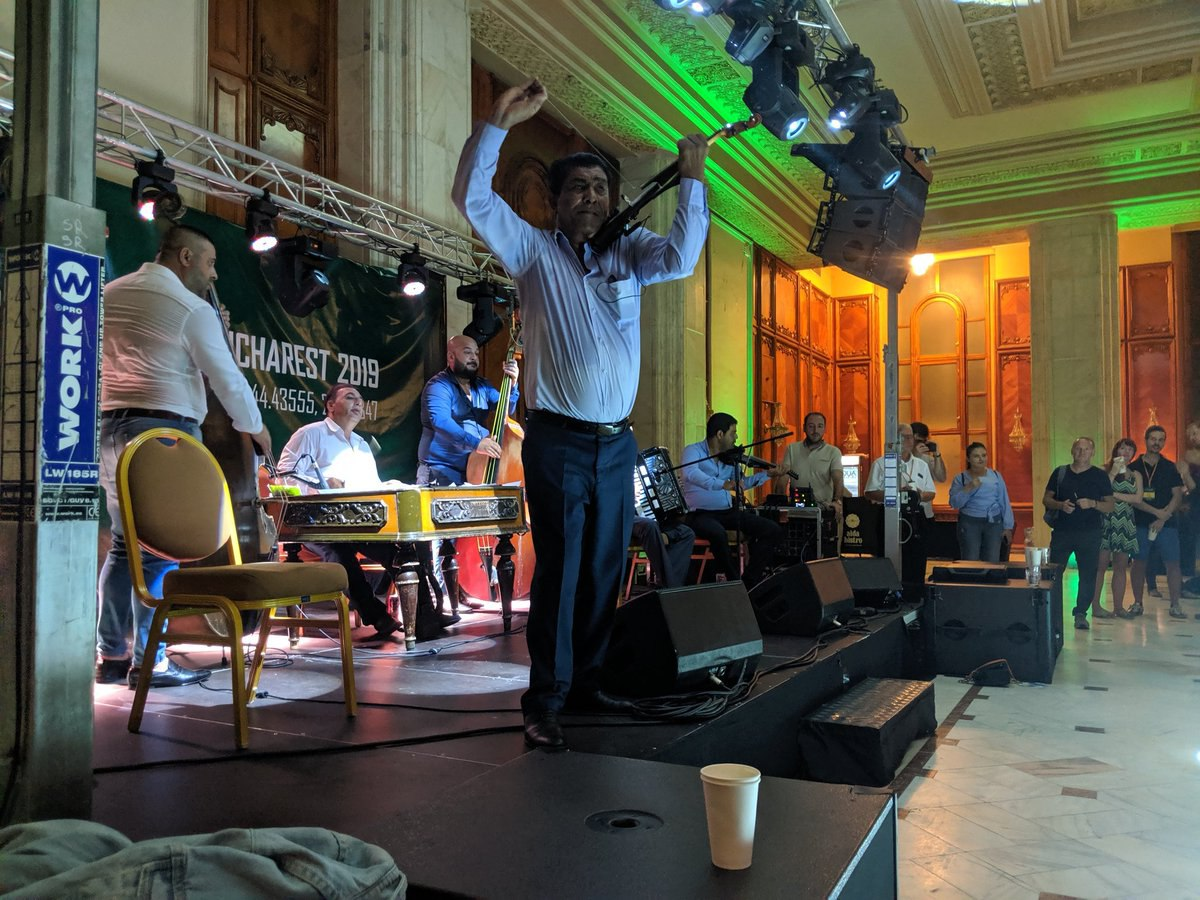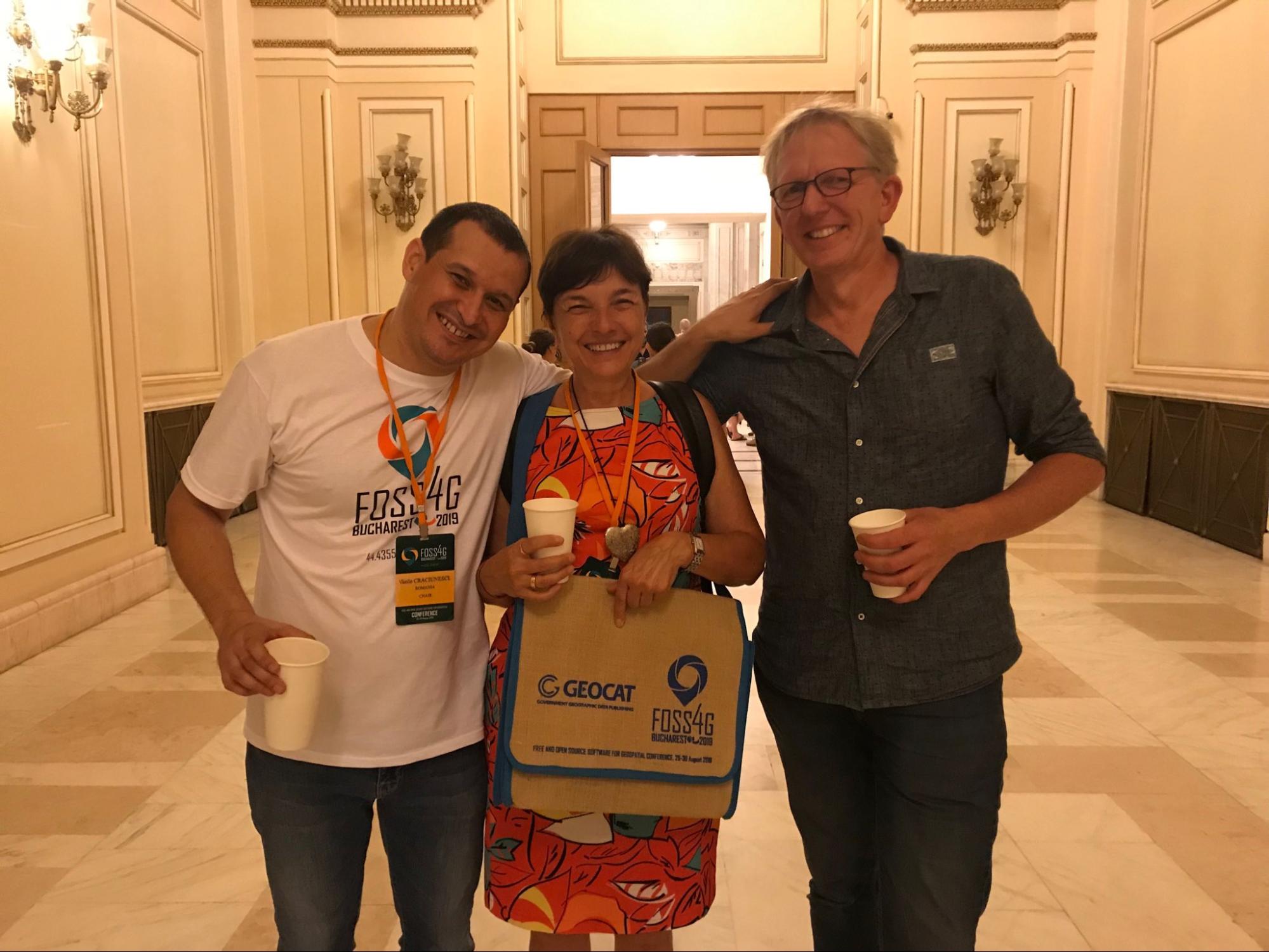 Credit @ticheler
And the last day of FOSS4G 2019 Bucharest is here. Yes, it is a warm Friday, the 30th of August 2019. The parallel sessions started at the fierce 9:00 o'clock and strongly continued up to 16:00 pm when the Closing Plenary took over and awards time had come! We had 3 award categories, all of which proved once again, although there is no need anymore, how diverse, powerful and productive our community is.
1. FOSS4G Earth Observation Data Challenge. This competition was initiated given the overarching theme of our event – DATA and by extension – Earth Observation data. We challenged startups, developers, students and researchers to come up with useful, valuable or interesting open source applications using large volumes of EO data (and their evolution in time) and state-of-the art technologies (AI/ML, HMC, STAC, data cube, COG), together with other sources of open data (e.g. OpenStreetMap, Copernicus Services – Land, Atmosphere, Climate). We also gave the participants the possibility of working with mentors that guided their work to evolve into a mature idea and a demo.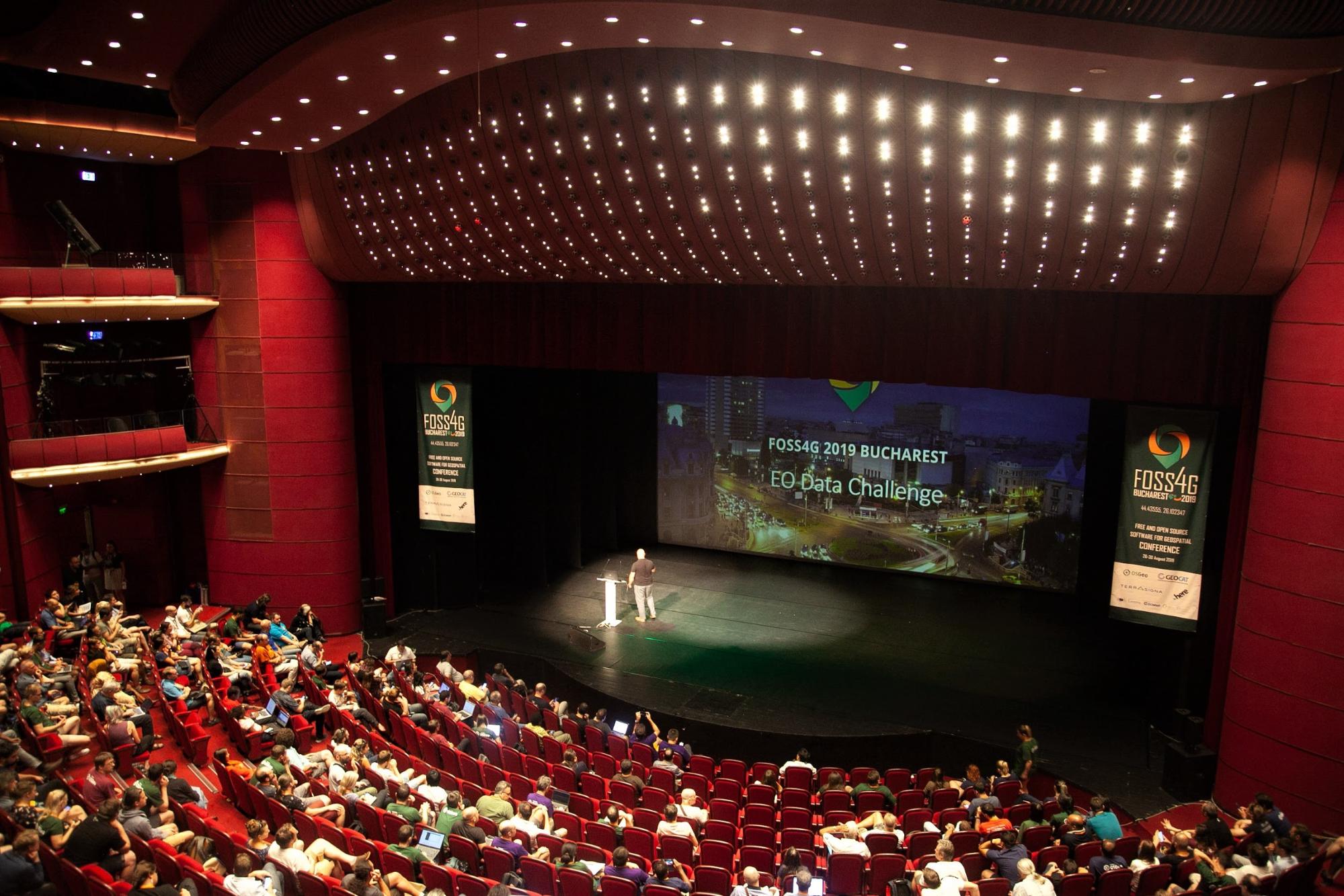 2. Sol Katz award. There is no need for any introduction to the Sol Katz award, the most prestigious award within the FOSS4G community – a symbol, a token of the highest appreciation to those that brought outstanding contributions to the geospatial open source domain and that have relentlessly proven to be leaders within the community, constantly driving and supporting its advancement. The 2019 Sol Katz award winner is such a person. Do you use… GDAL?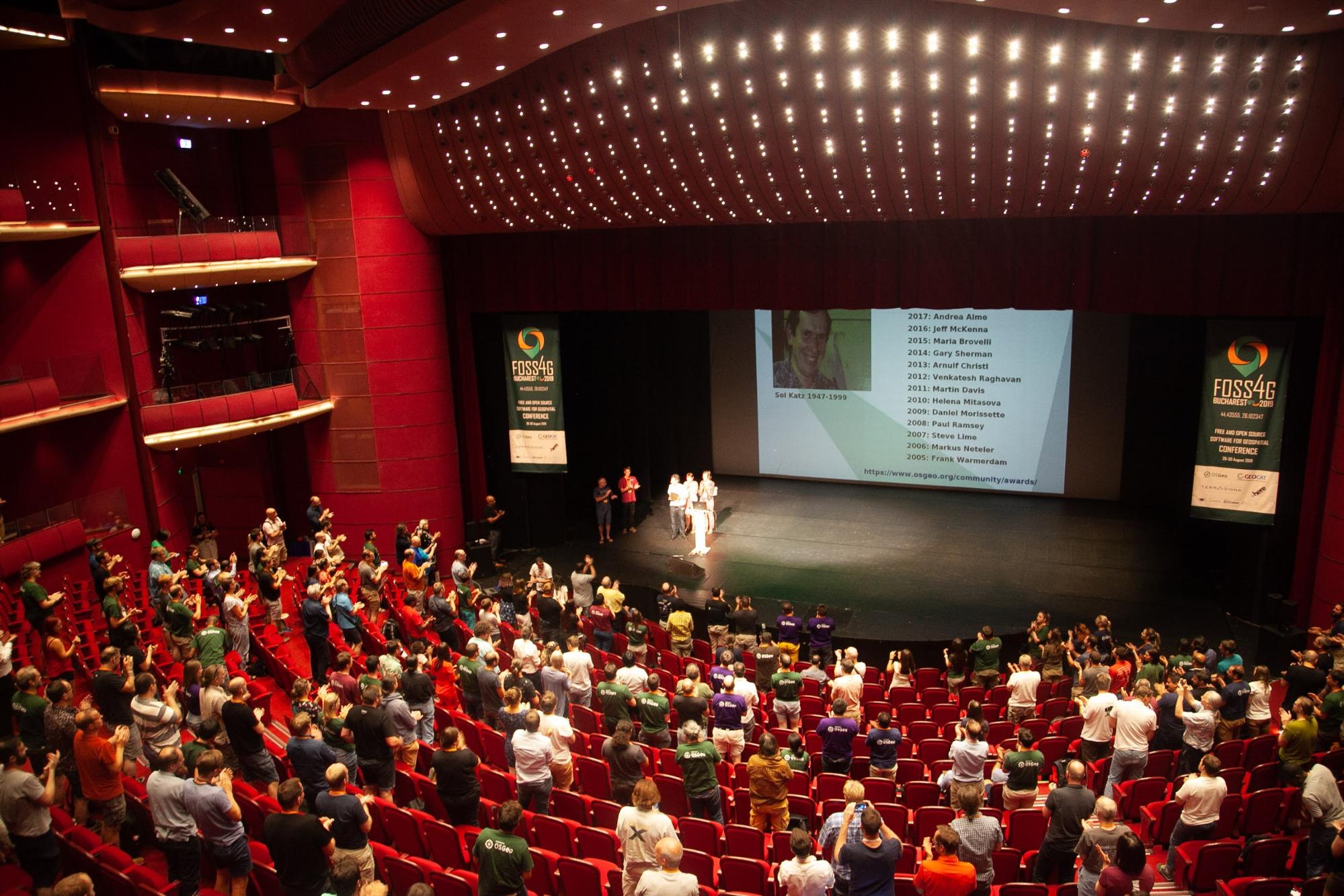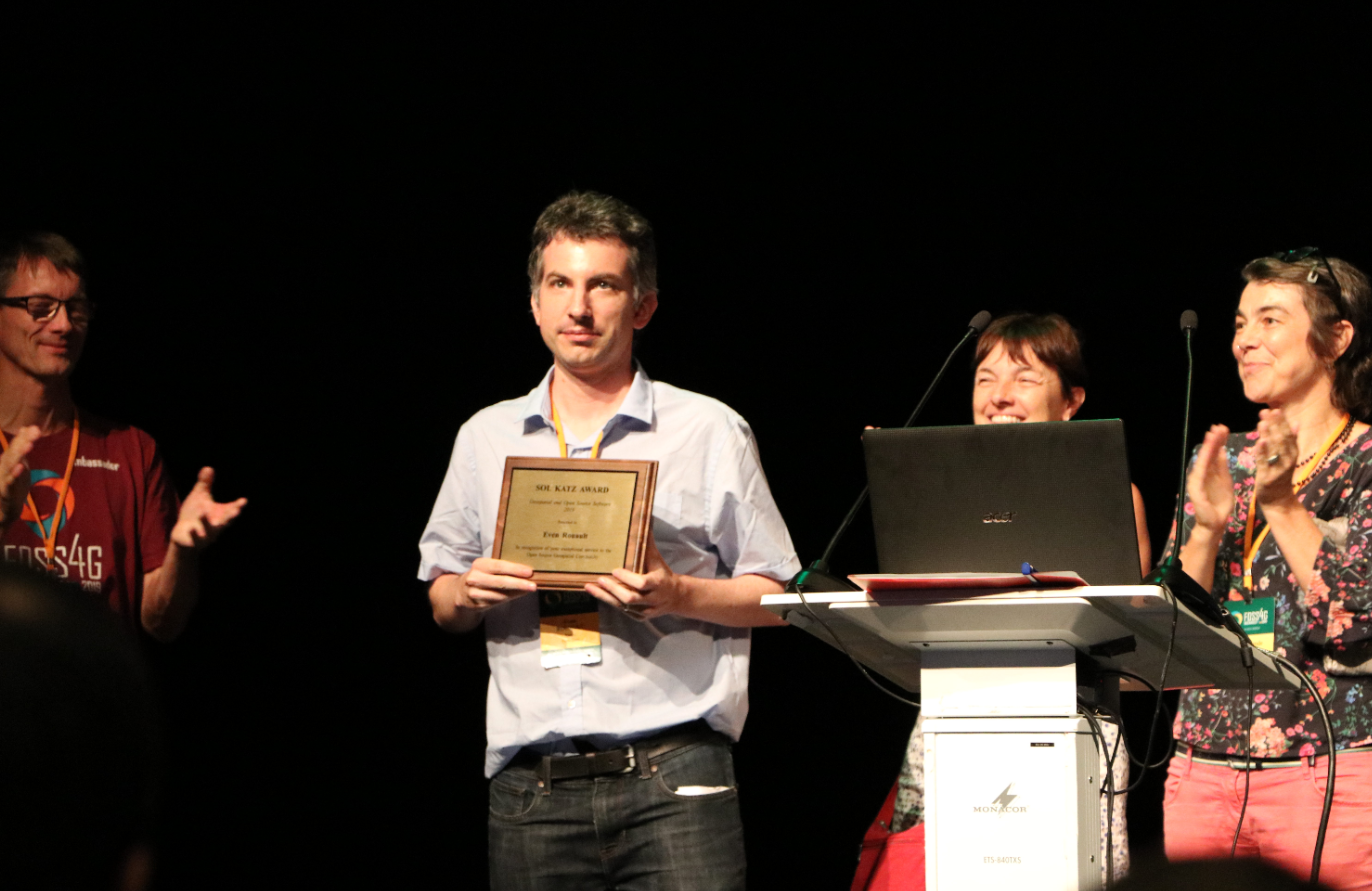 We had some fabulous closing keynotes to say our official goodby: Francesco Barbato from the European Commission talking about the most ambitions human-made program to monitor our home planet – Copernicus, then Matthew Hanson from Element64 sharing his journey through open source for geospatial and Iván Sánchez Ortega, who gave us a stirring lesson on.. the semantics of love and free! Not to worry, Ivan's talk fitted perfectly as a keynote for a global FOSS4G! But this was not all, we had one more ace down our sleeve! Every event organizer will tell you with the strongest confidence that her/his biggest dream is a clockwork unfolding event. All must be known and prepared in advance so no random incident can downgrade the participants' experience. However, an open mind with just a little bit of a spur-of-the-moment attitude can go a long way. As it did for FOSS4G 2019! We were lucky enough to have the wordsmith of the famous quote "You are awesome, your software is awesome, (but) your software is useless, …without data" attending the conference, but even more delighted we were when he accepted our spur-of-the-moment invitation to give a short keynote on Friday. And yes, it was awesome! Curious who he was and what he talked about? Take a look!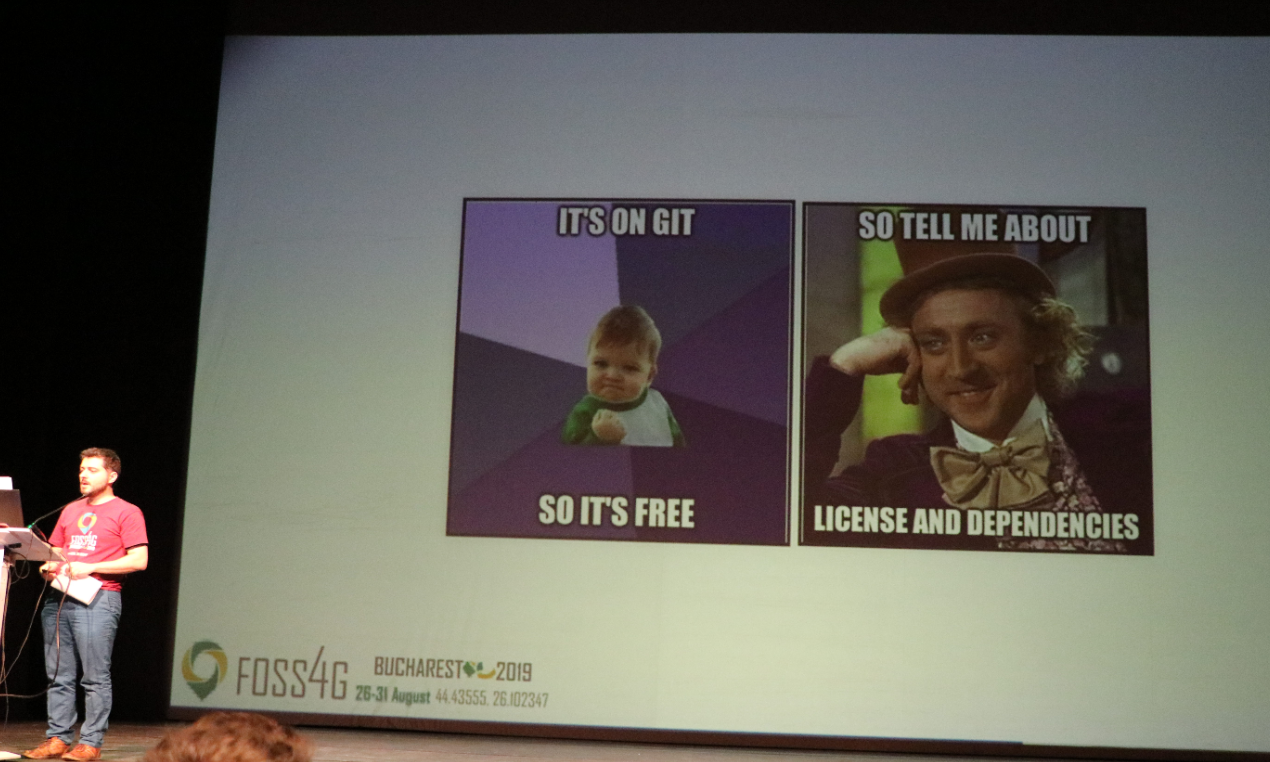 We are now reaching the very last oficial moments of FOSS4G 2019 Bucharest. 2 years of hard work, constant planning and calculating, running after sponsors and negotiating with every supplier time and time again, answering hundreds of emails – ticket questions, program questions, hotel questions, TGP questions, poster session questions, T-shirts questions, visa questions, workshop questions, weather questions (?!), code sprint questions, conference rooms questions, video questions, booth questions, EO data challenge questions, gala dinner questions, BoFs questions and so many more – all boiled down to these fabulous days that rushed by so fast! The conference chair is walking up the stage, he is exhausted beyond repair but he's happy. The FOSS4G Bucharest participants are smiling and he survived! We all did, together! He starts his final speech, his last slides for FOSS4G 2019, so many people to thank, many memories are cluttering his mind. Here we go… THANK YOU!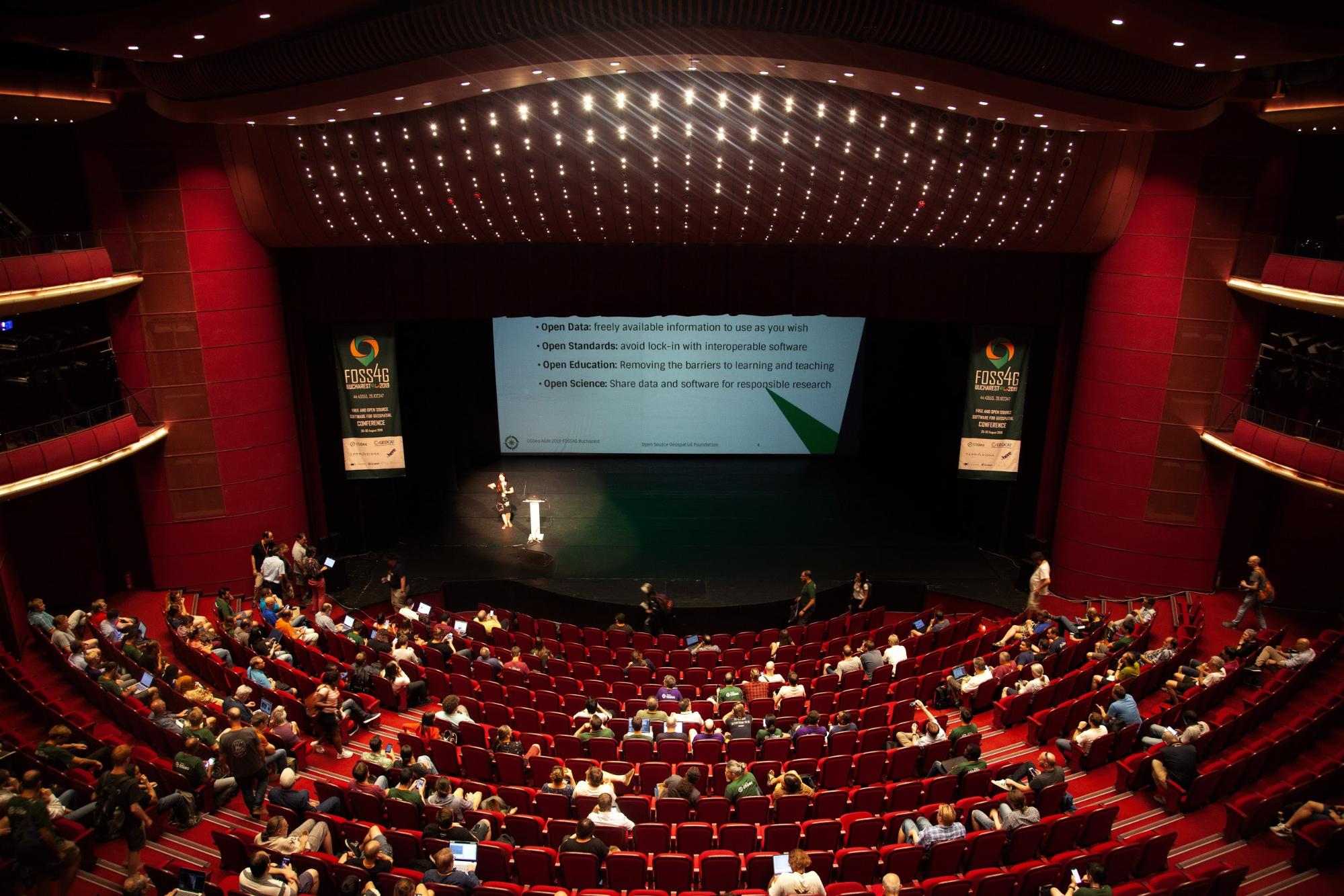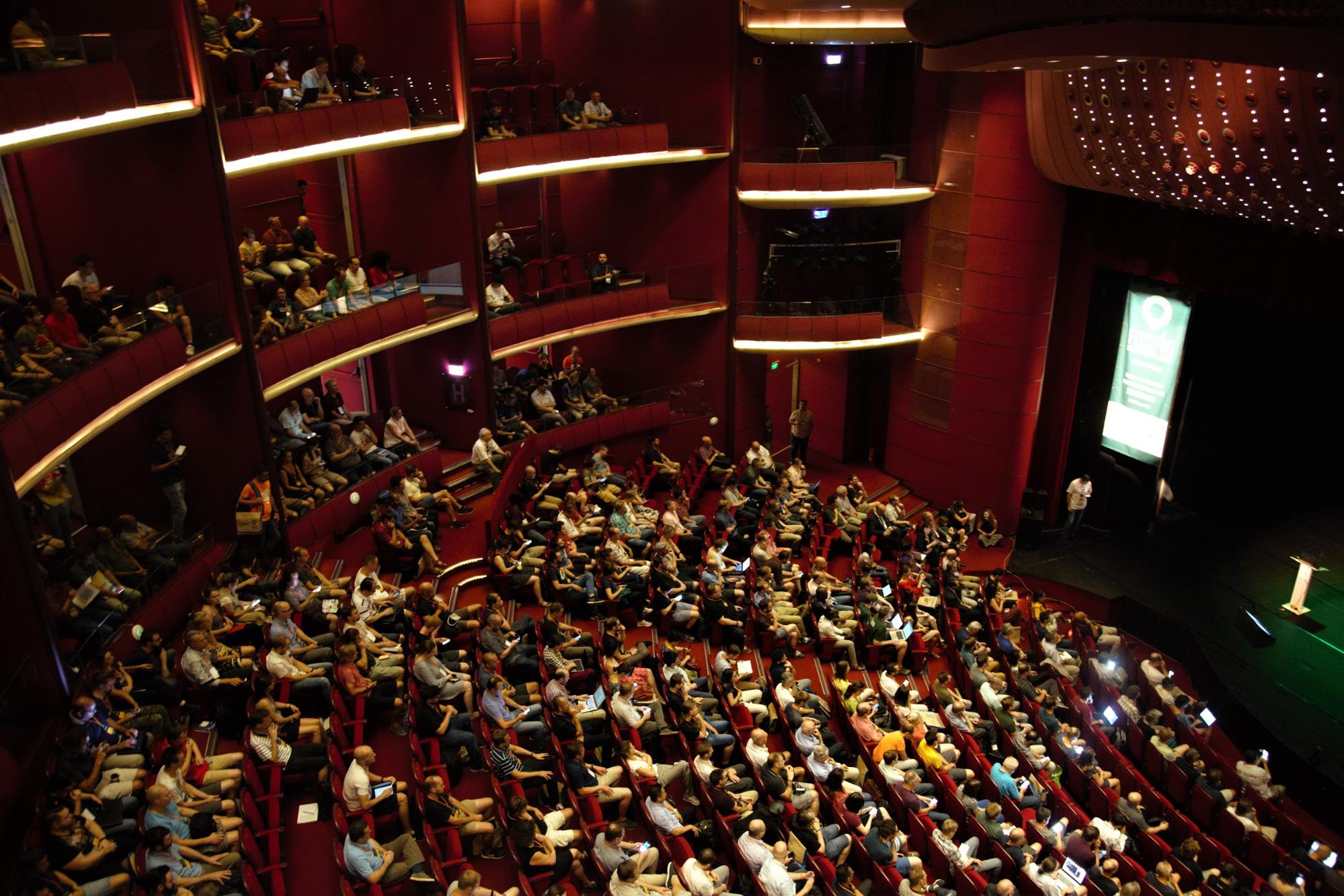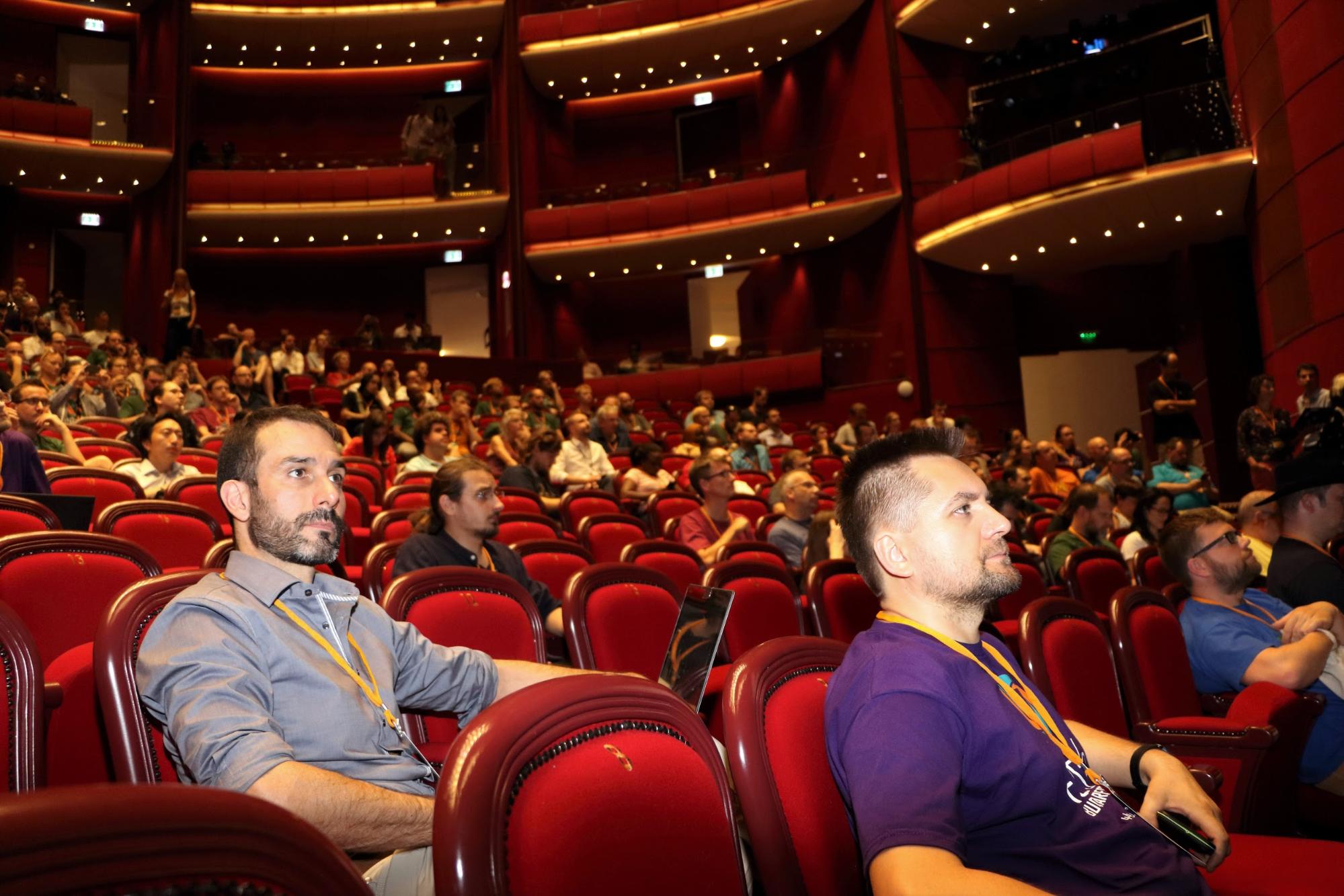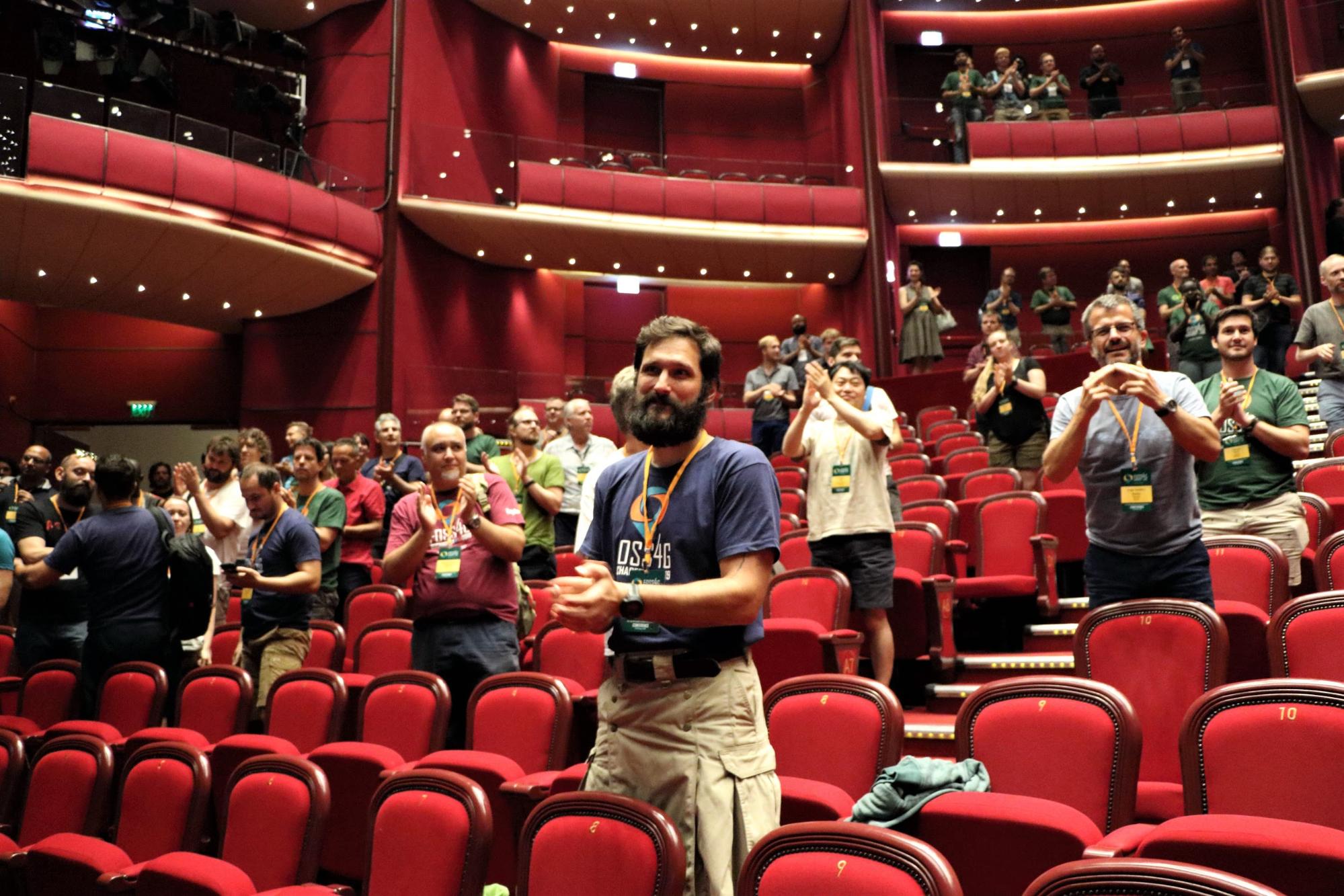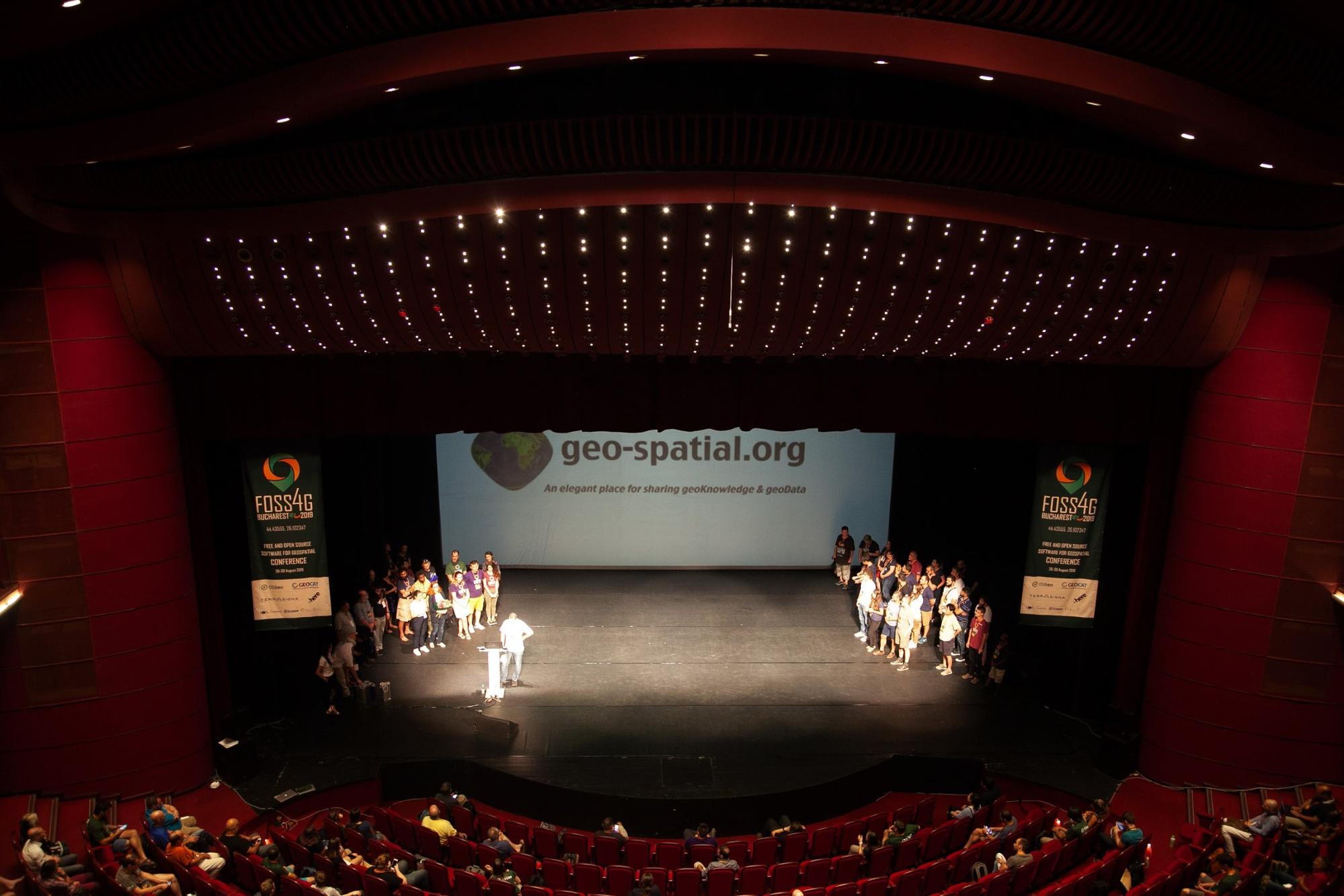 We don't know if it was obvious, but this was a truly emotional moment for all of us. We were on the other side of time. It was all done. And well! We have come through, we kept our word and we gave our 101% for our community, our colleagues, our friends. You trusted us enough to come to our country, to our city, stroll the streets we walk every day, drink in the bars we meet and where we planned this very conference. A lot has happened that will remain forever with us, tense moments, funny stories, peculiar situations. Should we also write about that Tuesday night before the opening plenary? That time when a group of organizers together with geospatial friends waited in the Intercontinental hotel, with the C3Voc team for their gear to arrive from Germany until 4 am?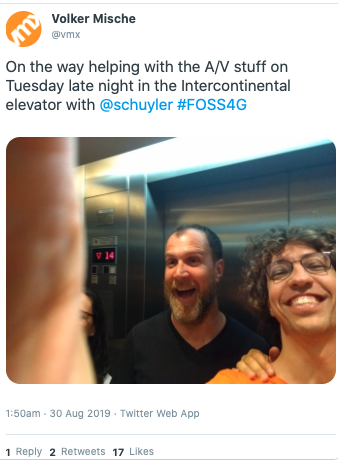 Our FOSS4G 2019 final blog post is a heartfelt THANK YOU to all, volunteers, sponsors, supporters, partners, participants, speakers, workshop instructors and of course, our dear PCO, Andreea. We are a quirky bunch of people, a little bit nerdy and truth be told, not always the most easy to communicate with, especially in times of great pressure. Andreea made the effort of getting to know us, coming to our geo-spatial.org seminars around the country to see us "in our natural environment". She did an outstanding PCO job and that was possible only because she cared.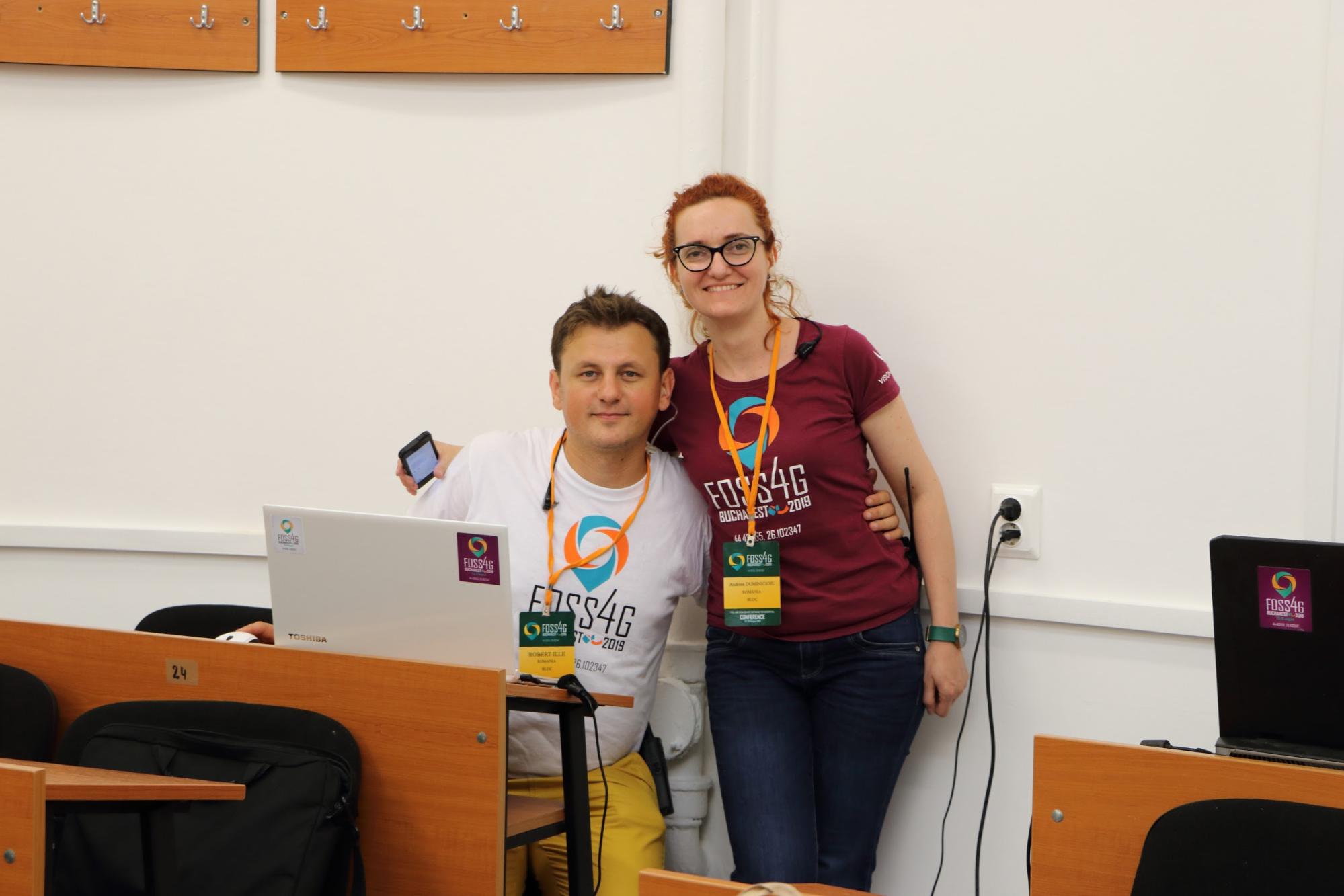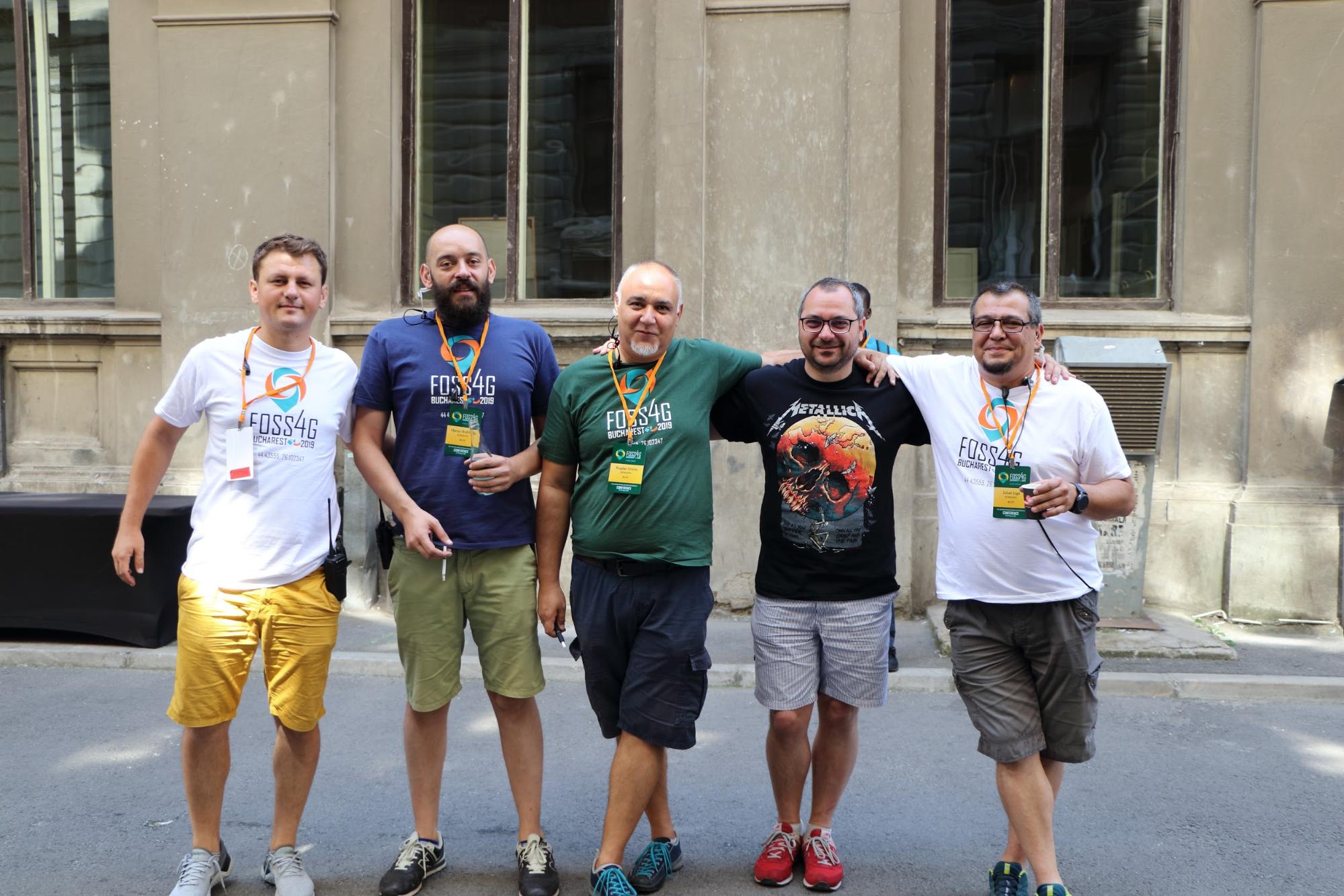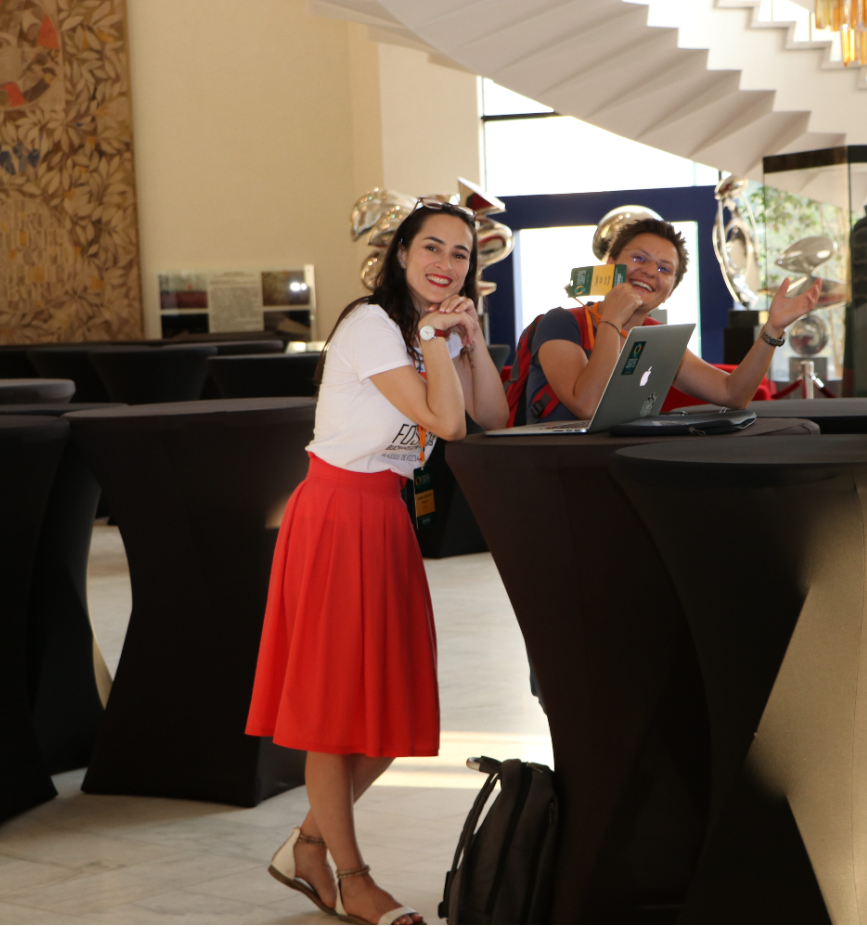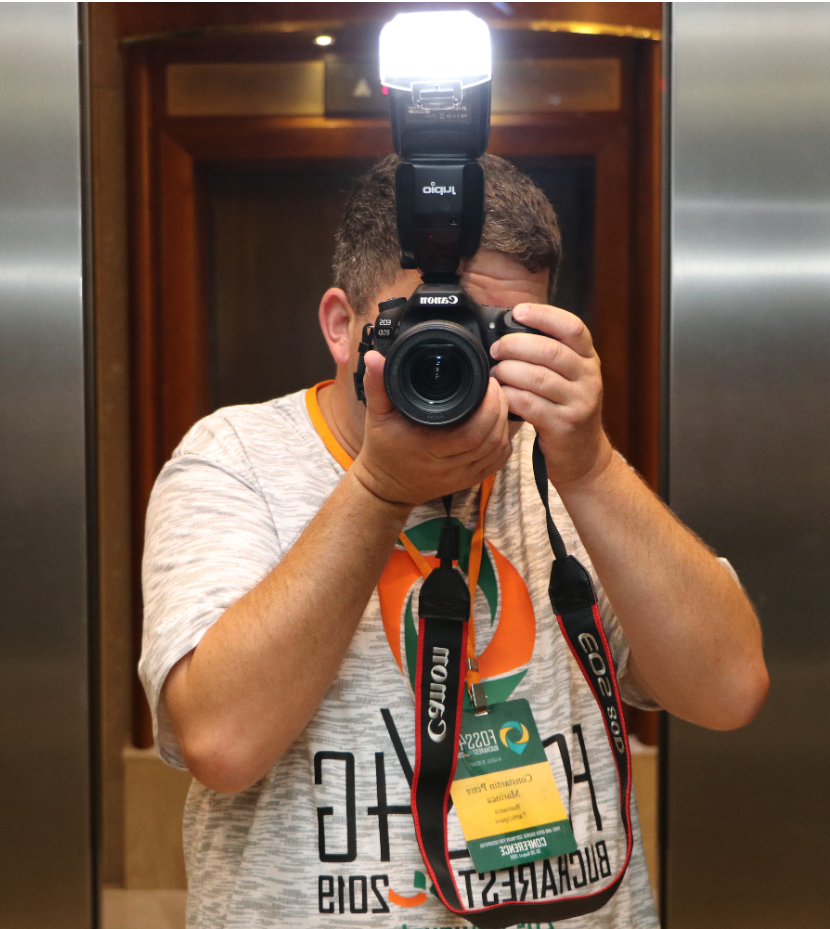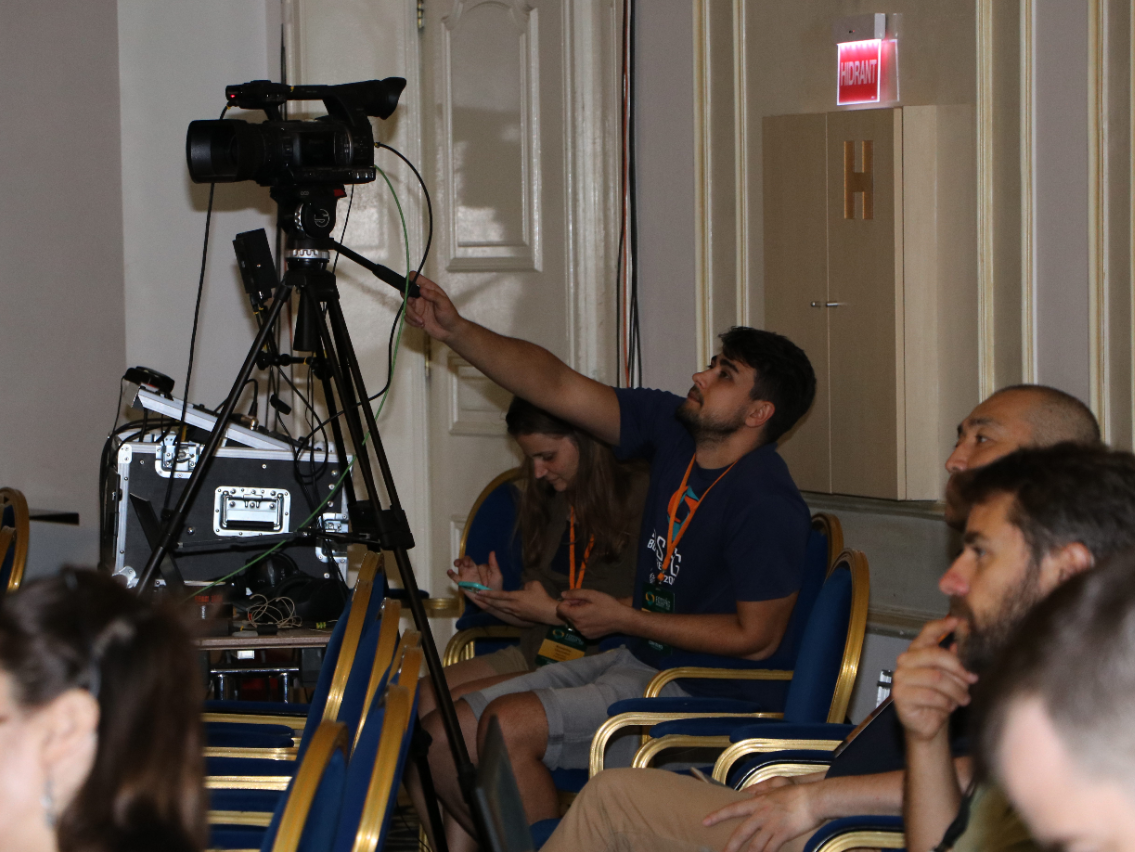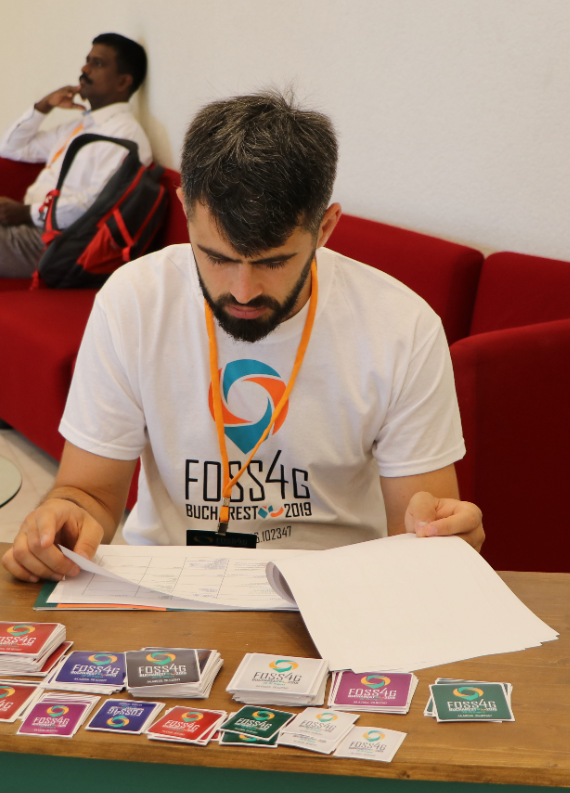 All of you have greatly contributed to the success of this event and you have honored us with your unreserved trust that we, geo-spatial.org – the Romanian OSGeo Local Chapter – can organize the 14th edition of the international Free and Open Source for Geospatial in Bucharest.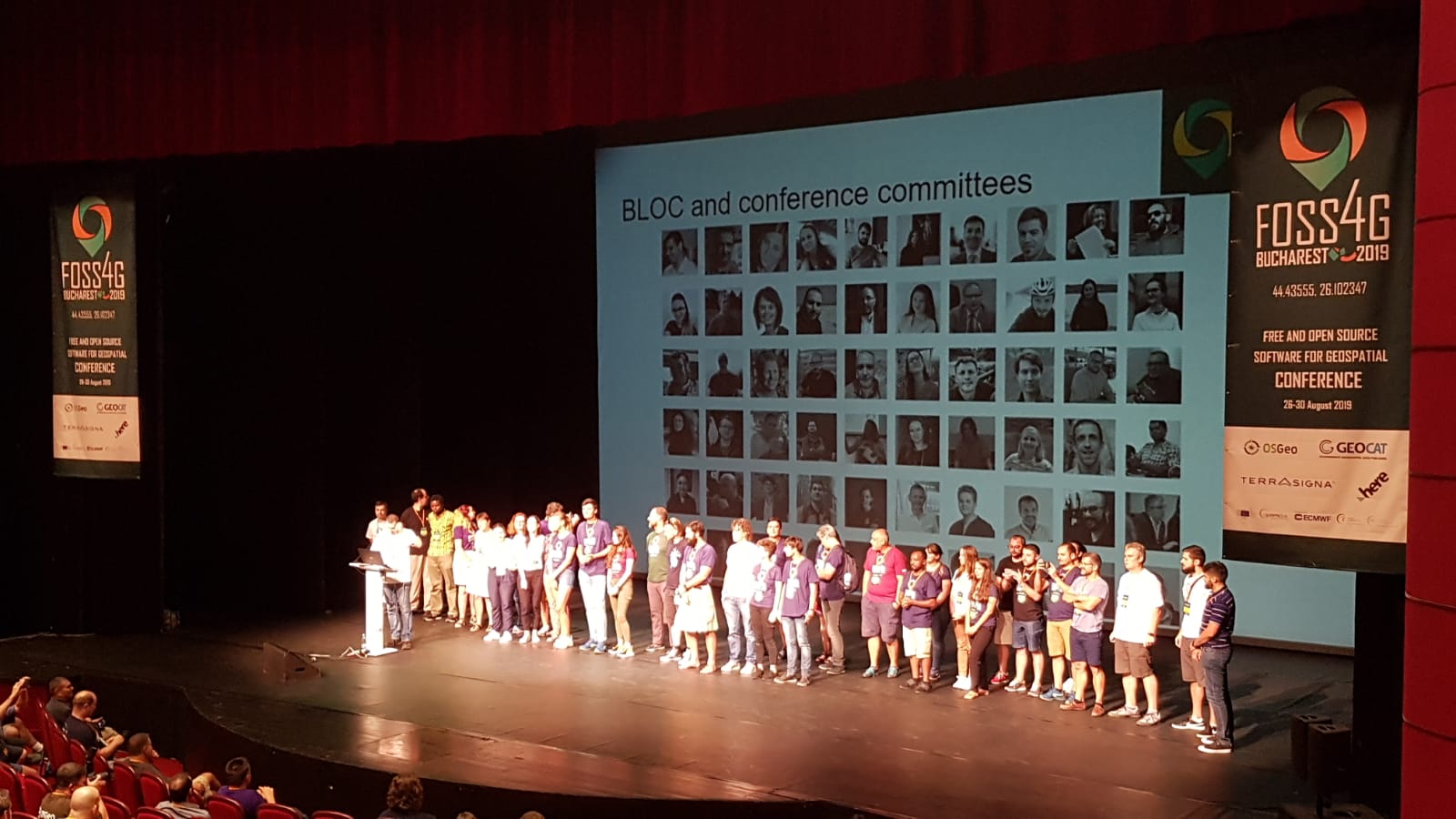 Credit @ticheler
And because we all love numbers, here are some. Enjoy!
● Bucharest Local Organizing Committee + Conference Committees: 60;
● Keynotes: 9 + a special message;
● Presentations: 286;
● Hours of recordings: 100+;
● Workshops: 42;
● Labs: 5;
● BoFs: 17;
● Code sprint participants: 34;
● QGIS contributors meeting participants: 33;
● 2 B2B participants with 63 participants;
● FOSS4G 2019 participants: 1020+;
● Countries represented: 80;
● FOSS4G 2019 ambassadors: 23;
● Travel Grant supported participants: 28;
● EO Open Data Challenge prizes: 10;
● EO Open Data Challenge total EUR prizes: 20000;
● Sponsors: 37 (5 categories);
● Partners:

○ Strategic: 1;
○ Conference: 20;
○ FOSS4G EO Data Challenge: 35;
○ Academic: 6;
○ Media: 21;
○ Knowledge: 2;
○ Mobility: 1;
○ Safety: 1;
○ Taste: 9;
○ Community: 4;

● Bucharest guided tours: 3;
● Guides: 3 (thank you Olimpia, Georgiana and Andi!);
● Participants enjoying the Bucharest guided tours: 270 (day 1 – 108, day 2 – 141, day 3 – 21);
● Social events: survived 2 x 7 hours long social events with an open bar! Not to neglect all the other evenings of informal networking at the FOSS4G pubs;
● FOSS4G 2019 pubs: 6;
● Volunteers:

○ Rooms: 11;
○ Conference: 20;
○ Video: 44 + 6 C3Voc wonderful team members;

● Social media stats:

○ Twitter: 256 tweets (from the official account);
○ Blogpost entries: 22.
Today, the world is paying attention to the terrible challenge we have to face. In face of adversity, it is important to remember what unites us, what makes us a community and what helps us find the resources to remain kind and gentle, responsive and helpful, reasonable and hopeful.